40% of New York Democrats Prefer Someone Other Than Cuomo Becomes Governor in 2022
With Governor Andrew Cuomo facing a series of controversies, a large portion of New York Democrats want to see someone else become the state's top leader in 2022.
A new poll from Siena College found that 40 percent of Democrats would prefer to vote for another candidate in the next election cycle. Forty-six percent of Democrats surveyed said they would vote to re-elect Cuomo to a fourth and final term. Fourteen percent of Democrats said they didn't know how they'd cast their ballot as things currently stand.
Among Republicans, the push to oust Cuomo was much greater. Eighty-three percent of GOP voters said they would prefer someone else in 2022, compared with just 13 percent who would support Cuomo.
Overall, a majority—52 percent—of registered voters polled said they'd rather someone else be elected governor next year. Roughly one-third of respondents said they would vote to re-elect Cuomo and 14 percent didn't know or had no opinion on the matter.
The poll's findings come after several women, some of them current or former staffers, came forward with allegations of sexual harassment involving Cuomo. New York Attorney General Letitia James, at the direction of the governor's office, has opened an outside investigation into the harassment claims.
Meanwhile, calls are mounting for Cuomo to resign. Among those urging him to step aside are the state's two senators, Chuck Schumer and Kirsten Gillibrand. Cuomo has rejected the idea of resigning, stating last week he wouldn't bow to "cancel culture."
"Politicians take positions for all sorts of reasons, including political expediency and bowing to pressure," he said. "But people know the difference between playing politics, bowing to cancel culture, and the truth."
Fifty percent of registered voters polled by Siena College said that Cuomo should not resign, compared to 35 percent who said he should step aside. Fifteen percent of those polled said they didn't know or had no opinion.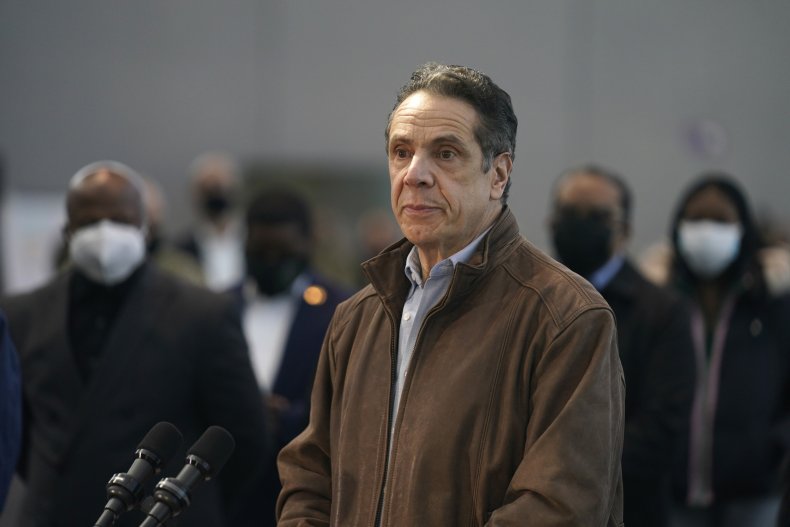 Cuomo is also facing a federal inquiry into how his administration handled nursing homes during the coronavirus pandemic. New York leads all states in nursing home deaths, with more than 15,000 so far.
In January, the state's attorney general said the administration had undercounted nursing home deaths by several thousand. Cuomo later blamed the distorted data on fears that the Trump administration would use it to withhold aid.
Forty-six percent of those polled by Siena College said Cuomo has done a "poor" job of making public all data about COVID-related deaths in nursing homes. Just 11 percent said the governor had done an "excellent" job of making such information available.
But a majority of those polled approved of the job Cuomo was doing to address the pandemic overall. One-third of registered votes disapproved of the job he's done on COVID-19.
Siena College surveyed 805 registered voters between March 8 and March 12. The poll has a margin of error of plus or minus 4.1 percentage points.