40 People Have COVID After Attending Revival at Alabama Church: 'We Knew What We Were Getting Into'
At least 40 members of an Alabama church congregation contracted the novel coronavirus after attending a multi-day revival event last week.
Daryl Ross, the pastor at Warrior Creek Missionary Baptist Church in Alabama's Marshall County, told AL.com he also tested positive for COVID-19 in the event's aftermath. Ross said of those congregants who underwent tests, two are experiencing more severe symptoms of the respiratory illness. Neither were hospitalized, according to Ross.
The church's revival—an event consisting of multiple religious services and meetings that aim to encourage new baptisms, or inductions into the faith—was originally set to take place over the course of one week. Ross said the event was shut down early after an initial congregant tested positive for the virus on Wednesday. Two days later, "I've got church members sick everywhere," he recalled.
Despite the outbreak, Ross told AL.com he does not regret hosting the revival and believes those who attended feel the same.
"We knew what we were getting into," he said. "We knew the possibilities. But, my goodness, man, for three days we had one of the old-time revivals. It was unbelievable. And everybody you ask, if you talk to our church members right now, they'd tell you, we'd do it again. It was that good."
Congregation members who participated in the church's revival were not required to wear face masks, AL.com reported. Ross told the news outlet that social distancing was encouraged and most attendees sat with their household units during services. Regarding interpersonal contact, the pastor said: "We let everybody do what they like...If you were comfortable shaking hands, you shook hands. If you didn't, you didn't."
Newsweek reached out to Warrior Creek Missionary Baptist Church for additional comments, but did not receive a reply in time for publication.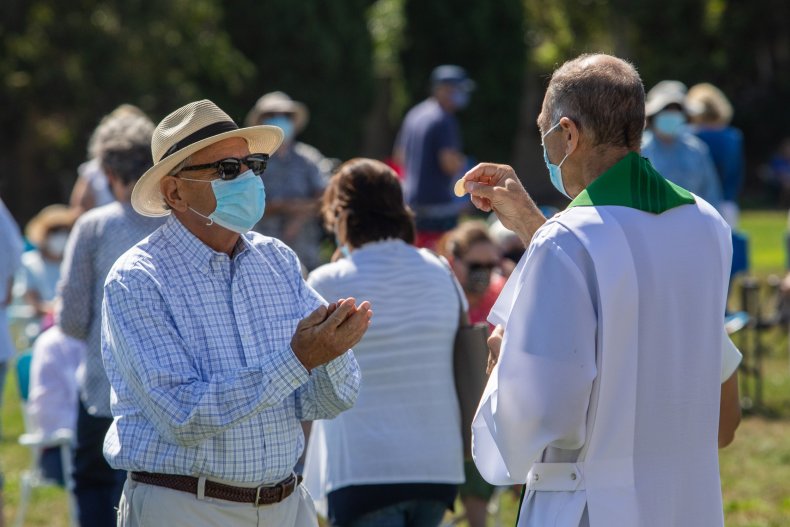 Virus outbreaks linked to religious gatherings have surfaced across the U.S. over the past several months. In Oregon, health officials identified hundreds of COVID-19 infections in connection to Lighthouse Pentecostal Church. The outbreak accounted for roughly 90 percent of virus cases diagnosed in the surrounding county near the end of June. More than 100 related infections were identified since then.
About 40 churches across the country reported outbreaks by early July. A New York Times database estimated that at least 650 people contracted COVID-19 as a result of those outbreaks.
Stay-at-home orders effected in March ordered places of worship nationwide to discontinue in-person services. Although many continue to offer virtual services to prevent virus transmission, others began to reopen months ago. On May 22, President Donald Trump declared places of worship essential entities and called on U.S. governors to permit their reopening.
State leaders issued subsequent reopening orders according to various timelines that considered regional COVID-19 data. The Department of Health and Human Services released updated state-by-state guidance for reopening places of worship during the first week of July.