These Are the 40 Republicans Who Voted Against the 'Families First' Coronavirus Response Bill
Republican and Democratic representatives came together to pass a bipartisan bill in the early hours of Saturday morning to provide relief to American workers and families in the face of the growing coronavirus crisis.
If passed by Senate and signed into law by President Donald Trump, who has expressed support for the bill, the Families First CoronaVirus Response Act would ensure provisions for paid emergency leave for those affected by the COVID-19 outbreak, as well as free testing for those who need it.
But while 363 participating Democrats and Republicans voted in favor of the measure, 40 Republican representatives stood against it, voting "nay" on its passage, while Independent Justin Amash voted "present."
While representatives from both sides of the aisle have agreed that the coronavirus outbreak demands an urgent response from lawmakers, many Republicans who voted against the package said they did so because they felt they were not afforded sufficient time to review the bill.
In a statement published online, GOP Rep. Debbie Lesko of Arizona said she was unable to support the bill given the lack of time representatives had been given to review it.
"I could not in good conscience vote for a 100-plus page bill that neither I nor my staff had an opportunity to read or review," she said. "Voting on a multibillion-dollar piece of legislation less than 30 minutes after being introduced is no way to conduct the People's business—especially after reports that small businesses and hospitals could be negatively impacted."
"The United States Congress should not have to pass a bill to find out what is in it," Lesko said. "We all want to help Americans as we face the spread of coronavirus, but this complete rush job is not the way to do it."
In a separate statement published online and shared with Newsweek, Rep. Bradley Byrne of Alabama also attributed his refusal to support the bill to being given insufficient time to review it.
"Tonight, I was asked to vote on a 110 page bill that spends billions of dollars and contains numerous mandates on small businesses only 26 minutes after receiving the text," he said. "Although I agree with many of the provisions in this legislation, this is no way to govern.
"We should be sending a message of calm and steady leadership in the face of this crisis, not forcing through bills in the dead of night," the representative said. "While it is critical that we continue to take actions to address the coronavirus, we should do it thoughtfully and responsibly. For that reason, I reluctantly voted no.
"I appreciate the Trump Administration working to greatly improve this bill over what was proposed by Speaker Pelosi," Byrne said. "I hope that the Senate next week will engage in the due diligence that House Democrats were unwilling to do."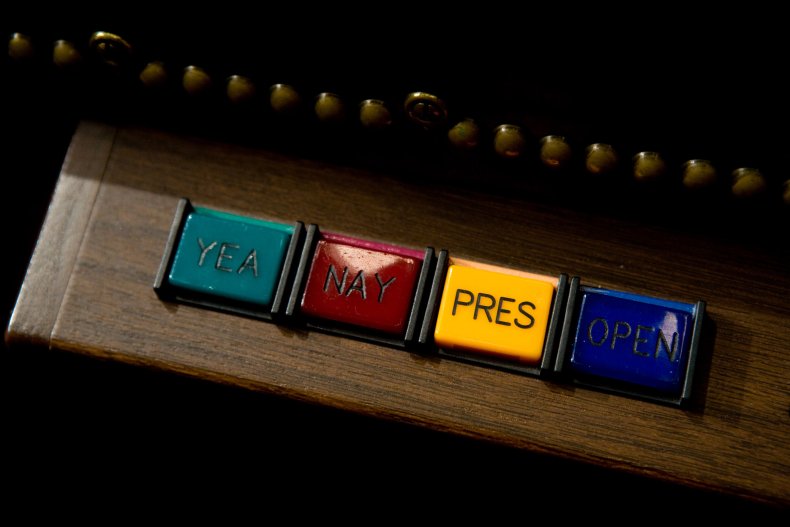 The three representatives were not alone in refusing to support the bipartisan bill.
Below is a full list of the 40 representatives, who are all Republican, who voted against the measure:
Brian Babin (TX)
Jim Banks (IN)
Andy Biggs (AZ)
Dan Bishop (NC)
Ken Buck (CO)
Ted Budd (NC)
Tim Burchett (TN)
Bradley Byrne (AL)
Ben Cline (VA)
Michael Cloud (TX)
Warren Davidson (OH)
Scott DesJarlais (TN)
Jeff Duncan (SC)
Tom Emmer (MN)
Russ Fulcher (ID)
Mike Gallagher (WI)

Louie

Gohmert (TX)
Lance Gooden (TX)
Mark Green (TN)
Glenn Grothman (WI)
Kevin Hern (OK)
Jody Hice (GA)
Jim Jordan (OH)
Steve King (IA)
Debbie Lesko (AZ)
Billy Long (MO)
Barry Loudermilk (GA)
Tom McClintock (CA)
Alex Mooney (WV)
Ralph Norman (SC)
John Rose (TN)
Chip Roy (TX)
James Sensenbrenner (WI)
Jason Smith (MO)
Bryan Steil (WI)
Gregory Steube (FL)
William Timmons (SC)
Michael Waltz (FL)
Randy Weber (TX)
Joe Wilson (SC)
These Are the 40 Republicans Who Voted Against the 'Families First' Coronavirus Response Bill | U.S.