400-Pound Loggerhead Sea Turtle, Endangered Species, Run Over by Cars in Florida
A 400-pound female loggerhead sea turtle was fatally struck by multiple vehicles on Wednesday morning near Paradise Beach, Florida, leaving one less of the endangered species alive.
The deceased loggerhead was reported to authorities around 5:30 a.m on Wednesday after she wandered up to State Road A1A in Indialantic from a nearby beach, according to local researchers. Authorities have since concluded that the female turtle lost her way while attempting to dig a nest to lay eggs.
"In the case of this turtle, there were very clear signs on the beach that she had emerged from the ocean and tried several times to dig a nest," Erin Seney, assistant research scientist with the University of Central Florida Marine Turtle Research Group told Florida Today.
"And as she moved along the beach, trying to find a spot where she could dig a nest to lay her eggs, she ended up going up over the dune where there was a ramp or pathway," she continued. "Unfortunately, she went up off the beach, wandered across a couple of yards, and ended up out in the road."
The turtle was then transferred to the Brevard Zoo Sea Turtle Healing Center, where authorities estimated her weight and concluded she had been hit by several vehicles along the road.
According to researchers at the zoo, the loggerhead could have been up to 50 or 60 years old.
"This is an old soul. This is a very big sea turtle," Shanon Gann, program manager of the Sea Turtle Healing Center, told Florida Today. "We're in a big sea turtle-loving community. And this is a tragedy," she added.
According to the National Oceanic and Atmospheric Administration, loggerhead sea turtles are found worldwide with nine distinct population segments that are each protected under the Endangered Species Act.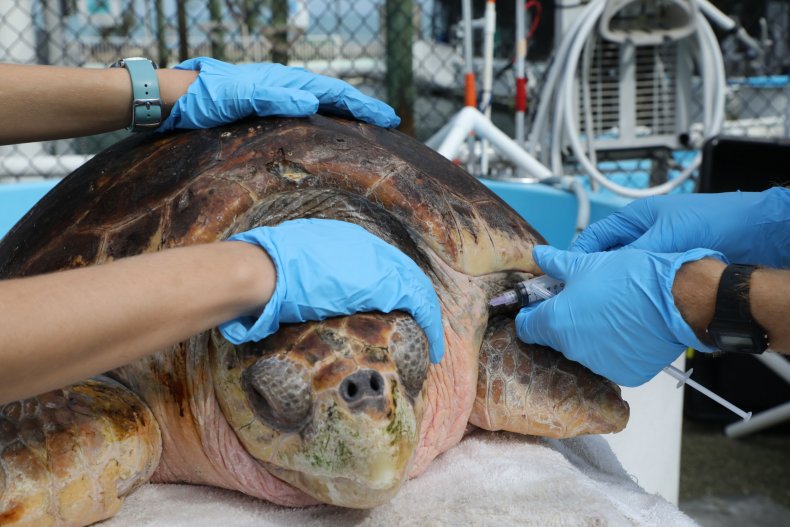 The female turtle had previously been tagged by University of Central Florida researchers in 2014 in the Archie Carr National Wildlife Refuge. Since that tagging, Seney said the loggerhead had suffered wounds to her rear flippers, making nesting an increasingly difficult task.
"She would have a difficult time digging what we call a body pit, and then ultimately egg chambers. This turtle was at a disadvantage to start with, and was having difficulty nesting," Seney told Florida Today.
"And in that wandering, as she continued to attempt to find a place where she could dig, she ended up going the wrong direction," she said.
Researchers said that outdoor lighting along the nearby shore could have been a factor in Wednesday's tragic occurrence, but authorities from the Florida Fish and Wildlife Conservation Commission officials are still investigating the incident.
"Staff are working with local partners to understand why this may have occurred and how it can be prevented from repeating over the remainder of the nesting season," spokesperson Michelle Kerr told Newsweek.
Though the 400-pound turtle was unable to be saved, researchers were able to successfully retrieve about 70 of her eggs. The eggs have been reburied in a nesting chamber along the beach, and will be monitored for the next 45 to 55 days.
"The hope is that maybe we can pass on her legacy," Sea Turtle Healing Center Coordinator Jess Patterson told the news outlet.
[Update 5/13/21 11:48 a.m] This article has been updated to include a statement from the Florida Fish and Wildlife Conservation Commission.