400 Weddings Booked at Nemacolin Resort After 'Bachelor' Season
Throughout Matt James' season of The Bachelor, viewers have been drawn to the fall-foliage wonderland of Nemacolin Resort in Farmington, Pennsylvania. Since the reality TV series' current season premiered in January, Nemacolin has booked over $2.5 million in revenue, via digital bookings, and even secured 400 upcoming weddings, the resort told Newsweek.
It's not entirely surprising that Nemacolin has seen such wild success after the season, as the location acted as a fitting backdrop to the romance-focused reality show. As the colors of the leaves changed, so did James' relationships with the contestants, as viewers watched woodland adventures, intimate dinners and more, all taking place on the gorgeous resort property.
Nemacolin acted as an escape from the real world during the coronavirus pandemic, a place where the Bachelor hopefuls could focus on matters of the heart and television, and get a reprieve from the overall state of the world. Now, Nemacolin is offering similar opportunities for visitors who wish to walk in James' footsteps.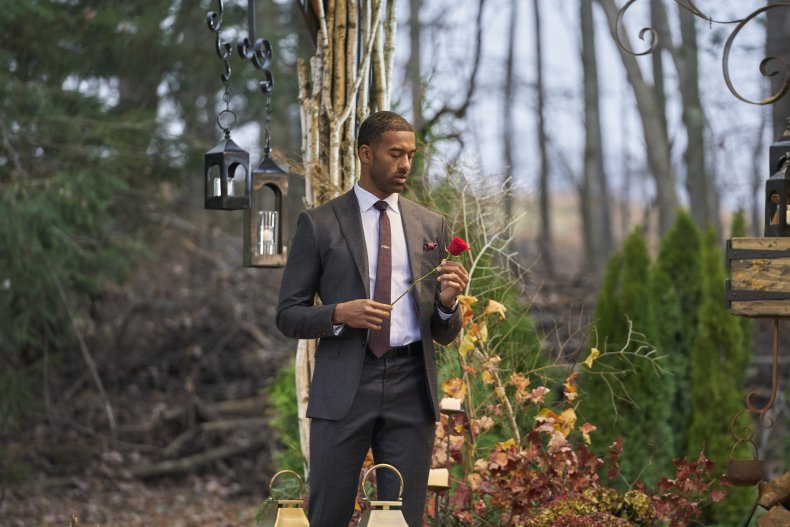 Owner Maggie Hardy Knox revealed that special Bachelor-themed packages are now available to visitors who want to cast themselves in their own sort of romance. "Nemacolin will definitely offer guests the opportunity to experience the property as one of the 'contestants' and participate in the activities that were highlighted on the show," she wrote to Newsweek. "We have special packages dedicated to the many activities that were filmed, and we know guests want to try them out for themselves and that's something we have packaged up to offer our guests."
She continued, saying, "We want Bachelor fans to know that our team is dedicated to make real-life magic happen both onscreen and off. We would love for fans to come experience the property themselves and see the unparalleled grounds, F&B, activities, and accommodations and maybe feel like they are experiencing a slice of what The Bachelor felt like."
It seems the charm of Nemacolin has gotten through to fans—and it might purely be a love of the setting, but there's probably also an element of people just wishing to travel someplace as soon as they can, because of the past year of COVID restrictions. So why not check out the locale you've seen on TV for the past several weeks?
Whatever the exact reason, Hardy Knox said they've drawn a ton of interest since James' love story has been on the air. "There's a substantial group demand with over $2 million of potential new business. In addition, we've received a 25 percent increase in call volume and a 50 percent increase in direct-booked revenue," she wrote.
This all comes after Nemacolin was shut down due to COVID restrictions. "In March [2020,] I made a difficult decision to close the resort, and it made me reevaluate that Nemacolin is a resort meant for people to do fabulous things and create special memories. With all these new bookings and interest in not only our accommodations but also all of our offerings on property, it will really help the resort with a comeback, and we're so excited for people to experience the magic that is Nemacolin."
Nemacolin will house far more than just The Bachelor, too. Starting March 25, Nemacolin will apparently host an annual GOP lawmakers conference, which will bring Republican politicians from around the country together.
If you're interested in booking your own romantic stay at the resort, you can head over to its website.