400 Years After First Thanksgiving, Native Americans Honor 'Day of Mourning' Instead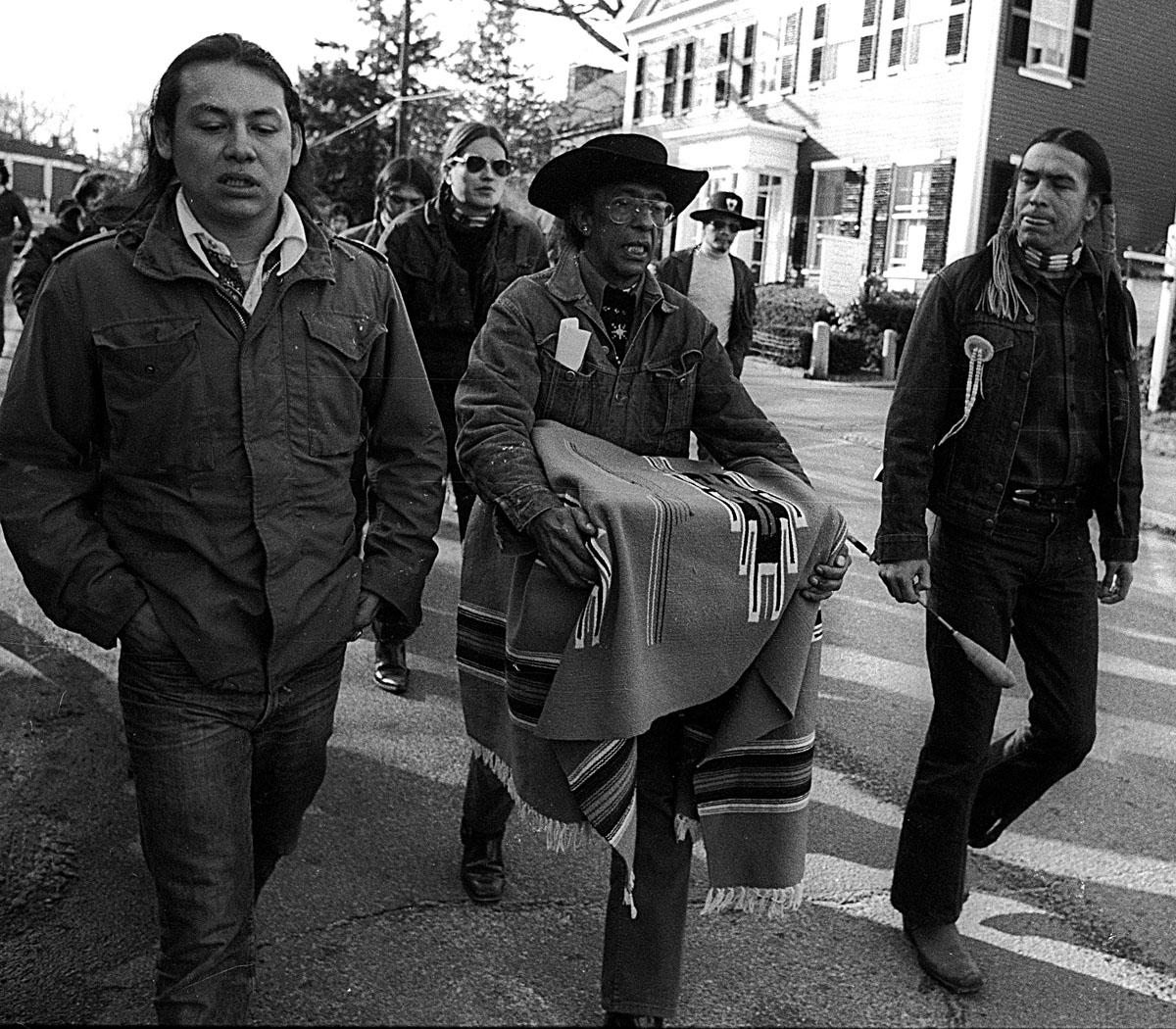 Fifty years ago, Native American Wamsutta Frank James was asked to participate in a statewide celebration of the 350th anniversary of the arrival of the Mayflower in Massachusetts. Wamsutta, who was the president of the Federated Eastern Indian League, was asked to give a speech in some form thanking the Pilgrims for "bringing civilization to the shores." The organizers asked Wamsutta to submit a copy of his speech beforehand, citing grammar and spelling concerns. Wamsutta was a school teacher at the time, but he obliged. However, his speech was shut down and deemed inflammatory.
This sequence of events is what would lead to the inception of the National Day of Mourning, a day for Indigenous peoples from around North and South America to come together and remember their ancestors who were killed at the hands of Europeans who arrived 400 years ago.
This year on the 50th anniversary of the National Day of Mourning, despite COVID-19 concerns, people will gather in Plymouth, Massachusetts, as they have done for the past 50 years—on the day many Americans will be celebrating Thanksgiving. The day after Thanksgiving is also recognized as Native American Heritage Day —November is Native American Heritage Month.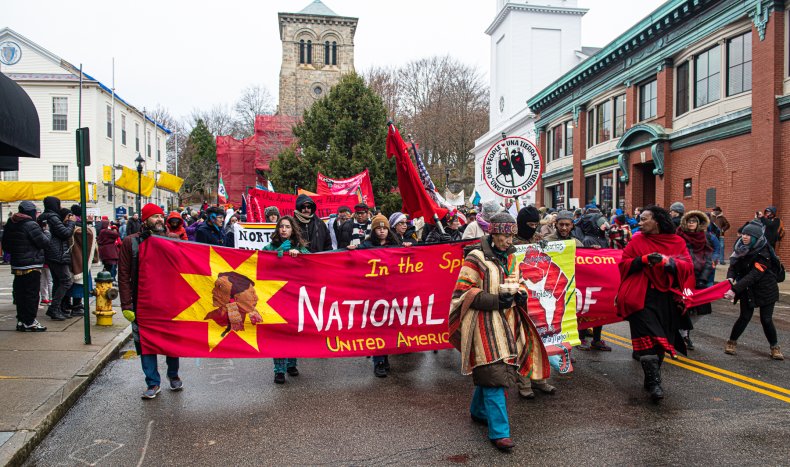 "A lot of people find the National Day of Mourning liberates the land we stand on," Wamsutta's granddaughter, Kisha James, tells Newsweek. "It's really the only day where a lot of people are forced to confront the Pilgrim mythology and confront the ugliness of America and America's past. And it felt like this year, as much as every other year, if not more, that was very important for us."
Kisha is the archivist for the United American Indians of New England, an organization her grandfather started 50 years ago. Both she and her grandfather are a part of the Wampanoag Tribe of Gayhead Aquinnah. She says that Native American communities have been hit hard during the pandemic, so this year's march is also a chance to come together to share their experiences with the virus. In August, the Centers for Disease Control and Prevention reported that COVID-19 was infecting American Indians and Alaska Natives up to 3.5 times more than white people.
"All of our communities have historically had diseases used against us—weaponized against us," Kisha tells Newsweek. "So there's also that added layer, where we have Thanksgiving and there's a pandemic going on. And of course, the first Thanksgiving, there was also an [epidemic] going on that was killing off native peoples."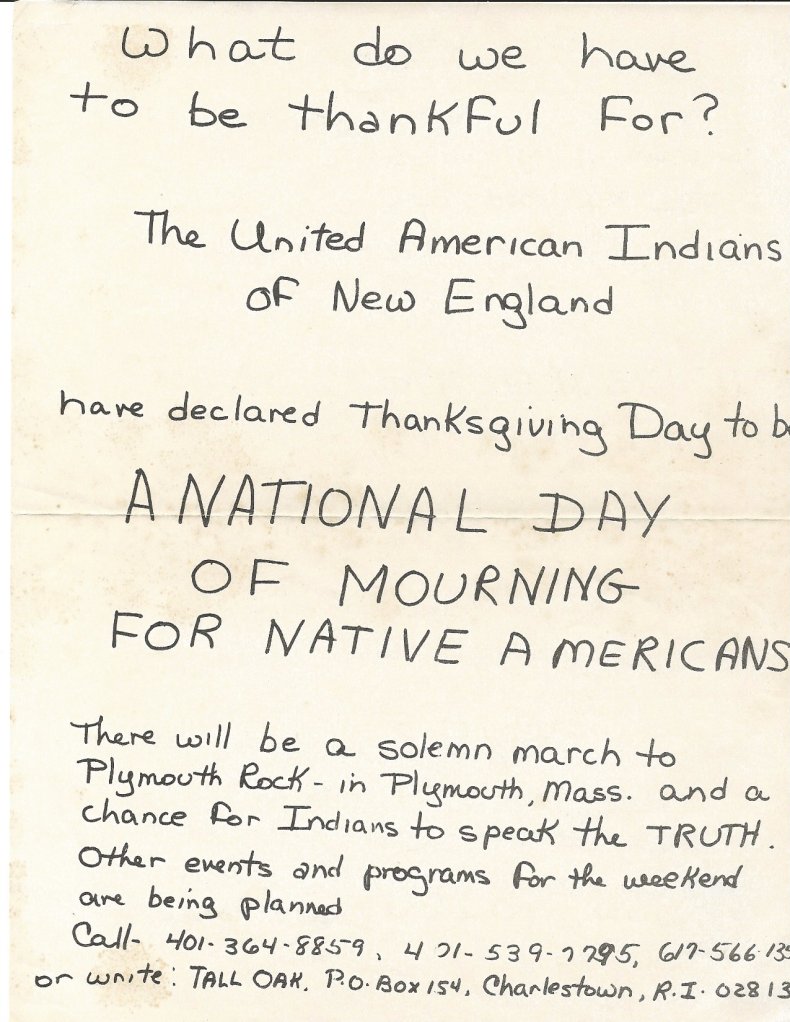 Each year, anywhere from 500 to 2,000 people gather for the National Day of Mourning in Plymouth, a site that has become closely associated with the Pilgrims' arrival. Kisha explains that the Pilgrims actually arrived on what is now Cape Cod initially, and the story created around Plymouth Rock is a "quantification of the Thanksgiving myth"—a further mistelling of the events that took place 400 years ago, she says.
Typically, many elders attend the event as they have been coming since the first march in 1970, but this year organizers have discouraged older people and anyone more vulnerable to the virus to attend. Everyone will be required to wear a mask as well as keep six feet apart. The day starts at noon with a prayer ceremony which is then followed by various speakers all of whom identify as Indigenous—as is tradition. In 1970 during the first ceremony, Kisha's grandfather spoke to the crowd—this full speech is available to read on United American Indians of New England's site. This year, it will be a scaled down program, with much of it being live-streamed as well as a longer in-depth compilation of speakers that will be made available virtually.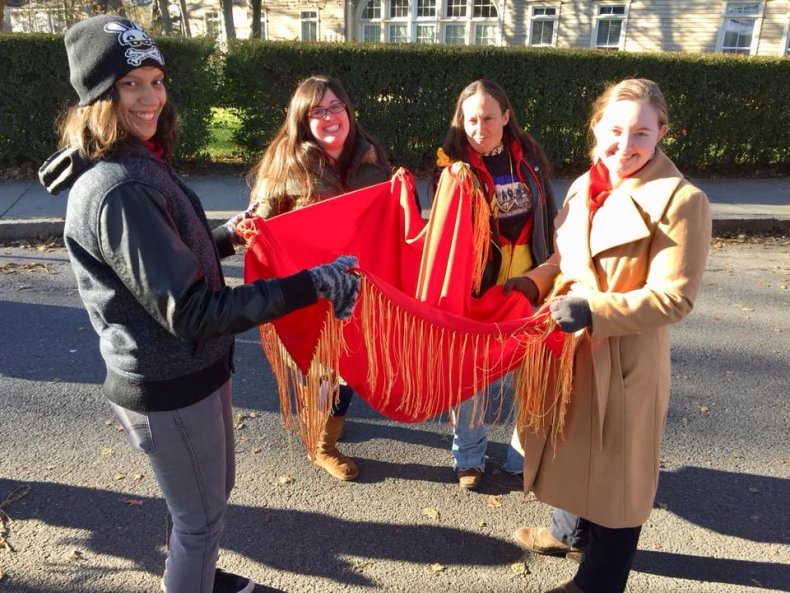 Rain is predicted for Thursday, which typically would yield a smaller turnout, Kisha said.
"Normally, I would say it's a bad thing," Kisha tells Newsweek. "It's going to probably rain on [National Day of Mourning] but this year, it's a good thing, because it's going to deter a lot of people from coming in, right? You know, that way we can all stay safe."
For decades, Kisha says, the stories of her ancestors have been "taped over," or silenced. First, she says, by the descendants of the Pilgrims in the 18th century, then on a national level when Thanksgiving was declared a federal holiday in 1863 by President Abraham Lincoln.
"For my grandfather, then to be silenced again, by the state was very much sort of a continuation of the 350 years of Wampanoag voices being completely silenced," Kisha said. "And what happened to us being completely silenced."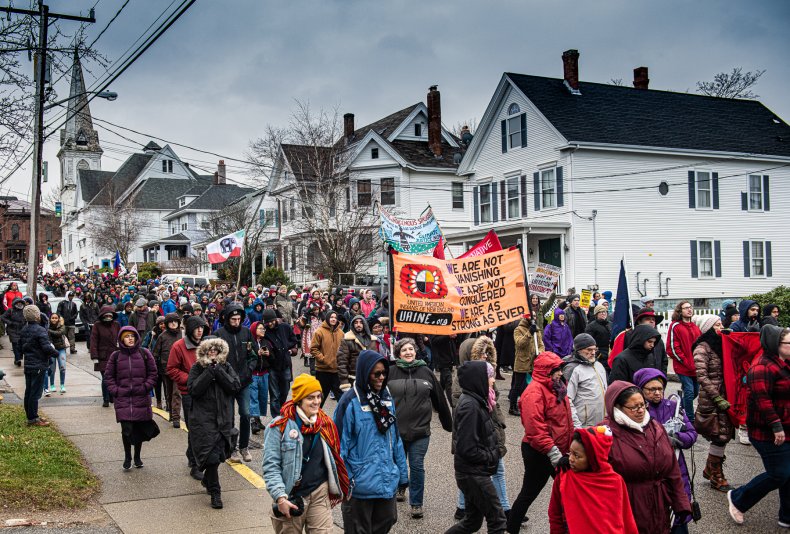 On the first National Day of Mourning, people spoke about the conditions throughout Indigenous communities and reservations. Conditions that today have not improved much, Kisha explains as many don't have necessities like running water or electricity. Looking forward, she says she hopes the next 50 years will bring more progress.
"When you look back on it, in many ways, obviously, we have made progress, we've moved the national conversation along towards the truth about Thanksgiving," Kisha tells Newsweek. "But in terms of the treatment of Native Americans in this country, very little progress has been made since 1970. And so my hope would be that in the next 50 years our treatment will improve."