Somalis in the U.S. Face Spike in Deportations as Fears Grow Under Trump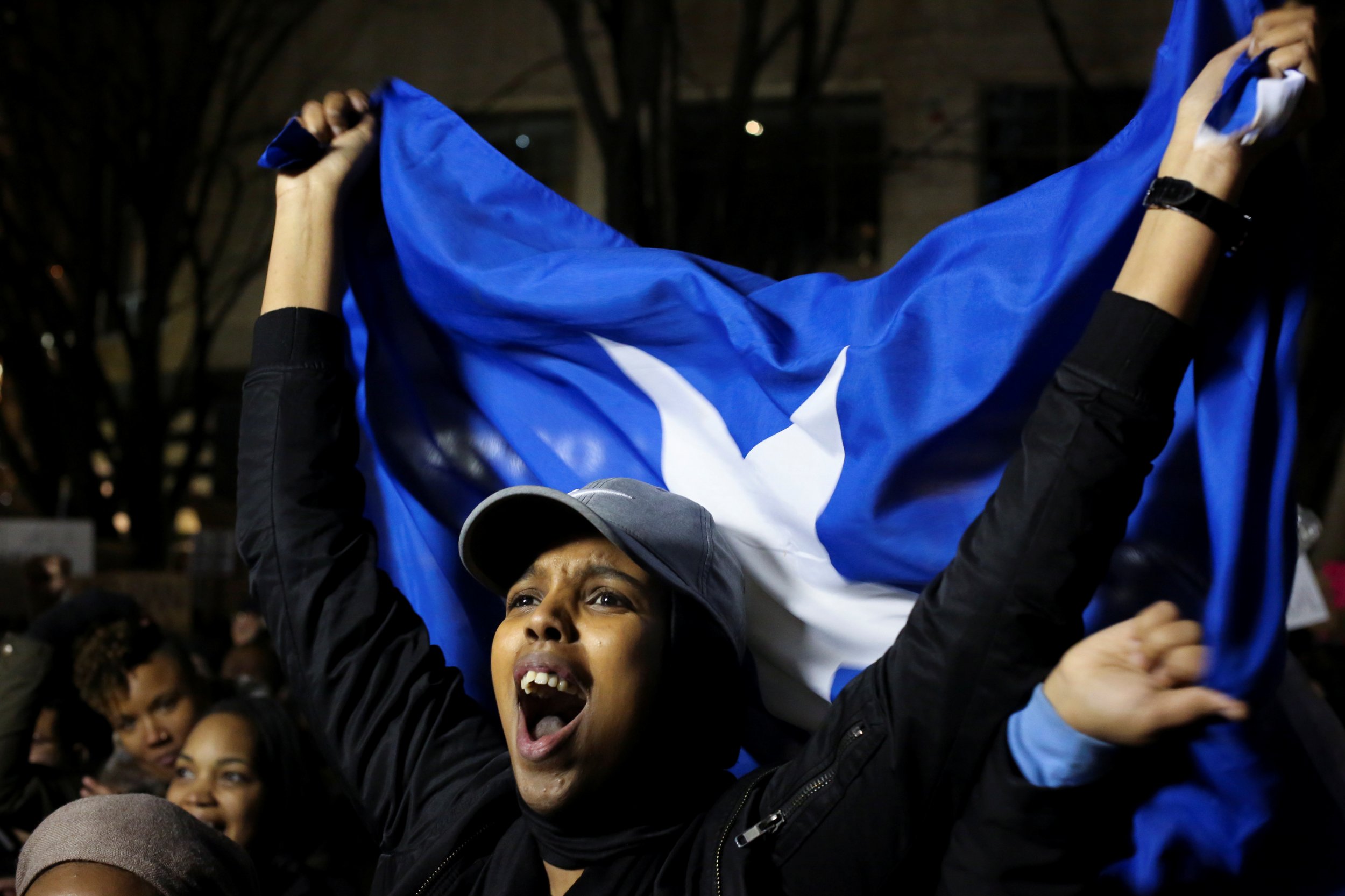 Updated | U.S. immigration authorities have earmarked around 4,000 Somali nationals for deportation, according to Somalia's ambassador to the United States. Ambassador Ahmed Isse Awad told Voice of America's Somali service Saturday that most of those "in the books" of U.S. Immigration and Customs Enforcement for removal were "not in detention centers."
Some 76,000 Somalis live in the United States, with the highest concentration in Minnesota, according to the 2010 census. In the 2016 fiscal year, 198 Somalis were returned to the Horn of Africa state, a tenfold increase compared with the previous fiscal year, when just 17 Somalis were returned.
A spokesman for U.S. ICE, Brendan Raedy, tells Newsweek that 237 Somali nationals have been removed as of April 1 in the fiscal year that began on October 1. Raedy says that "while there has been an increase in removals to Somalia, I don't think it would be accurate to attribute that to the presidential election."
Newsweek contacted the Somali Embassy in Washington for clarification, but did not receive an immediate reply. President Donald Trump named Somalia as one of six countries in a proposed travel ban that would suspend immigration to the United States for three months and shut down the nation's refugee resettlement program for 120 days. U.S. courts have blocked the ban's implementation.
As of April 1, 388 Somali nationals are being held in ICE detention, while a total of 4,801 Somali nationals have been given their final orders of removal; the vast majority of these are undetained, Raedy says.
Since Somalia reopened its embassy in the United States in 2015 after a 24-year closure, around 170 Somali immigrants had been deported to the Somali capital Mogadishu, Awad told VOA, the majority of whom he said had applied for political asylum and were later denied. Awad said after their applications were denied, some were now being held in detention centers or prisons while awaiting deportation.
It is not clear whether the Trump administration's policies have resulted in a spike in those identified as eligible for deportation. The Somali ambassador did not provide a clear timeframe for the alleged deportations.
A spokesman for ICE, Brendan Raedy, tells Newsweek that "while there has been an increase in removals to Somalia, I don't think it would be accurate to attribute that to the presidential election."
During his presidential campaign, Trump referred to a "disaster" taking place in Minnesota caused by large numbers of Somalis settling illegally in the state. Trump pledged that his administration would prevent Somali refugees from settling in Minnesota without local government approval and would impose stricter vetting procedures on refugees.
Jane Graupman, executive director of the International Institute of Minnesota—the biggest sponsor of Somali refugees in the state—says the Somali community has been living in fear since Trump came to office. "We have people coming here every day saying, 'What's happening? Is the refugee program closing down?," says Graupman. "It's just up and down—it starts, then there's an executive order and it stops, and then it starts again."
Some Western nations have refrained in recent years from forcibly returning Somalis to their home country because of ongoing insecurity. Civil war broke out in Somalia in the early 1990s and the country is continuing to battle an Islamist insurgency led by Al-Shabab, an Al-Qaeda affiliate.
The United Nations and other humanitarian organizations protested in 2016 when Kenya's government indicated it intended to shut the Dadaab refugee camps, a complex near the Somali border that houses more than 250,000 Somali refugees and is known as the the world's largest refugee camp. Kenya's High Court blocked the government's decision in February, with a judge ruling that doing so would be unconstitutional and discriminatory.
But U.S. authorities now may be more willing to return Somali nationals to their home country in certain cases. Raedy, the ICE spokesman, says U.S. immigration authorities no longer consider Somalia to be a "failed state" but rather a "fragile, recovering country with promise."
This article has been updated to include statistics provided by U.S. Immigrations and Customs Enforcement.​