400,000 Puerto Ricans Lose Power One Day Before Potential Tropical Storm
Power outages were reported across Puerto Rico only hours before a potential tropical storm was expected to hit the island.
Meteorologists expected Tropical Disturbance Invest 92-L to strengthen and form into Tropical Storm Isaias on Wednesday night, before passing over several Caribbean islands including Puerto Rico. On Tuesday night, outages were reported throughout the territory, leaving at least 400,000 residents without power, according to The Miami Herald.
Most of the outages had been restored by Wednesday evening but officials have warned that the impending storm could lead to further outages. Widespread outages have been a recurring problem in Puerto Rico, most recently after a series of powerful earthquakes left most residents without power earlier this year.
The storm prompted the U.S. National Hurricane Center in Miami to issue a tropical storm warning for Puerto Rico on Wednesday, along with several other Caribbean islands including the British and U.S. Virgin Islands, Anguilla, St. Martin and St. Barthelemy, Turks and Caicos Islands, the north coast of Haiti and parts of the Dominican Republic.
President Donald Trump signed an Emergency Declaration for Direct Federal Assistance, after Puerto Rico Governor Wanda Vázquez Garced declared an emergency due to the storm on Wednesday.
"As a result of the imminent threat posed by this tropical disturbance amid the COVID-19 pandemic, I made the hard choice of declaring a state of emergency for the island," Vázquez Garced said in a statement. "I have requested personnel, equipment, and supplies. These measures are to provide an effective, robust response in the event of this storm. I also requested food, generators, water, and tarps."
"It is worth noting that Puerto Rico is managing three emergencies at the time: the island continues to experience seismic events; we have the ongoing COVID-19 pandemic; and now this tropical disturbance," she added.
The cause of the Tuesday night outages has been disputed, with the head of the Puerto Rico Power Authority (PREPA) suggesting that the outages could be the result of "sabotage."
"What I can tell you is that there was manipulation," PREPA CEO Jose Ortiz said during an appearance on WKAQ radio on Wednesday, according to Bloomberg. "Either this was an oversight on someone's part or it was an act of sabotage."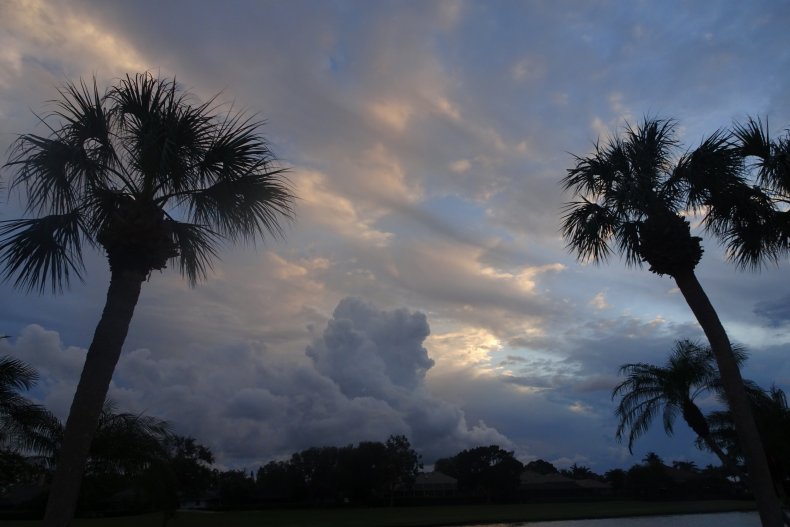 Ortiz added that "all the safeguards" may have been intentionally taken away from a breaker box that was manually tripped.
The leader of a local electrical workers union, appearing on the same program, strongly disagreed with Ortiz's assessment and insisted that the outages happened due to problems with failing infrastructure, before reportedly daring Ortiz to "reiterate his sabotage claim under oath."
Others have also expressed skepticism about the "sabotage" claims, with local TV anchor Julio Rivera-Saniel recalling on Twitter that a former PREPA official had claimed a 2006 incident was caused by "terrorism" before an FBI investigation determined the claim was false.
The current storm is not expected to have an impact anything like that of Hurricane Maria in 2017, which was one of the worst natural disasters ever recorded in the region, killing nearly 3,000 people in Puerto Rico, as well as destroying the territory's power grid and causing $90 billion of damage.
"We're not facing a situation like Maria, but we have to remain wary," Pedro Janer, Puerto Rico's secretary of the Department of Public Safety, said during a news conference on Wednesday.