I very recently joined TikTok and saw people on there talking about what they would tell themselves about going to prom in high school and the anxieties involved. I can't even imagine having anxieties about being asked to go to prom in high school. I was never asked to homecoming and I never had a boyfriend growing up. Looking back, I didn't go through a lot of those gender normative experiences that existed in the 80s and 90s.
But I think my family would say that I liked to argue a lot in my formative years. I was also really fascinated by procedural shows that had some sort of legal background. My parents always told me that I could do whatever I wanted, so I know, on some level, I always wanted to be a lawyer.
When I didn't get into law school in 2002, I was upset about it, but I quickly decided there would be something else I could excel at. One of the options was getting involved in politics and so I moved to Washington, D.C. and worked in policy on Capitol Hill. Even 20 years on, I still get butterflies in my stomach when I go there. Not just because I think of our nation's history, but also as a Black woman in America, thinking about how many people have fought for the rights I now have.
In 2005, I then moved to Houston and became a community organizer working to improve the rights of low wage sanitation workers. Congressman John Lewis actually came down to walk the picket lines with us during that time. I was arrested the following day during a protest and I remember thinking, while sitting in a jail cell, that John Lewis had allowed me to understand that the law needs to be broken at times, because it is not always just. How is it legal to pay people $5 an hour, but it's illegal for me to sit in traffic and protest for the rights of other people? After that, I worked for the Obama campaign, for Gabby Giffords and eventually started the Community Justice Action Fund, a non-profit organization focused on gun violence prevention.
But throughout that time, I don't think that I ever really thought about it as focusing on work versus a romantic relationship. I took different career paths and I moved a lot, so I think it was a little bit harder to meet a partner, though there were definitely kind men that I've met over the past couple of decades.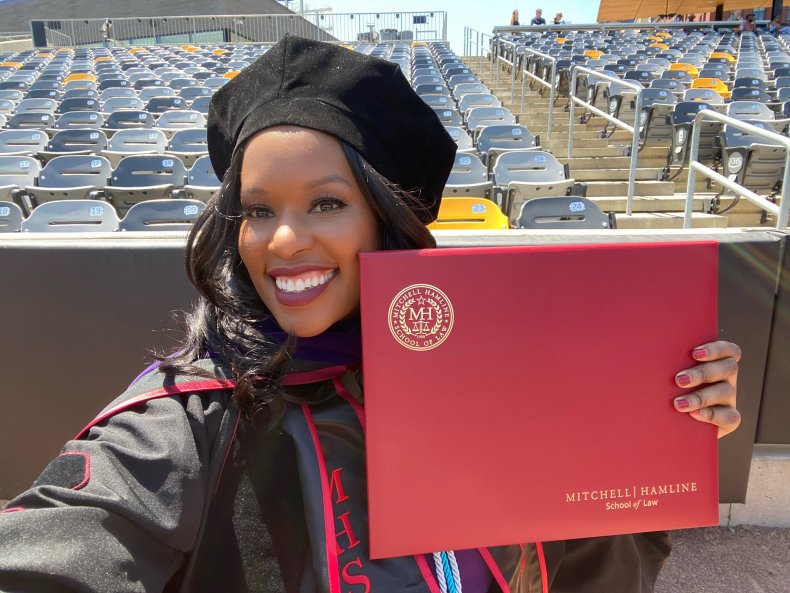 By 2016, I think many people in America, including myself, felt like their backs were up against the wall, and I personally wanted to use every tool in my toolbox available. One that I didn't have was a law degree. I think that motivated me to apply to law school again. I moved back to my parents house at 38, studied for the LSAT and was then accepted into Mitchell Hamline School of Law.
I do think that I was brave to go back to law school at 38, because I knew I would be old enough to be the mother of other students. But I wouldn't necessarily consider my road unprecedented, I just took the long way around and I'm happy with the choices I made.
It doesn't mean that it's any less worth celebrating, though. That's why I tweeted that most days society doesn't celebrate people like me, who are 41, not married and who have no kids.
Although I say this somewhat jokingly, I don't know how many registries I've signed up to for weddings or people's babies. Now, I'd like to visibly celebrate people who are doing things that are not the societal norm. I'd like there to be more recognition that there is not a straight line to take in order to achieve in life and we don't always do what is "expected" by a certain age. I hope that society can learn to celebrate people for all of these different life experiences that now happen at different times.
I would love to have kids. And thanks to medicine and technology, it's not too late. I froze my eggs about four years ago, which I was very public about. And I would potentially want to be married, but I'm not fighting to be in a relationship with someone.
What has really been incredible is the thousands of responses I've had to my tweet. People who were thinking it was too late to pursue their dreams in their 20s and 30s have said it has given them the ability to see that it isn't. I'm 41, so if it's not too late for me, it can't be too late for them. I think it's about that bigger picture of seeing that you're not a failure, just because you haven't achieved certain things, like marriage or kids, by some kind of expiration date.
I was talking with one of my friends who is Native American and also recently graduated from law school; we discussed how we really are our ancestors' wildest dreams. This country, America, used to enslave people based purely on our skin color. My own ancestors lived through that, which is an overwhelming thought. Now I am going to be able to work on passing laws and making legal decisions that will affect my own descendants. I think that's pretty profound.
I often think that the world is presented to us, and especially Black women, as a space where we have to exist within certain parameters and do what society has told us we should do. But, I have always believed that another world is possible and that we can create the worlds that we want to live in.
Over the next few months I will study for the bar exams, and I eventually want to be a trial attorney in the courtroom. That's certainly the goal.
It's such an honor to graduate from law school. I can't think of a better use of my time than to think about the law. It is the best use of any strength or capability that I have.
Amber Goodwin is the founder and executive director of the Community Justice Action Fund. She recently graduated from Mitchell Hamline School of Law in June 2021. You can follow her on Twitter @amberkgoodwin.
All views expressed in this article are the author's own.
As told to Jenny Haward.