41 Percent of Republicans Say QAnon Conspiracy Theories Are Good for Nation: Poll
Roughly four in 10 Republicans say that QAnon conspiracy theories are good for the U.S. according to a new poll.
The poll, which was conducted by the Pew Research Center and released today, found 41 percent of Republicans saying that the QAnon theories are good for the country, with 32 percent saying they are somewhat good and 9 percent saying very good.
QAnon refers to far-right conspiracy theories saying a number of prominent Democrats are involved in a satanic cult that participates in child sex trafficking.
According to the poll, 51 percent of Republicans said QAnon is a bad thing for the U.S., with 26 percent saying very bad and 24 percent saying that it is somewhat bad.
By contrast, only 7 percent of Democrats say that QAnon is a good thing for the U.S., while 90 percent said the opposite.
Among all U.S. adults, 74 percent said the conspiracy theories are bad for the country, compared to 20 percent who said they were bad. Among the 74 percent, 57 percent said they were very bad and 17 percent said somewhat bad.
Pew Research surveyed 9,220 U.S. adults from August 31 to September 7. The poll did not report a margin of error for the sampling.
The poll also found that the number of Americans saying they had heard of the QAnon conspiracy theories had been steadily increasing over the past few months.
According to the poll, 47 percent of U.S. adults say they have heard of QAnon. Among different political party preferences, the poll found 55 percent of Democrats (or leans Democrat) and 39 percent of Republicans (or leans Republican) saying the same.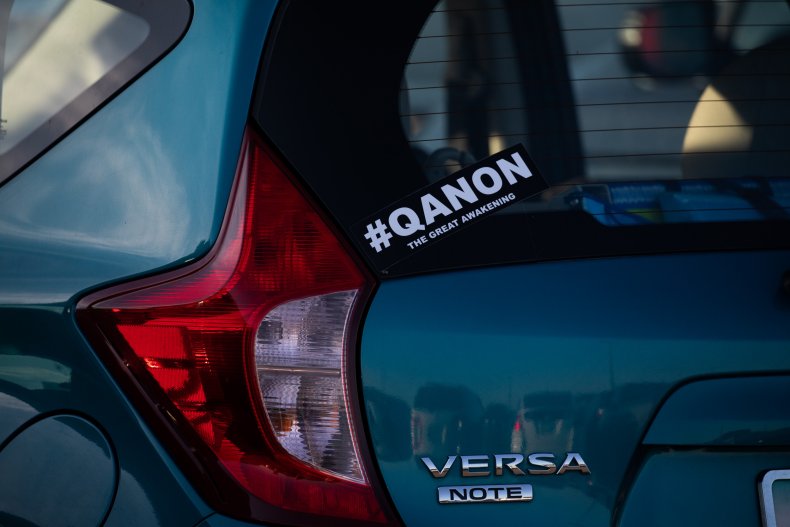 In comparison, in a separate poll conducted from February 18 to March 2, only 23 percent of all U.S. adults (28 percent of Democrats or leans Democrat and 18 percent of Republican or leans Republican) said they had heard of the conspiracy theories.
Another poll, conducted by Morning Consult, found similar results, with Republicans being more likely to say that the QAnon claims are at least somewhat accurate.
According to the Morning Consult poll, 38 percent of Republicans said they believe the conspiracy theories are accurate, with 21 percent saying very accurate and 17 percent saying somewhat accurate. The poll found only 18 percent of Democrats agreeing, while 63 percent said the claims were inaccurate.
Morning Consult surveyed 1,000 U.S. adults from October 6 to October 8 and reported a margin of error of plus or minus 3 percentage points.
Newsweek reached out to the Republican Party for comment but did not receive a response in time for publication.