42% of New York's Hospitalized COVID Patients Admitted for Other Reasons
Nearly half of COVID-infected hospital patients in New York were originally admitted for other health reasons and only learned they were positive through routine testing, Governor Kathy Hochul announced Friday.
According to newly released data, 42 percent of current coronavirus patients in the state entered the hospital for other issues, such as injuries or heart attacks, and later learned they were infected with the virus. Of those, 37 percent of patients did not show symptoms of the virus before testing positive.
The data marks the first time New York hospitals have specified which "COVID patients" sought care for COVID and which simply found out they are positive after they arrived. Hochul ordered hospitals to compile the information on Monday in order to clarify how the Omicron variant is affecting the latest surge in admissions.
"I have always wondered, so we're looking at the hospitalizations of people testing positive," she said Monday. "Is that person in the hospital because of COVID? Or did they show up there and are routinely tested and showing positive and they may have been asymptomatic or even just had the sniffles?"
On Friday, Hochul said about half of all COVID-19 patients in New York City have been admitted for reasons aside from the virus.
Hochul's latest announcement comes as COVID hospitalizations in the state have reached 11,548 as of Friday, marking the highest total since April 2020, according to NBC New York.
"Let's put this all in perspective, it's still a number that is very high," Hochul added during the press conference. However, the governor said, hospitalizations should start to see the beginnings of a plateau in the coming days.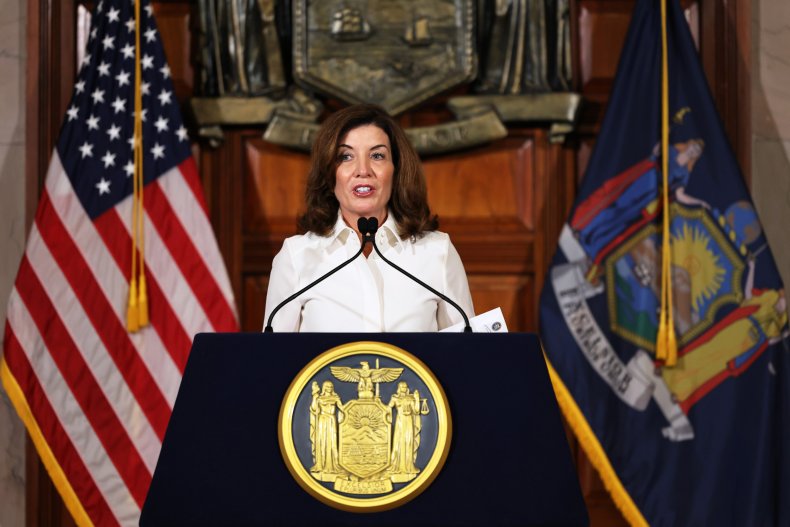 New York is now reporting an average of 70,000-plus new positive cases a day, marking a 173 percent increase in the past two weeks, according to the New York Times. The influx of new cases is largely due to the highly contagious Omicron variant, which has caused some hospitals to suffer from staffing shortages and become overwhelmed with new patients.
Hochul stressed this issue on Friday and asked New Yorkers who have mild COVID-19 symptoms not to go to emergency rooms for testing or treatment.
"Right now, too many New Yorkers are going to emergency rooms to get a test. Just to get a test," she said Friday, while adding that the state has 2,000 state-run testing sites outside of hospitals. "Please do not go to an emergency room and tie up the resources, those individuals, so you can get a test."
"I know you're anxious, I really understand this, but if you're an adult with very minor symptoms you can handle the runny nose," she added. "You can handle the throat being a little sore, a little bit of cough. Just treat it as you would a flu. Follow the protocols. Please don't overburden our emergency rooms. They have so much work to do."