Best Stoner Movies and Shows on Netflix to Celebrate 420
Every year, enthusiasts and supporters come together for a day of solace and celebration to honor one of Earth's most beloved plants, marijuana. The day is April 20—referred to as 4/20 by those who unabashedly enjoy indulging in the benefits of cannabis, whether for medicinal or recreational purposes—and on Saturday, adults in legal states will celebrate the milestones marijuana has made in the U.S.
There are many ways to partake in the delightful stoner's holiday. Some folks will rally together to advocate the health, healing and wellness benefits of the plant. Others will host lavish dinners full of menu items cooked up with marijuana's powerful components, either THC—Tetrahydrocannabinol, the psychoactive ingredient marijuana naturally produces—or the not-so-trippy but still relaxing Cannabidiol, known as CBD.
Then there are the folks who will celebrate 4/20 by doing nothing elaborate at all but rather prefer to stay in, kick back and blaze up while binge-watching classic stoner flicks and shows.
If the latter is how you prefer to celebrate, Netflix has several movies and shows that will make movie-decision making a breeze. Whether you're blazing up in bed or crashing couches with friends, these are the Netflix movies and shows that will surly give celebrators a highly enjoyable 4/20.
See the complete list below: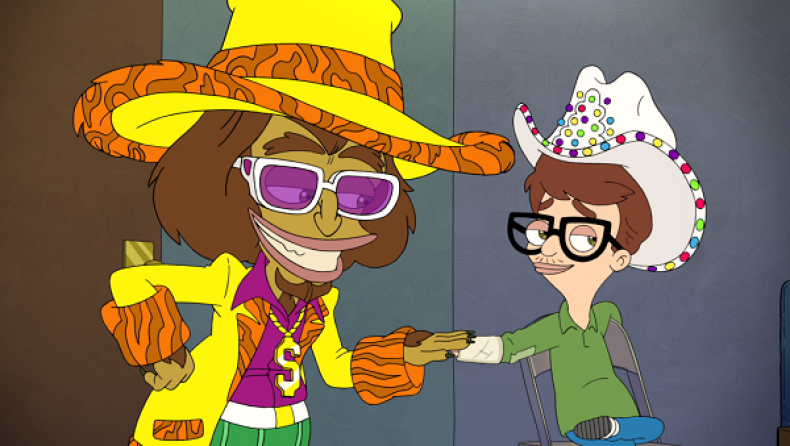 Mac & Devin Go to High School: Nothing says 4/20 more than Snoop Dogg and Wiz Khalifa, together, in a comedy. The longtime pot-appreciators collaborated on this 2012 flick that combines the perils of high school with humor and, of course, a lot of pot. Bonus points for watching while sparking either of rappers' branded cannabis, Leafs by Snoop and Khalifa Kush.
Pineapple Express: Seth Rogen and a drug-dealing James Franco are on the run in this hilarious whodunit.
The 40 Year Old Virgin: Steve Carell's character Andy Stitzer probably could have used a joint to help combat his incredibly high level of awkwardness, which prevents him from engaging romantically with female counterparts. Luckily, the toy hobbyist and electronics store supervisor has the help of David (Paul Rudd) to help guide him to bedroom bliss.
The Office: Steve Carell just gets it, and he's here—as Michael Scott—to help you laugh through it all.
Disjointed: Over the course of Kathy Bates' long and successful career, the incredibly talented actor has played an onslaught of serious character roles. As Ruth, she not only flexes her comedic chops but she serves as a really funny and authentic community hero advocating for alternative care. Plus she can rip a bong with the best of them.
Weeds: Yes, you absolutely want to watch Nancy Botwin (Mary-Louise Parker) become a weed overlord as she attempts to deal with life and debt in the aftermath of her husband's death. You definitely want to see how she does it all under the nose of her meddling neighbor, Celia (Elizabeth Perkins).
Trailer Park Boys: The Animated Series: If there's anything worth knowing about Nova Scotia's Ricky, Bubbles and Julian, it's that these boys sure do love their pot almost as much as they love scheming and plotting in their trailer park neighborhood. Watch all their tricks and taunts in animated form with their latest comedy series.
Big Mouth: Hormones, humor and cartoons. What more do you need?
Rolling Papers: Have you ever wondered how Denver Post tackles its groundbreaking marijuana coverage? If so, this is the docuseries for you.
Grass is Greener: Produced by Fab 5 Freddy, the docuseries chronicles the history of cannabis in America, from its cultural and musical influences to the never-ending war on drugs.
Our Earth: Beautiful and colorful cinematography bring this series about the planet to life. It's a feast for the eyes that covers a range of landscape, low and high.