4/20 Prep Made Easy at Seattle's Favorite Legal Weed Shop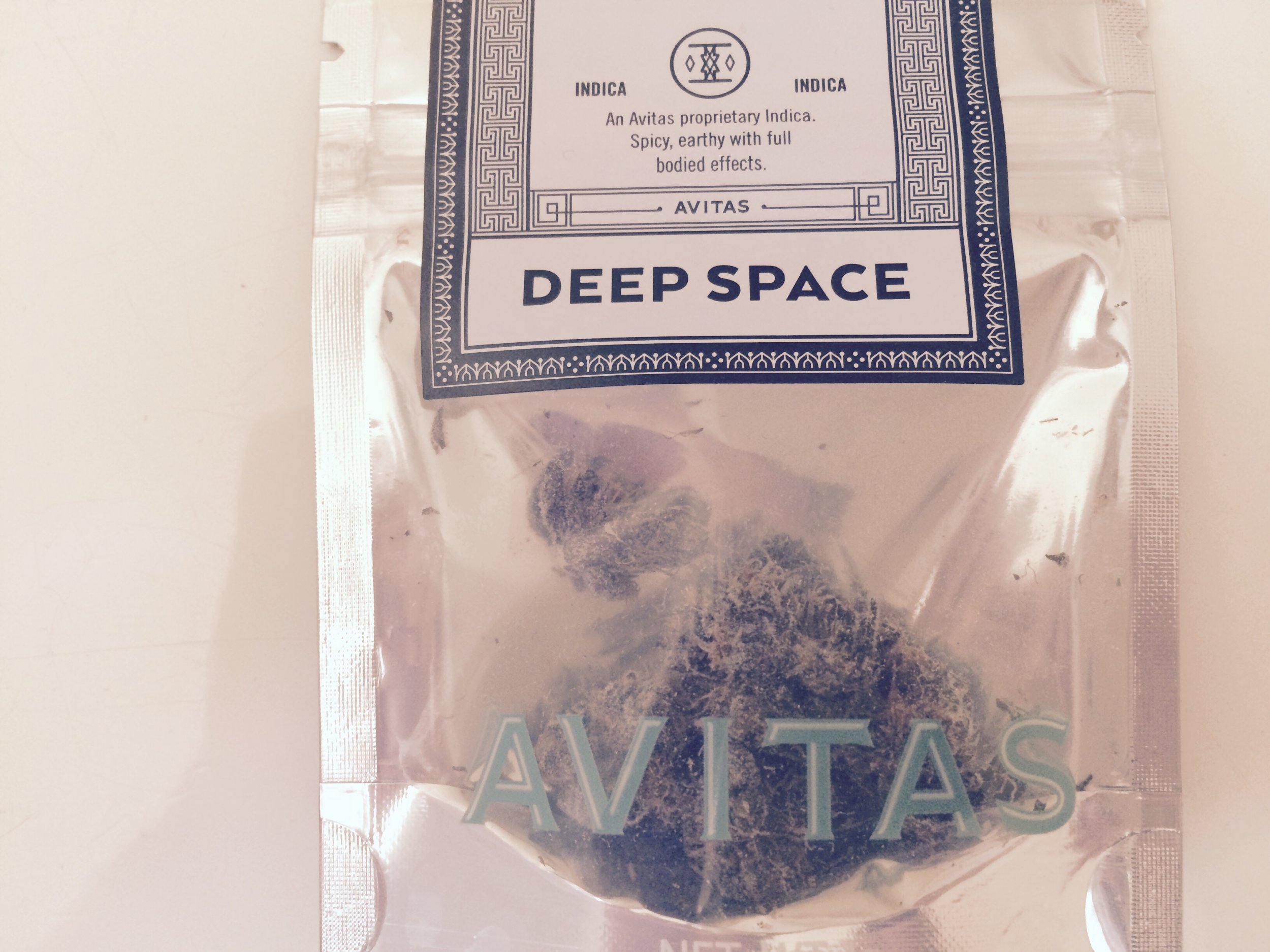 This is the first year that Washington's new recreational marijuana stores are open for business on April 20, the international weed holiday. So what's in the air right now at Seattle's smoke shops? Your humble herb chronicler embarked on a fact-finding tour. Here's how a major legal dispensary is preparing for the 4/20 festivities.
Though an emporium called Cannabis City was the first to open in the Emerald City (a grandma bought the first legal recreational bud and promptly donated it to MOHAI, the city's Museum of History and Industry), I decide to skip it. Web posts complained of long lines, and a review on Leafly (the Yelp of Washington pot) warned:
"DO NOT GO HERE!!!! THEY ARE EXTREMELY OVERPRICED!!!!! 17.34 for a gram of Alaskan Thunder Fuck and EVERYONE ELSE is at $9-15??... NO THANK YOU!"
At Cannabis City, the prices are apparently as high as the customers.
The actual Yelp directs me to Uncle Ike's Pot Shop, which bills itself as the "ultimate one-stop shop for recreational marijuana." The Pot Shop is not to be confused with Uncle Ike's Glass Shop, which is next store and sells bongs, vaporizers and other dingles and dongles.
Uncle Ike's is like an Apple store for wacky tobacc-y, except that you must be 21 to enter and the pricing for ganja is much, much lower than for a MacBook Air. For example, after waiting in line, you confer at the counter with one of Uncle Ike's sales reps, much as you would with an Apple techie at a Genius Bar. Marijuana and marijuana-infused items are on display in glass cases and on merchandise hangers, amid framed posters of Reefer Madness. Thrillist calls this cash-only store the "self-proclaimed home of 'your favorite uncle.'" The store is also dog-friendly, so your pooch need not worry about being carded.
When I got to the counter, the clerk handed me an elaborate, laminated "Daily Menu" that listed everything from "flowers" like Super Silver Goo Indica to "edibles" like Fremont Freaks dried fruit chews. "Everything here is from Washington," she assures me. Shop local!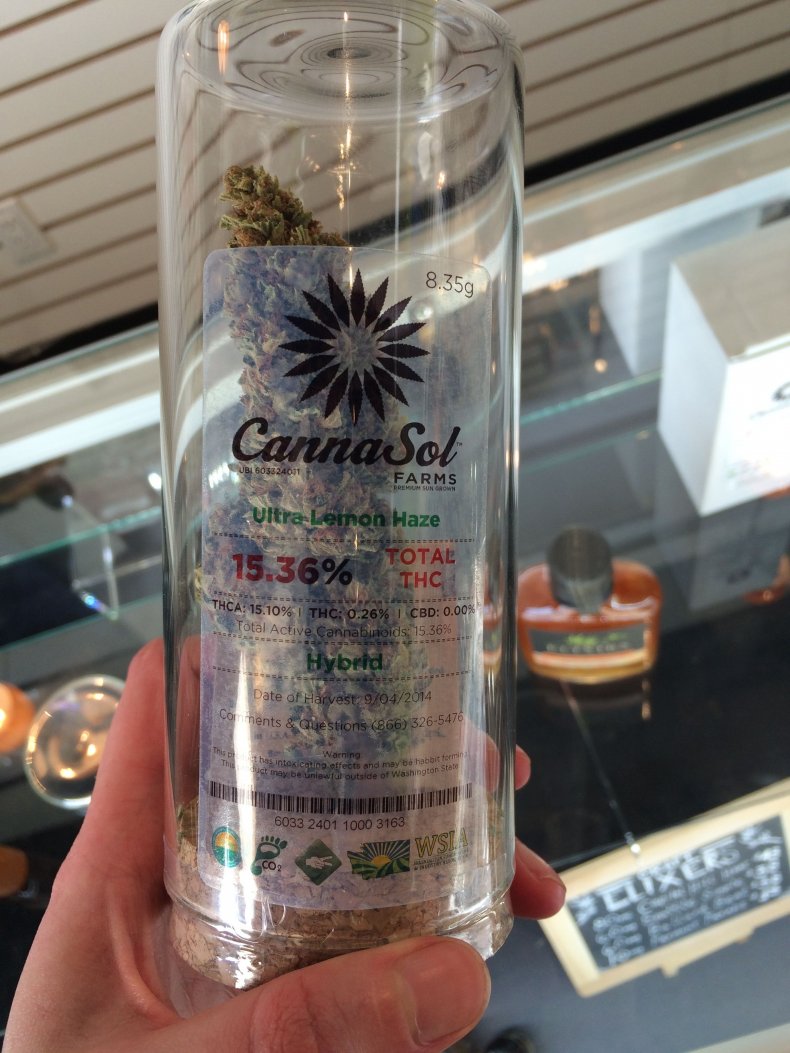 I stop myself from asking what pairs best with glazed doughnuts. The offerings range from Sasquatch to Purple Cat Piss. "It really is purple, but it's not really cat piss," reads the menu. A few giant buds are exhibited in snow globes—the first flowerings of each plant. Prized by connoisseurs for their potency, they sell for $97 and come with pedigree papers listing farm, THC content, strain and date of harvest. Uncle Ike's also hawks hash oils by different brands, like Salish Sativa.
The Salish are a native people indigenous to the Pacific Northwest. Do they actually smoke this?
"I highly doubt it," the clerk admits.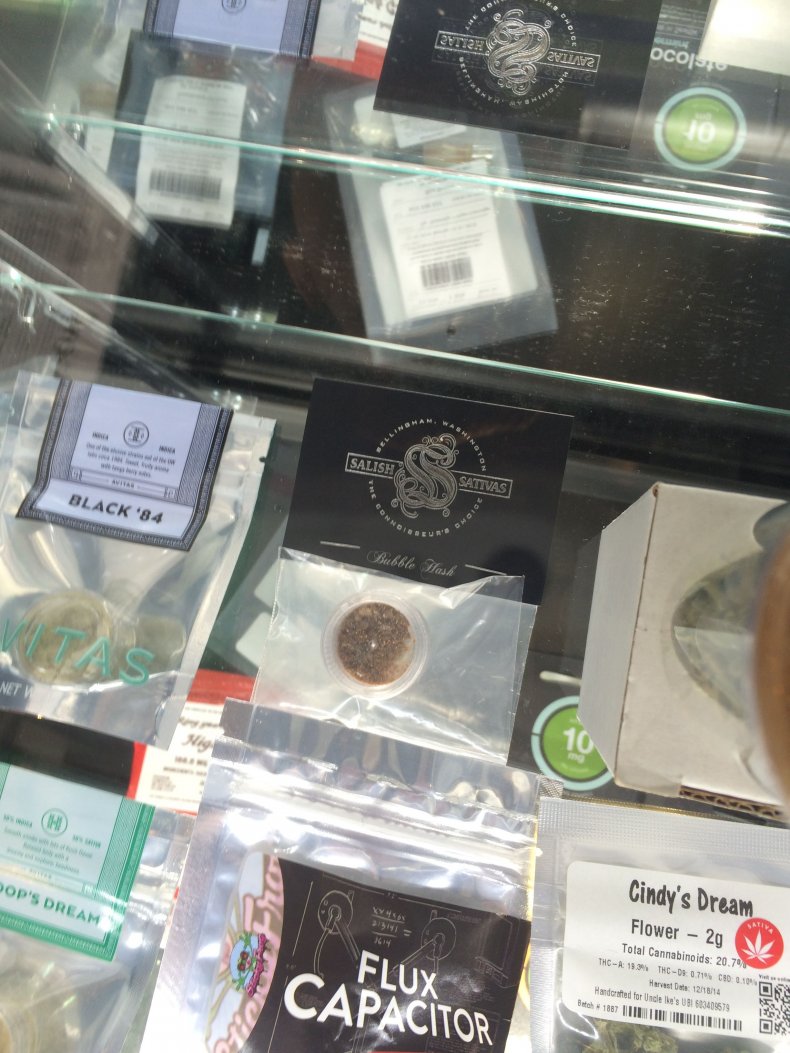 Some Washingtonians have protested the use of pesticides by legal grow houses, which is why Uncle Ike's provides a handy list of growers and their insect repellents. Cascade Growers, which cultivates Grand Daddy Purple and New York Sour Diesel, uses ladybugs and neem oil. "Ladybugs eat spider mites," says the clerk.
Another grower, Doc and Yeti, relies mostly on predator mites to keep its strain of University of Washington healthy. Wait, University of Washington is a strain?
"It's purple, like the school colors," the clerk explains. Ah, higher learning.
If you (inevitably) get hungry, Uncle Ike's also provides a one-stop stoner snack shack for candies, chocolates, lozenges, brownies, cookies, dried fruits, fruit chews, almonds, coconut oil tinctures, elixirs, capsules, sodas, coffee and liquid ZootDrops.
The Caramel Roll is "chewy taffy with a THC kick! Think Tootsie Roll but WAY MORE FUN!" The artisanal "craft elixirs" (blueberry/orange, coffee/chicory, habanero/smoke) come in glass flasks and are ideal for dressing salads. Mandarin lime, lemon, cinnamon and lemongrass ZootDrops are packaged in plastic bottles the size of a Tic Tac box. The clerk recommends dosing a cup of tea with them. Catapult coffee pods are exclusive to Uncle Ike's. The cannabis-infused java is available in beans or K-Cup Pods. For the office!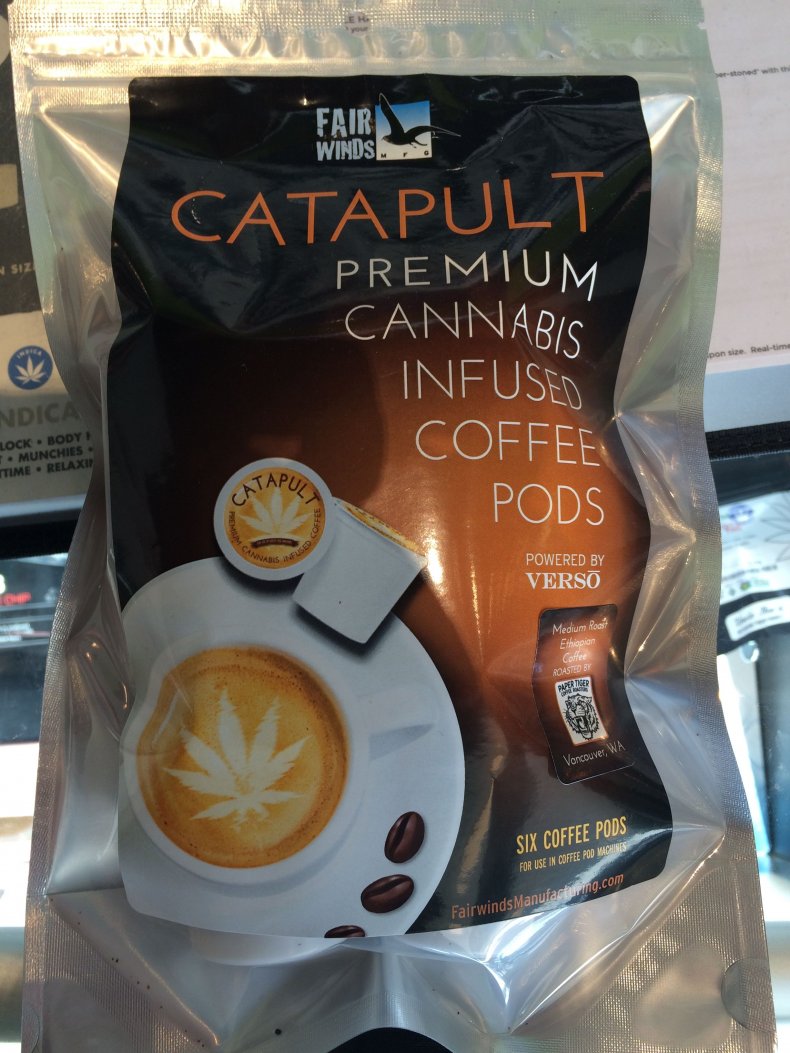 What if you're not looking to get Maureen Dowd-y cloudy, I ask.
She brings out a cannabis extract soda, Rainier Cherry flavor. "Don't drink it all at once," the clerk advises. The soda is designed to be drunk in two doses. She shows me the little hash-marked lines on the side of the bottle. "Serving sizes," she notes and points to one of them. "Drink to here to get comfortably mellow, and to here to get totally zonked."
Among the sprays and hash oil lubricants ("Not safe for Latex") is Uncle Ike's cannabis balm, a "real party for your lips."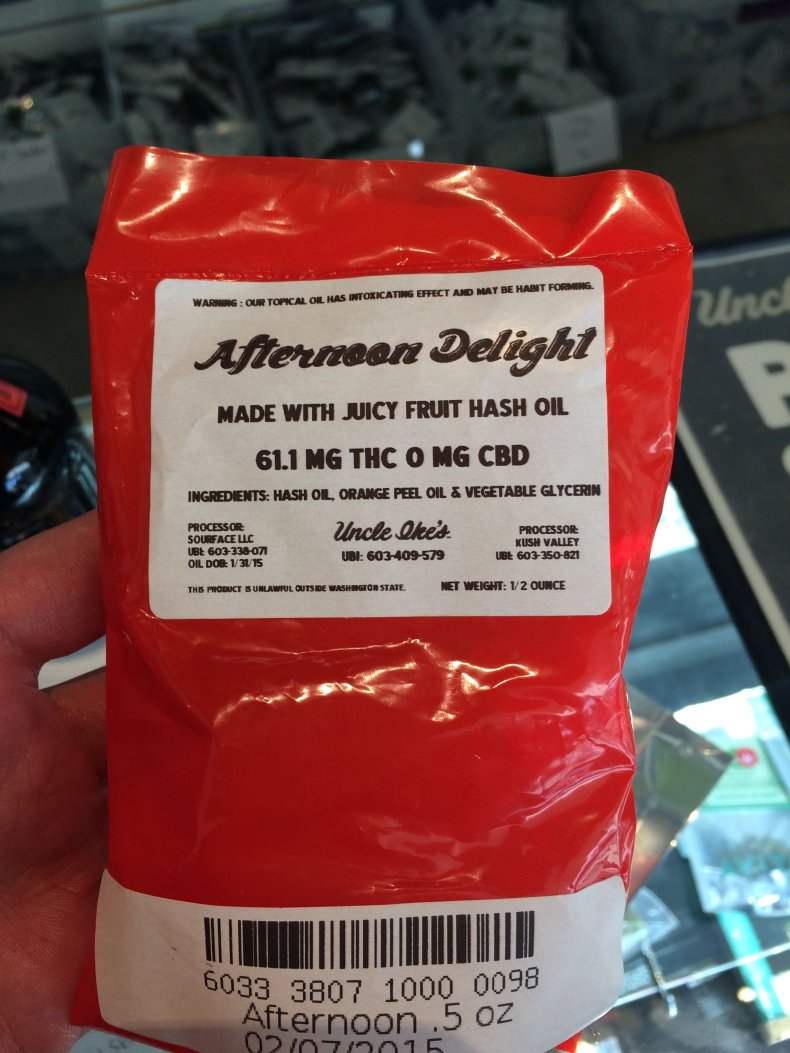 Uncle Ike's is worth the trip if you're looking to get toasted for the holiday. Only eight retail marijuana stores are licensed by Washington's Liquor Control Board, but another 326 are planned across the state. On Monday, a "420 bus" will tour legal marijuana businesses in Tacoma.
In anticipation of 4/20, Uncle Ike's has been having a Mary Jane fire sale, raffling off bongs and vaporizers and retailing the "flowers" of a varietal named Girl Scout Cookies at $8 a gram.
Guess what junk food pairs with that?