As many as 43 million Americans are in danger of losing their current health insurance as unemployment surges amid the novel coronavirus pandemic, a new study has shown.
The Urban Institute's Health Policy Center, an economic and social policy think tank, published a study last week on how the economic recession caused by COVID-19 could affect the health insurance coverage of Americans. The analysis found that between 25 million and 43 million Americans are at risk of losing, or have already lost, their health insurance, which is often tied directly to an individual's employer.
"Thirty million workers filed initial unemployment claims between March 15 and April 25. Near-term forecasts suggest the unemployment rate will likely be between 15 to 20 percent by June," the research, which was supported by the Robert Wood Johnson Foundation, explained.
Although the analysis noted that some Americans would be able to apply for Medicaid in states that have expanded the Affordable Care Act (ACA), known commonly as Obamacare, while others would purchase other private insurance, it estimated that many would be unable to access coverage. The study went on to project how high the number of uninsured Americans will rise.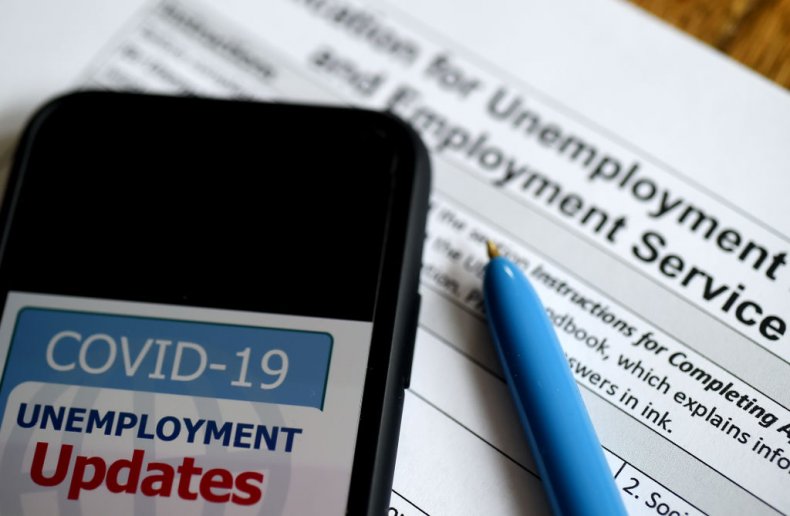 "With 20 percent unemployment, we estimate that 25 million people would lose employer- sponsored health insurance. Of these, 11.8 million would gain Medicaid coverage, 6.2 million would gain marketplace or other private coverage, and 7.3 million would become uninsured," the analysis projected.
However, based on a range of factors, the analysis additionally projected that 20 percent unemployment could potentially lead to 43 million people losing insurance through their employers. Under that scenario, the analysis projects that 12.1 million would not be able to access Medicaid or enroll in insurance through the ACA.
Katherine Hempstead, a senior policy adviser for the Robert Wood Johnson Foundation, told The Guardian that the current system of tying insurance to employment was "incredibly inefficient."
"It's tied to employment for no real reason," Hempstead said. "This problem exposes a lot of the inadequacies in our system."
On Friday, the Department of Labor reported that the official unemployment rate rose to 14.7 percent in April, with more than 20 million jobs lost in the month. However, more than 30 million Americans have already applied for unemployment since mid-March, when lockdown measures to curb the spread of the novel coronavirus went into place throughout the country. Economists also expect the jobless numbers to continue to rise throughout May.
"I don't want to sugarcoat any of this because it's so difficult. I don't think the numbers are going to turn up in the next few weeks. I think in May, the job figures are going to be very difficult," Larry Kudlow, the director of President Donald Trump's National Economic Council, said in a Saturday evening interview with Fox News.
Many economists and lawmakers have raised concerns about the connection between health care coverage and a person's job as the unemployment rate has surged.
"And of course, workers aren't just losing their jobs. Our health care system ties health insurance to work, so millions of workers have likely already lost their employer-provided health insurance," Heidi Shierholz, senior economist and director of policy at the Economic Policy Institute, wrote in a blog post last Thursday.
Senator Bernie Sanders, an independent from Vermont who was previously seeking the Democratic party's 2020 presidential nomination, has pushed for decades to create a universal health care system that would end the current system of insurance coverage being tied to a person's employer.
"20 million people lost their jobs last month. The American people do not want their health care tied to their employment," Sanders tweeted on Sunday. "They want Medicare for All."
While many progressive Democrats have backed Sanders' proposal, moderate Democrats have been more cautious. Presumptive Democratic presidential nominee Joe Biden has called for expanding ACA to allow for uninsured Americans to buy into Medicare. Meanwhile, Trump wants to do away with the ACA altogether, which critics warn will cause millions more Americans to lose coverage.
"We want to terminate health care for -- under Obamacare because it's bad, and we're replacing it with a great health care at far less money and it includes pre-existing conditions," the president said last week. However, the White House has not yet released a plan to replace the ACA.
Uncommon Knowledge
Newsweek is committed to challenging conventional wisdom and finding connections in the search for common ground.
Newsweek is committed to challenging conventional wisdom and finding connections in the search for common ground.
About the writer
Jason Lemon is a Weekend Editor at Newsweek based in Brooklyn, New York. Prior to taking on the editor role, Jason's reporting focused on U.S. politics and international affairs. He joined Newsweek in 2018, and had previously worked as a founding editor at a Middle Eastern media startup called StepFeed. He also worked a year as a contributor to The Atlanta Journal-Constitution and has bylines in The Christian Science Monitor, The Palm Beach Post, Al Fanar Media and A Magazine. He is a graduate of the American University of Beirut in Lebanon and Andrews University in Michigan. You can get in touch with Jason by emailing j.lemon@newsweek.com. Languages: English, Spanish, French and Levantine Arabic