44% of Democrats Nationally Now Say New York Gov. Andrew Cuomo Should Resign: Poll
More than 40 percent of Democrats nationally believe that New York Governor Andrew Cuomo should resign amid sexual harassment allegations, according to a new poll.
The poll, which was conducted by The Economist/YouGov, found that 44 percent of Democrats across the U.S. think the New York governor should resign, while 25 percent said that he should not resign. Thirty-one percent of Democrats nationally replied that they're "not sure."
The amount of Democrats nationally calling for Cuomo's resignation has increased over the past week, as a previous poll conducted by The Economist/YouGov found 37 percent saying the governor should resign.
Across all Americans, regardless of political party affiliation, the poll found 52 percent saying that Cuomo should resign, while 15 percent said the opposite and 33 percent said they were not sure.
This poll surveyed 1,500 U.S. adults from March 13 to March 17, and reported a margin of error of plus or minus 2.7 percentage points.
Another poll reported similar findings, with 67 percent of New Yorkers saying that they won't support Cuomo for re-election, compared to just 15 percent who said they would.
That poll, which was conducted by Data for Progress and exclusively shared with City & State, also found 57 percent of registered Democrats in New York saying that it was time for someone else as governor, while just 18 percent said they'd support reelecting Cuomo.
The Data for Progress poll surveyed 484 likely voters in New York from March 13 to March 16, and reported a margin of error of plus or minus 4 percentage points.
The findings from each of the two polls come as Cuomo faces sexual harassment allegations from nine women, as well as criticism over his handling of COVID-19 death data in nursing homes.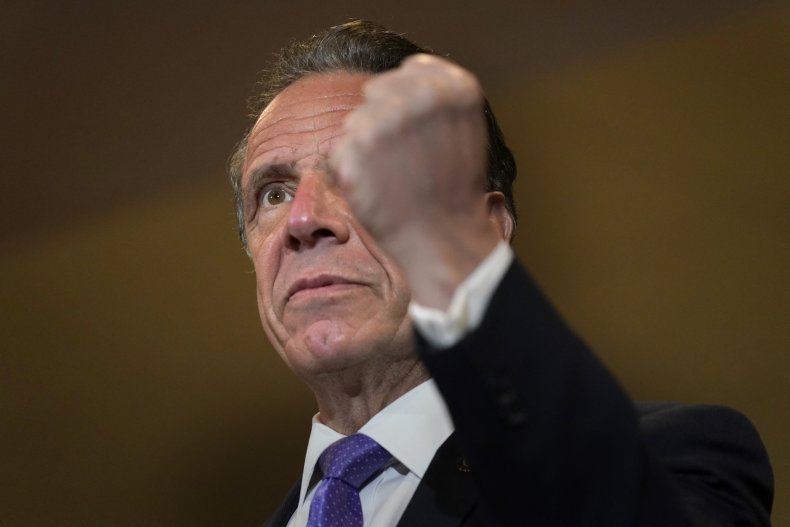 Since the sexual harassment allegations first surfaced, many lawmakers in New York and across the nation have called for Cuomo to step down as governor.
Sixteen of New York's 19 representatives have called for Cuomo's resignation, including Alexandria Ocasio-Cortez, Jamaal Bowman, Jerry Nadler, Carolyn Maloney, Mondarie Jones Nicole Malliotakis, Elise Stefanik, Kathleen Rice, Claudia Tenney and Lee Zeldin.
In addition to the state's representatives, both New York Senators, Chuck Schumer and Kirsten Gillibrand, also called for Cuomo to step down.
"Due to the multiple, credible sexual harassment and misconduct allegations, it is clear that Governor Cuomo has lost the confidence of his governing partners and the people of New York. Governor Cuomo should resign," Schumer and Gillibrand wrote in a joint statement last week.
Despite the increasing number of calls for his resignation, Cuomo has maintained that the allegations against him are false, and refused to resign.
"Some politicians will always play politics. That's the nature of the beast. I don't think today is a day for politics. I wasn't elected by politicians, I was elected by the people of the state of New York. I'm not going to resign. I work for the people of the state of New York, they elected me, and I'm going to serve the people of the state of New York," Cuomo said during a press conference earlier this month.
Newsweek reached out to Cuomo's office for comment, but did not receive a response in time for publication.