44 Percent of Americans Don't Think Sexual Assault Allegations Against Biden Will Factor Into Their Vote: Poll
Results released Thursday from a Fox News poll show that sexual assault allegations made against former Vice President Joe Biden won't make a difference in how they vote.
Biden has been accused of sexual impropriety by former Senate aide Tara Reade who says Biden pushed her up against a wall in 1993 and penetrated her with his fingers. Biden has repeatedly denied Reade's claims.
According to the poll, 44 percent of Americans don't believe the allegations made against Biden will play a factor in their vote for president at all while 28 percent said it was a minor factor. 24 percent claimed the accusations would play a major factor in how they chose to cast their ballots.
Reade's claims have drawn the attention of the public, with 25 percent of those polled saying they have been following the story very closely. Forty-four percent claimed they had been somewhat been paying attention to reports about the allegations.
Participants in the poll with 48 percent of those surveyed saying they held a favorable opinion of Biden. President Donald Trump held a favorability score of 43 percent.
Biden would win the presidential election if it were to be held today, according to the poll, with 48 percent of those polled saying they would cast their ballots for him. That represents an eight-point lead over Trump, who received 40 percent of the support those who participated in the poll.
Newsweek reached out to the Biden campaign for comment. This story will be updated with any response.
The poll was taken by randomly chosen registered voters and holds a margin of error of plus or minus 3 percentage points.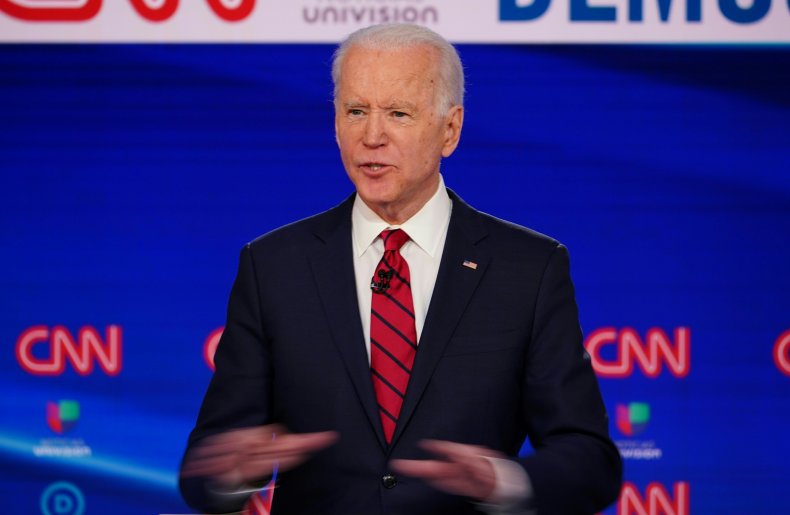 Reade's claims about Biden's past behavior have come under criticism. Biden, a strong proponent of women's rights, has encouraged people to examine Reade's story. He insists, however, that Reade's claims are false.
"It is not true," Biden told MSNBC in May. "I am saying unequivocally it never, never happened and it didn't. It never happened."
Biden found an unlikely sympathizer in President Trump who told NBC News in May that Biden should respond to Reade's claims. "It could be false allegations," Trump said. "I know all about false accusations. I've been falsely charged numerous times. There's such a thing."
Reade claims she filed a complaint about Biden's behavior with the Senate in 1993. No copies of the complaint have yet been located. Biden wrote a letter to the Secretary of the Senate in May, asking them to find a copy of the report and release it to the public. That request was denied in order to comply with confidentiality laws.
In a May interview with journalist Megyn Kelly, Reade asked Biden to come forward and "be held accountable." She also said Biden should "not be running on character" for president.