44 Percent of Americans Say Confederate Statues Should Remain Standing, Poll Shows
Over one in four Americans say that Confederate statues across the country should remain standing, according to a new poll.
The poll, which was conducted by Morning Consult/Politico, surveyed roughly 1,990 registered voters from June 6 to June 7. The poll has a margin of error of plus or minus 2 percentage points.
According to the poll, 44 percent of Americans believe the statues should remain standing, while 32 percent said they should be taken down. The remaining 23 percent said they didn't know or had no opinion.
The poll shows a decrease in the number of Americans that support the statues remaining on display, as 52 percent said so in a poll conducted in August 2017. In the poll from 2017, only 26 percent of respondents said that the statues should be taken down.
Among political party lines, the poll found drastic differences, with a majority of Democrats, 53 percent, saying the statues should be taken down and 25 percent saying they should remain standing. In comparison, 71 percent of Republicans said the statues should remain while only 11 percent said the opposite.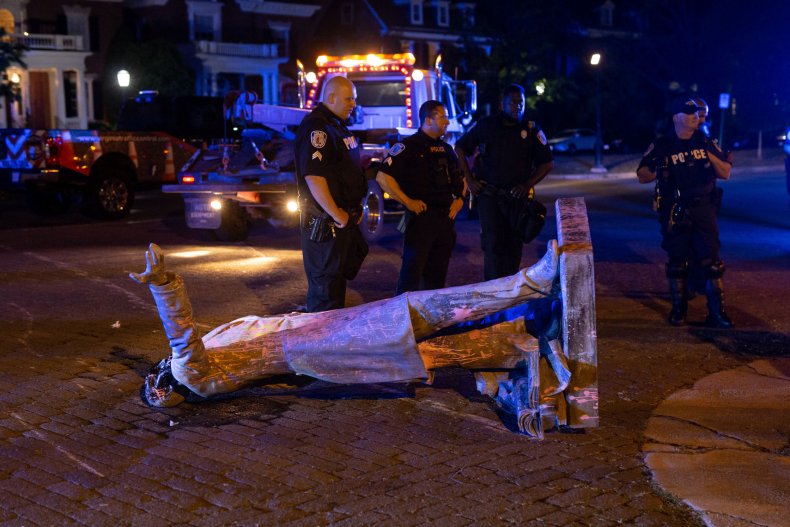 The poll's findings come as Confederate statues across the U.S. have faced controversy, amid ongoing protests following George Floyd's death. During the protests, many took part in taking down or defacing several Confederate statues, including the Robert E. Lee statue in Alabama, a Confederate monument in Indiana and the statue of Confederate President Jefferson Davis in Virginia.
In addition to removals of Confederate statues, others have called for the names of military bases named after Confederate officers to be changed. On Tuesday, former CIA director and retired U.S. Army General David Petraeus, published an op-ed in The Atlantic titled "Take the Confederate Names Off Our Army Bases."
"As I have watched Confederate monuments being removed by state and local governments, and sometimes by the forceful will of the American people, the fact that 10 U.S. Army installations are named for Confederate officers has weighed on me," Petraeus wrote.
Shortly after Petraeus' comments, President Donald Trump announced that he "will not consider" renaming the military bases named after Confederate generals, such as Fort Bragg in North Carolina, Fort Benning and Fort Gordon in Georgia.
A similar poll, also conducted by Morning Consult and Politico, surveyed 2,000 registered voters, and found that 44 percent say that the Confederate flag is a symbol of southern pride, compared to 36 percent that said they see it as racist.
Newsweek reached out to the White House and the Black Lives Matter movement for comment on the poll's findings but did not receive a response in time for publication.