45% of Americans Less Likely to Vote for Lawmakers Who Oppose Biden's $1.9T Stimulus: Poll
In a new poll, 45 percent of Americans say they'd be less likely to vote for members of Congress who oppose President Joe Biden's $1.9 trillion stimulus package in the next election cycle. The bill, dubbed the American Rescue Plan, would send $1,400 stimulus checks to eligible Americans, expand unemployment benefits and provide funds for a national vaccine program.
According to the poll, 22 percent said they'd be more likely to vote for members of Congress who oppose the bill, the same percent said it wouldn't make a difference and 11 percent said they weren't sure.
Public Policy Polling surveyed 756 national voters on February 25-26 and reported a margin of error of plus or minus 3.6 percentage points.
The findings come as Biden's stimulus deal awaits a vote in the Senate. The bill passed in the Democratic-controlled House in a 219-212 vote, with two Democrats crossing the aisle and voting in opposition of the bill. The bill did not receive any support from House Republicans.
The bill is expected to face new challenges in the Senate after the upper chamber's parliamentarian, Elizabeth MacDonough, ruled in favor of removing a provision increasing the federal minimum wage to $15. Some Democrats have called for overruling her.
MacDonough ruled that the minimum wage increase violated the Byrd rule, which prohibits measures that are not directly related to the budget through reconciliation, a process Democrats are using to pass the bill without Republican support.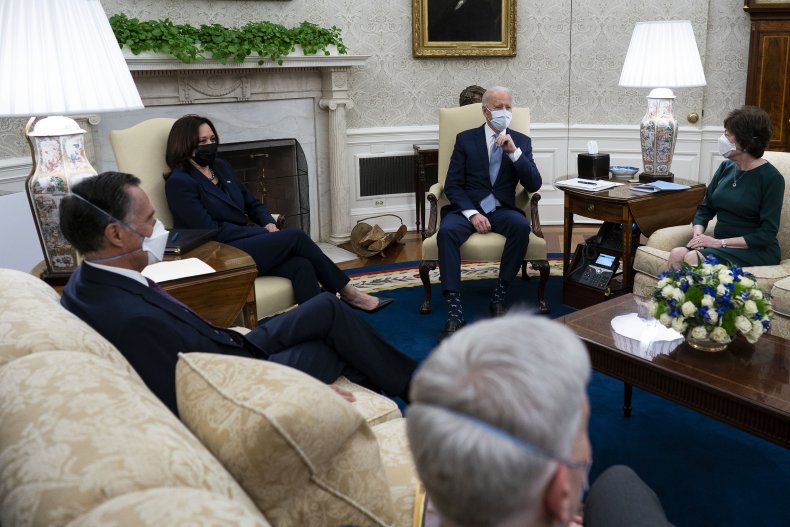 In addition to Republicans, the bill also faces some opposition from moderate Democratic Senators Joe Manchin and Kyrsten Sinema. Both have expressed opposition to overruling the parliamentarian's ruling, and Manchin has stated his openness to a lower minimum wage increase as well as targeting stimulus checks to Americans most in need.
"My only vote is to protect the Byrd Rule: hell or high water," Manchin said in an interview with CNN earlier this month. "Everybody knows that. I'm fighting to defend the Byrd Rule. The president knows that."
In response to Biden's proposed $1.9 trillion stimulus, Republican lawmakers earlier this year offered their own proposal, to little avail, of a $618 billion package, which included sending $1,000 direct checks instead the $1,400.
But according to the poll, 61 percent of Republican voters said they support sending $1,400 direct checks to eligible Americans, while 27 percent said they were opposed.
Overall, the poll found 74 percent of Americans support the $1,400 checks, with only 18 percent coming out against them.
Newsweek reached out to Public Policy Polling for comment but did not receive a response in time for publication.