'45 Is a Puppet' Trends on Twitter After Donald Trump Speaks With Fake Presidential Seal Referencing Russia, Golf
The phrase "45 is a puppet" took off on social media after President Donald Trump spoke on Tuesday with a doctored presidential seal projected behind him referencing accusations of his ties to Russia and his love for golf and money.
Similar to the official presidential seal, the altered image featured an eagle, but one that looks like the bird on the Russian coat of arms with two heads, which symbolizes empire and domination. In its talons, the bird clasps golf clubs instead of 13 arrows, and cash instead of an olive branch. Rather than the banner with the U.S. motto "E pluribus unum," Latin for "Out of many, one," the two-headed eagle has a banner with "45 es un titere," Spanish for "45 is a puppet."
Twitter users trolled the 45th president with "45 is a puppet," quickly turning it into a trending phrase on the site.
As of Wednesday morning, it was still unclear who was behind the fake seal that appeared for the 80 minutes that Trump spoke at the conservative group Turning Point USA's student summit at the Marriot Marquis in Washington, D.C.
The White House did not immediately respond to a request for comment from Newsweek. A White House spokesman told The Washington Post that they had not seen the parody seal before it was projected and directed questions to Turning Point. A Turning Point spokesman on Wednesday told the newspaper he had not yet found out who was behind it.
"It was a last-minute A/V mistake—and I can't figure out where the breakdown was—but it was a last minute throw-up," the spokesman said. "And that's all it was."
The Turning Point spokesman said "it certainly wasn't our intention" and unfortunate and that there was a breakdown at some point of the production. "I think it was as simple as a rushed move throwing up an image, and it was the wrong one," he said.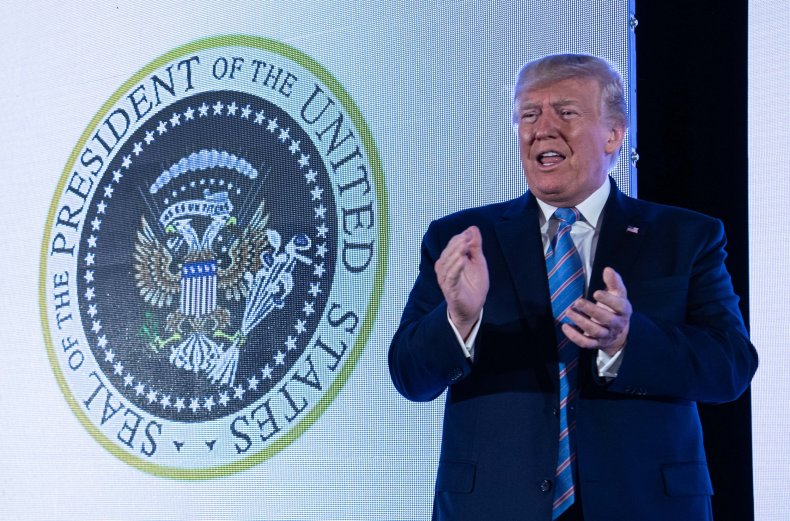 Trump has been accused of having a close relationship with Russian President Vladimir Putin and the country that interfered in the 2016 presidential election. Trump's opponent in the election, Hillary Clinton, in the final presidential debate in October 2016 said that Putin would "rather have a puppet for president," in response to Trump's remark that Putin had "no respect" for her. In January 2019, Clinton reiterated by sharing a video of the exchange and commenting, "Like I said: A puppet."
Trump has denied collusion with Russia but has also refrained from criticizing Putin, instead voicing a desire to improve the relationship between the two countries.
Trump has also been criticized for frequent visits to his golf courses as president. He visited his course in Bedminster, New Jersey, more than 70 times and his course in Virginia more than 40 times as of last October, according to The Post.