46 Coronavirus Deaths Confirmed, Another 52 Suspected At One New York City Nursing Home
At least 46 residents at one nursing home in New York have died after contracting COVID-19, a spokesperson for the facility told Newsweek Friday. Another 52 recent resident deaths are suspected to be connected to the virus, the spokesperson said.
Word of an increase in deaths at the facility began spreading Thursday night as local station NY1 reported nearly 100 COVID-19 residents at Isabella Geriatric Center, a 705-bed nursing home facility operated by the Metropolitan Jewish Health System in Manhattan's Washington Heights neighborhood, had died. At that point, statewide reports of COVID-19 deaths at nursing home facilities showed only 13 deaths at Isabella.
Chief Operating Officer with MJHS Loyola Princivil-Barnett warned Isabella residents and their families in a letter dated Thursday that the death toll was about to climb much higher.
"The numbers that will be announced over the next few days about COVID-related deaths at Isabella will be disturbing," the letter said.
Friday evening, Director of Public Relations with MJHS Audrey Waters told Newsweek 20 residents who had tested positive for COVID-19 had died at the facility as of Wednesday. Another 26 residents who tested positive for COVID-19 died after they were hospitalized due to complications from the virus, Waters said.
An additional 40 resident deaths that occurred at the facility and 12 other resident deaths that occurred after residents were hospitalized were suspected to be connected to COVID-19, Waters said.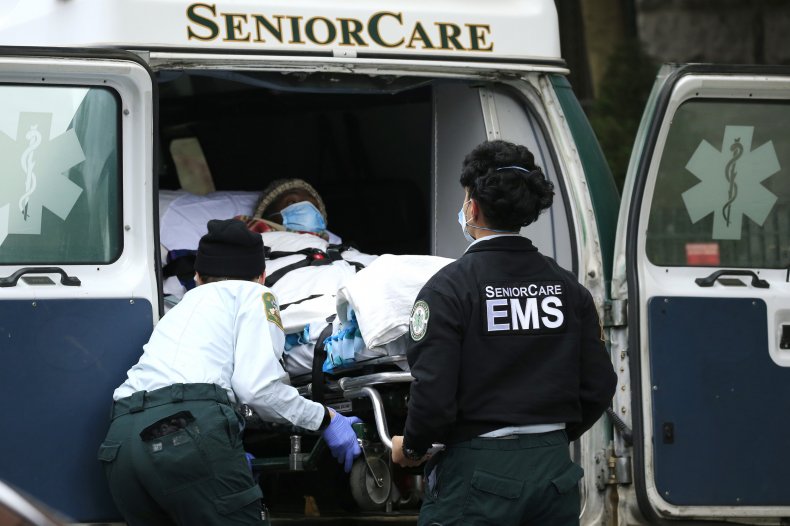 During a news conference Friday, New York City Mayor Bill de Blasio called the situation at Isabella "horrifying" and said it was "a staggering toll that we're hearing about now, and I'm shocked."
In a statement provided by Waters, the facility said it had appropriately reported COIVD-19 deaths to the New York Department of Health. "We have shared daily the number of confirmed and presumed positive cases at both the residence and hospital, including deaths," the statement said. Waters said the facility had also worked with city officials to secure personal protective equipment for its employees, a statement de Blasio confirmed during his news conference when he said the city had supplied Isabella with 12,000 N95 masks.
Nursing homes like Isabella have been popping up as COVID-19 hot spots since the pandemic began spreading throughout the U.S. In Maryland, nearly half of the state's total number of COVID-19 deaths were reported in nursing homes, according to data shared Wednesday by the Maryland Department of Public Health. Nursing homes were early hot spots for the virus in Washington state as well, where The Seattle Times reported the virus had spread to at least 163 facilities by early April.
"Our hearts are with all the patients and families that have been impacted by this terrible virus," Waters said in a statement provided to Newsweek. "COVID-19 is a tragedy that literally targets residents of nursing homes: the frail, elderly and people with multiple medical conditions who all live together under one roof."
Noting the widespread lack of testing throughout the U.S. and at Isabella specifically, Waters said the facility had used available testing to identify residents and staff members with COVID-19 when possible.
"Fortunately, nursing homes in New York City, including Isabella, are now getting more access to testing," Waters' statement said. "Our community is in a tragic situation, and our heartfelt thanks goes out to our staff who come in every day to take care of residents despite the personal risks."