46 Fire Map: Flames in Jurupa Valley, California Force Evacuations
As firefighters battled flames throughout the state, yet another vegetation fire dubbed the 46 Fire broke out Thursday morning.
The 46 Fire ignited just after 3:30 a.m. EDT on 46th Street in Jurupa Valley, California. About three hours after it started, the fire destroyed multiple structures and residents were under mandatory evacuation orders.
About 20 miles from where the 46 Fire started, another blaze erupted Thursday morning. Dubbed the Hillside Fire, it sparked near the Waterman Canyon in San Bernardino and like the 46 Fire, quickly caused mandatory evacuations for residents. Officials from both fires characterized the blazes as fast-moving, likely caused by strong Santa Ana winds, which were forecasted to peak in the Southern California area Wednesday and Thursday.
Around 7 a.m. EDT, the Riverside County Fire Department issued mandatory evacuation orders for residents in Jurupa Valley. Those living within the borders south of Limonite Avenue, west of Crestmore Road, east of Van Buren Boulevard and north of the Santa Ana River bottom were all ordered to leave their homes. Additional evacuation orders were issued for:
46th Avenue from Riverview Drive to Calle Hermosa
Riverview Drive from 46th Avenue to Rio Road
Rio Road from Riverview Drive to Calle Hermosa
Calle Hermosa from Rio Road to 46th Avenue
The Riverside County Fire Department said mandatory evacuation orders would remain in place until further notice and officials established an evacuation shelter at Patriot High School on 4355 Camino Real in Jurupa Valley.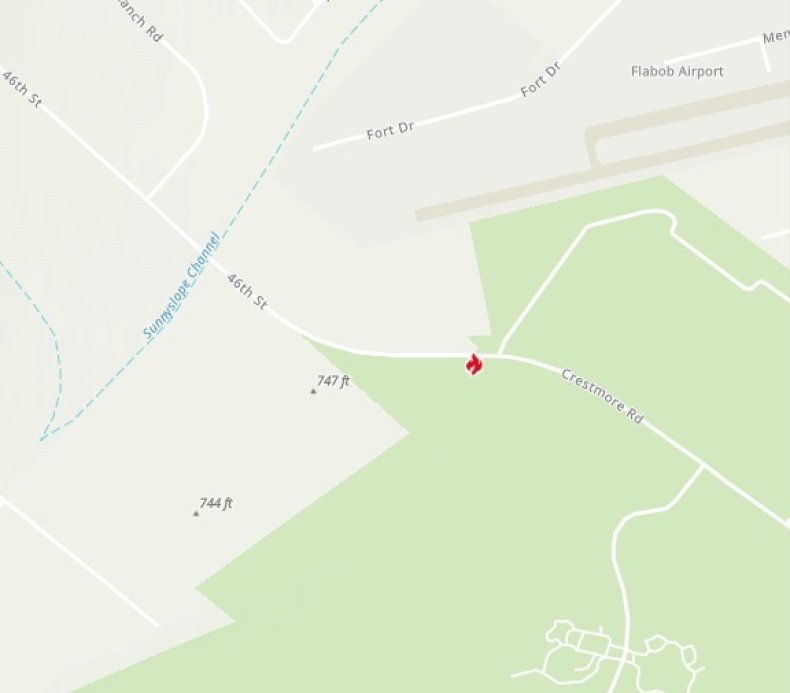 Three residential structures, including a mobile home, and two outbuildings were destroyed in the fire and more than 150 firefighters were assigned to the scene. As of 9:40 a.m., the fire was 150 acres large and not contained with a "rapid rate of spread."
Along with the 46 Fire and the nearby Hillside Fire, California firefighters dealt with at least nine other blazes throughout the Golden State, according to the California Department of Forestry and Fire Protection (Cal Fire). The fires, which predominately sparked within the last week or so, fall within California's wildfire season. However, the current weather conditions pose an increased risk to residents.
Low humidity, which reached single digits in areas of California, combined with hot temperatures, is a recipe for wildfires, experts said. In addition to prime conditions for ignition, strong winds were blowing through large portions of California, reaching up to 60 miles per hour in some areas. Wind fuels fires, causing them to spread rapidly, and can also carry embers away from the initial blaze to create additional ones.
Firefighters know the damage strong winds can cause to wildfires and they worked steadily to get ahead of the flames before the wind event began on Tuesday. Although facing tough conditions on Thursday, meteorologists forecasted that after the wind event ended, firefighters would be met with more favorable weather for the next five to eight days.