46 Senators Urge Biden Officials to Prioritize Evacuating Afghan Women Leaders to U.S.
A group of senators are urging the Biden administration to prioritize evacuating Afghan women leaders to the United States.
In a letter sent to the Secretary of State Antony Blinken and Homeland Security Secretary Alejandro Mayorkas, the 46 senators called for the creation of a "humanitarian parole category" for female journalists, members of the Female Tactical Platoon of the Afghan Special Security Forces and other groups.
They also urged the administration to streamline the process for "fast, humane, and efficient relocation" to the U.S.
"We are gravely concerned about the safety of women leaders, activists, judges, parliamentarians, and human rights defenders," the letter read. "The shocking violence and alleged atrocities occurring have caused mass displacement which, during a global pandemic and severe drought, has created a major humanitarian crisis."
The lawmakers said their offices have received reports about the kidnapping, torturing and assassination of women for their work "defending and promoting democracy" as well as education and human rights.
"While we understand there is little processing capacity at the U.S. Embassy in Kabul, for these women to access a third country for processing is almost completely impossible with all borders crossings now closed or controlled by the Taliban," the group said.
The letter was signed by 43 Democrats and three Republicans.
The Pentagon said Tuesday that it's undertaken a "Herculean" effort to get U.S. citizens and Afghan allies out of Afghanistan amid the chaos caused by the Taliban takeover of the country's capital.
Images from Kabul's Hamid Karzai International Airport on Sunday and Monday showed hundreds of Afghans trying to flee the country. One video captured a group of people running on the tarmac and trying to climb onto a military plane as it was taking off.
Army Major General Hank Taylor, a logistics specialist on the Pentagon's Joint Chiefs of Staff, told reporters that the "speed of evacuation will pick up." Operating at their highest level, he said, officials could remove between 5,000 and 9,000 people per day.
Pentagon press secretary John Kirby said Tuesday there hasn't been any "hostile interactions from the Taliban to our operations at the airport."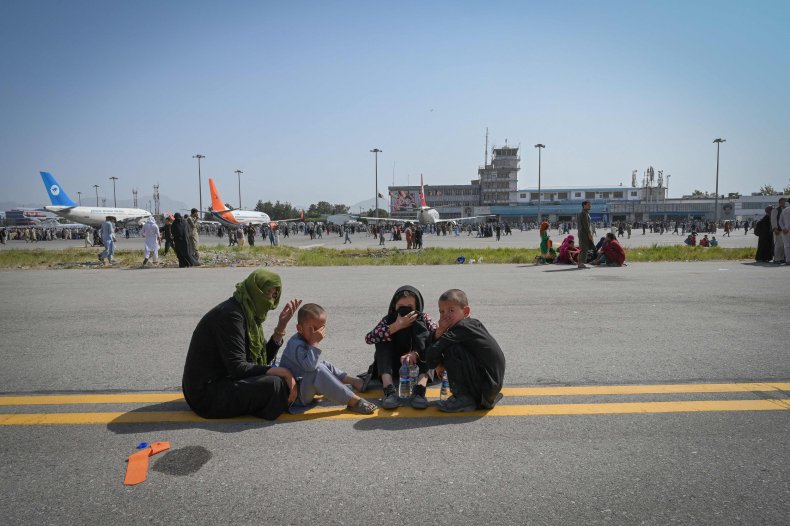 A Department of Homeland Security spokesperson told Newsweek that DHS is "committed to safely supporting the relocation of vulnerable Afghan nationals who worked for and on behalf of the United States."
The spokesperson also said DHS has dedicated personnel expeditiously supporting the screening and vetting of Special Immigrant Visa applicants and other eligible Afghans who are seeking refuge.
A State Department spokesperson said the agency doesn't comment on congressional correspondence.
The Taliban's rapid takeover of Afghanistan has coincided with the withdrawal of American troops. President Joe Biden had previously set an August 31 target date for removal of forces from the country.
Biden defended his decision in public remarks on Monday, saying that after 20 years he had learned "the hard way that there was never a good time to withdraw U.S. forces."
The Taliban have said that women's rights will be protected under their rule. The Associated Press reported Tuesday that Enamullah Samangani, a member of the group's cultural commission, said they're "ready to provide women with environment to work and study, and the presence of women in different [government] structures according to Islamic law and in accordance with our cultural values."
But on Monday, United Nations Secretary-General António Guterres said the U.N. is already receiving "chilling reports" of human rights violations and was particularly concerned about Afghan women.
Update (8/18/2021, 9:30 a.m.): This story has been updated with information from the State Department and the Department of Homeland Security.