Millions of people were terrorized at Auschwitz, Dachau, Bergen-Belsen and Treblinka, but decades after the concentration camps' liberation, nearly half of millennials and Gen Z members in America can't name any of them.
The Holocaust is one of the most significant events in world history, yet a majority of 18-to 39-year-olds in America remain shockingly uneducated about the killings and atrocities. Only 44 percent of millennials and Gen Z were familiar with Auschwitz, a recent survey found, and 48 percent of respondents couldn't name a single one of the more than 40,000 camps and incarceration sites in Europe.
Auschwitz, where more than 1.1 million people were killed, was the largest Nazi concentration camp and is the most identifiable of all the camps, according to the Conference on Jewish Material Claims Against Germany (or Claims Conference) survey. Only 6 percent of respondents were familiar with Dachau, where more than 28,000 people died, and 3 percent knew about Bergen-Belsen, where about 50,000 people died, including Anne Frank.
Treblinka, a camp at the center of the recent Netflix documentary The Devil Next Door, was a killing center where an estimated 925,000 Jews died. Knowledge of the camp was virtually nonexistent, at 1 percent, as was the case for Buchenwald, where prisoners were the subjects of medical experiments. In 2009, President Barack Obama visited the camp, where he dismissed denial of the Holocaust.
"To this day, there are those who insist that the Holocaust never happened—a denial of fact and truth that is baseless and ignorant and hateful," Obama said. "This place is the ultimate rebuke to such thoughts—a reminder of our duty to confront those who would tell lies about our history."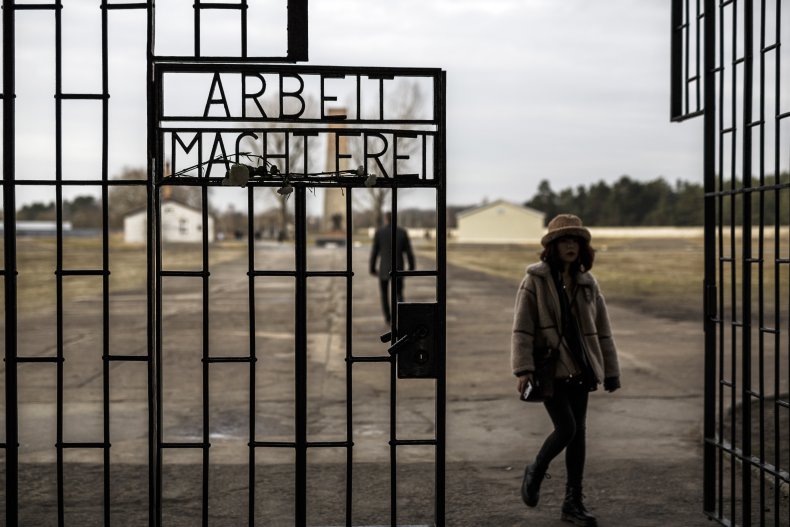 The Claims Conference survey found that 10 percent of respondents said the Holocaust didn't happen or weren't sure if it did. Of those who were unsure of its validity, about 23 percent said that it was a myth, that the number of Jews that died had been greatly exaggerated or were unsure which came closest to their view.
Other "critical gaps" in Holocaust knowledge were involved the number of Jews who were killed. Of the 1,000 people surveyed, 63 percent did not know that 6 million Jews were killed, and 36 percent put the death toll among Jews at 2 million or fewer.
Twelve percent "definitely" had never heard of the Holocaust or didn't think they had heard about it.
"An understanding of the basic facts around the Holocaust is required to learn the lessons this watershed event in history can teach us about human nature and the dangers of unchecked hatred and antisemitism," Gretchen Skidmore, director of education initiatives at the USHMM told Newsweek.
The majority of respondents said they learned about the Holocaust in school. Gideon Taylor, president of the Claims Conference, said in a statement the survey underscored a need to understand why America isn't better at educating a younger generation.
"This needs to serve as a wake-up call to us all, and as a road map of where government officials need to act," Taylor said. "The results are both shocking and saddening, and they underscore why we must act now while Holocaust survivors are still with us to voice their stories."
While it's shocking to hear that people lack basic knowledge about the Holocaust, the survey's results aren't entirely surprising and follow a pattern of disturbing findings and calls for increased education.
A Pew Research Center survey from January found only 45 percent of American adults could correctly put the death toll among Jews at 6 million people. At the time, Jason Greenblatt, CEO of the Anti-Defamation League, told Newsweek the data showed a need for education, and he advocated for the Never Again Education Act.
Introduced by Representative Carolyn Maloney of New York, the act bolsters educational resources at the United States Holocaust Memorial Museum (USHMM) for teachers across the country. Funds from the act will support a centralized website from the museum where educators can find curriculum materials, and teacher training with be provided through Holocaust education centers. The act passed in the House in January and in the Senate by unanimous consent in May, and President Donald Trump signed it into law that month.
"This survey highlights the need for the program created by my Never Again Education Act," Maloney told Newsweek. "Children are not born with hate in their hearts, and by providing educators with the tools they need to teach about the Holocaust, we can ensure they never [forget] it. Teaching our children about the Holocaust and the dangers of anti-Semitism and hate is a proactive way to stop anti-Semitism before it starts."
This article has been updated with comment from the USHMM.