480 State Legislators Ask Congress to Pass Voting Rights Legislation: 'We Need Your Help'
Hundreds of state lawmakers are calling on the federal government to pass voting rights legislation, stating they need help combating a wave of "anti-voter bills."
In an open letter sent to congressional leaders on Tuesday, over 480 legislators from across the country called for the passage of the For the People Act and the John Lewis Voting Rights Advancement Act.
"We are out of options. We need your help," the lawmakers wrote.
The letter was addressed to Senate Majority Leader Chuck Schumer, House Speaker Nancy Pelosi, Senate Minority Leader Mitch McConnell and House Minority Leader Kevin McCarthy.
The Democratic lawmakers said the federal intervention was needed to counteract the hundreds of bills introduced at the local level in the wake of the 2020 elections.
Between January and May, at least 14 states enacted 22 laws that limit access to voting, according to the Brennan Center for Justice, a bipartisan public policy institute at the New York University Law School.
That number is likely to grow, as there are at least 61 bills with restrictive provisions moving through 18 state legislatures, the center found in its latest report.
"Make no mistake: these unpatriotic attacks on our elections will undermine confidence that elections in America can possibly represent the will of a checked and balanced majority," the state legislators wrote in their letter. "They present a deep threat to our democracy and will lead to material harm to communities that have long been under-represented."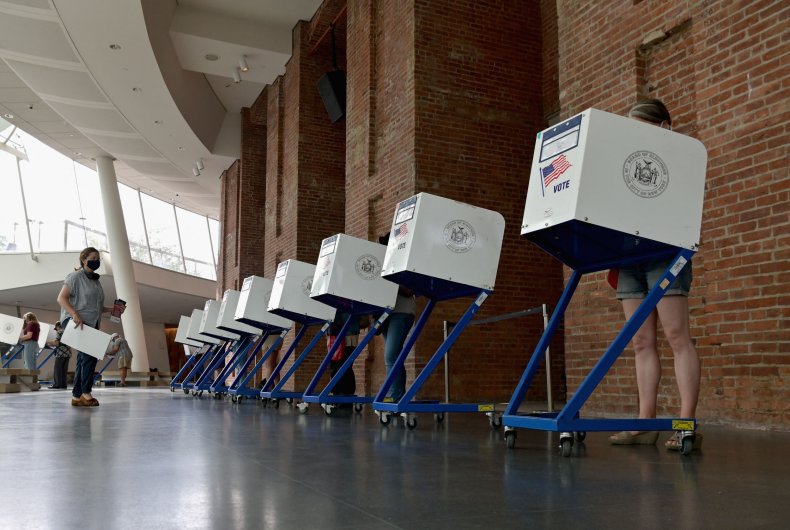 The letter was sent ahead of a key vote in the U.S. Senate. On Tuesday, lawmakers are expected to decide whether to advance the For the People Act.
The sweeping, 800-page voting rights bill passed the Democrat-controlled House of Representatives in March, but the proposal has gained little support among Senate Republicans.
At least 10 GOP senators will need to join all 50 Democrats to clear the needed 60-vote threshold in the procedural vote. But McConnell said Monday that the legislation will not be advanced.
Schumer criticized Republicans for opposing the vote, saying the GOP "doesn't even want to debate" the issue.
In their letter, the Democratic legislators said that they've attempted to work with their Republican colleagues but that "they simply refuse to act in good faith."
"The world is watching. American democracy is in the balance," the lawmakers wrote. "When future generations judge whether we rose to this pivotal moment in history, we hope you will be counted alongside us in the fight to preserve this experiment in self-governance."
Newsweek reached out to congressional leaders for a response to the letter but didn't hear back before publication.