Nearly 50,000 Pounds of Smoked Sausage Recalled Due to Possible Plastic Contamination
A company in Texas was forced to recall approximately 49,558 pounds of smoked sausage products following reports of possible plastics contamination. The U.S. Department of Agriculture (USDA) announced the recall of products by Eddy Packing Co. of Yoakum on Friday.
USDA recalled smoked sausage products ranging from 2 1/2 pounds to 30 pounds that were processed April 5, with packing dates of April 5-6. The recalled items were shipped to California, Georgia, Illinois, New Mexico, Oklahoma and Texas and sold at food service and retail locations, the USDA's Food Safety and Inspection Service (FSIS) said.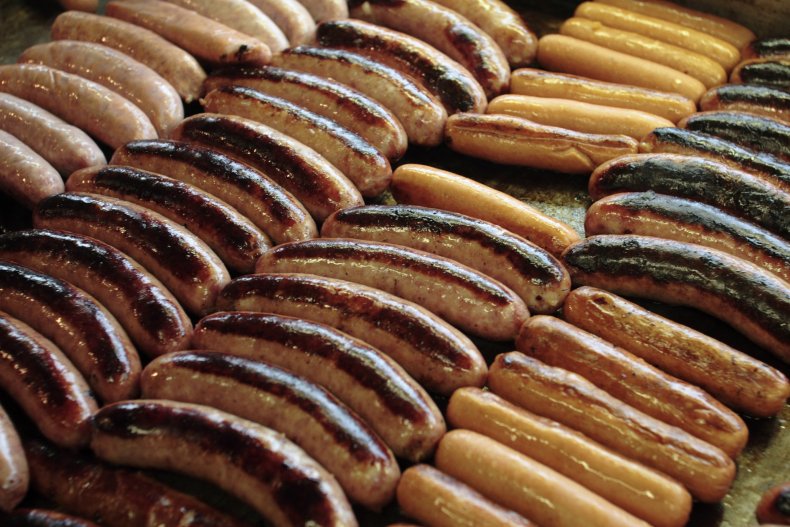 The recalled items include: Eddy Fully Cooked Premium Smoked Sausage, Dickey's Barbecue Pit Original Smoked Fresh Polish Sausage Made With Pork and Beef, Lowe's Original Recipe Naturally Hardwood Smoked Sausage Made With Pork and Beef, Eddy Smoked Sausage Made With Pork and Beef, Carl's Pork And Beef Smoked Sausage, Eddy Southern Style Pork and Beef Smoked Sausage, and Dickey Cheese/Jalapeno Pork and Beef Sausage Ring.
The products bear an "EST. 4800" establishment number in the USDA mark of inspection.
Eddy Packing Co. reportedly received complains from a restaurant that pieces of "white, hard plastic" were discovered in the sausage during slicing. The USDA said that have been no reports of injury or illness from the sausage products.
FSIS asked consumers who may have purchased the products to throw them away or return them.
Eddy Packing Co. did not immediately respond to a request for comment.
The sausage recall comes on the heels of a raw ground beef recall on May 2. JBS USA had to recall 35,000 pounds of raw ground beef after blue, hard plastic pieces were found in the beef. The USDA said there were no confirmed reports of adverse reactions from the consumption of the recalled products.