49ers, Stanford Athletes Can't Practice Outside, But They Can Get Tattoos, Massages While Indoors
The San Francisco 49ers and Stanford Cardinal football teams will play games in other states the next few weeks, including home games, because of Santa Clara County prohibiting contact sports for at least three weeks.
As COVID-19 cases ramp up in the Bay Area of California, officials in Santa Clara County have banned contact sports for the next three weeks. The 49ers, who are last season's NFC champions and Super Bowl runner-up, will play two "home games" now in Arizona.
However, if anyone from the 49ers wants to get piercings, tattoos or massages, it's quite ok, even if they are indoors. They must wear a mask unless, ahem, they are are getting face tattoos or piercings. Then it's ok to remove their masks.
Personal care services like hair salons and barber shops, nail care, body art, tattoo, and piercing shops, esthetician, skin care, and cosmetology services, electrology, waxing, threading, and other hair removal services, and massages are allowed at a minimum capacity and masks must be worn.
Meanwhile, outdoor activities that include contact sports or being close to other people are temporarily banned.
"All recreational activities that involve physical contact or close proximity to persons outside one's household, including all contact sports, will be temporarily prohibited," the order read. "People can continue to engage in outdoor athletics and recreation where social distancing can be maintained at all times."
The outdoor restrictions in Santa Clara County expire at 5 a.m. PT on Dec. 21, unless they are extended by county officials.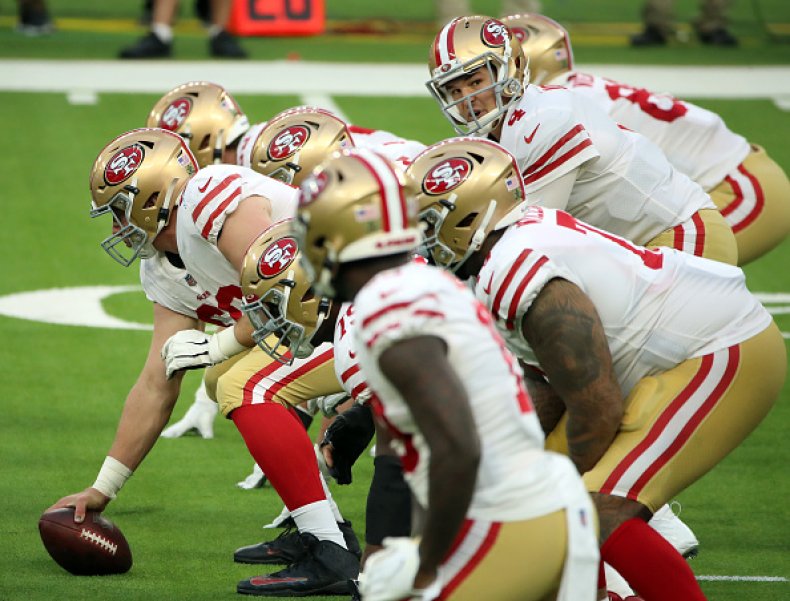 The 49ers have two home games in the next three weeks: Monday night, Dec. 7 vs. the Buffalo Bills and Sunday, Dec. 13 against the Washington Football Team. The 49ers will play both of those game at State Farm Stadium in Glendale, Arizona, home of the Cardinals.
"The best scenario for us and the most convenient for us right now with the situation presented is just getting out to Arizona, there's a good setup there," 49ers coach Kyle Shanahan said, praising his NFC West rival for their hospitality. "The Cardinals have been awesome with us, everyone out there has been awesome with us. I do believe we have a really good setup there to make the best of it, and that's where we'll play our games, too."
The 49ers will also stay at a nearby hotel and practice at Cardinals facilities through Dec. 21, which completes the three-week mandate set by Santa Clara County. The 49ers will have a road game at the Dallas Cowboys on Dec. 20.
The Stanford University football team has not had a positive case of COVID since July, and they get tested several times a week. That doesn't matter for the Cardinal squad, though. Stanford will travel to Seattle this week in preparation for their Saturday game at Washington, and then they'll travel to Corvallis, Oregon and stay an entire week in preparation for the Dec. 12 game at Oregon State.