4th of July Weather Forecast: What Is The Weather Like In Chicago, Boston, Washington, D.C., Ohio Valley?
Independence Day is set to be a big affair this year, especially with President Donald Trump's "Salute to America" taking place in Washington, D.C. and extravagant parades across the U.S.
But will any of it be struck down by the weather?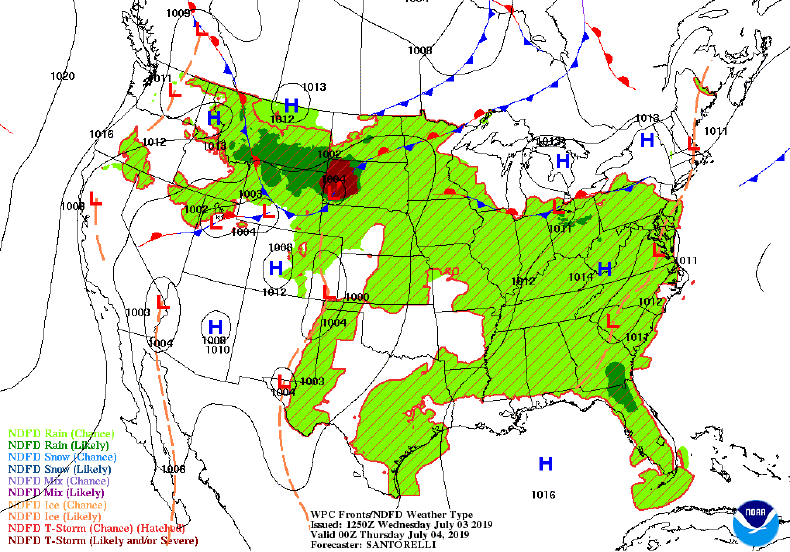 According to the National Weather Service (NWS), there is a slight risk of severe thunderstorms and flash flooding across portions of the Northern Plains on Wednesday, with heat and humidity continuing through the Fourth of July in the East.
In its daily briefing for Wednesday, which is valid through until Friday, the NWS also advises there will be a cold front through the northern tier states, "bringing showers and thunderstorms from the Northwest to the Upper Mississippi Valley." It is also expected that strong to severe thunderstorms containing heavy to excessive rainfall will be possible along the frontal boundary, especially across portions of the Northern Plains.
Moving into the Fourth of July (Thursday) itself, weather will be hot and humid for much of the southeast and into the mid-Atlantic. Daytime highs are forecast in the mid to upper 90 degrees Fahrenheit for many. According to NWS, heat advisories are currently in place across parts of northern Florida and southeast Georgia. Combined heat and humidity will make temperatures feel closer to 105-110F.
In the Eastern Seaboard and westward across the Ohio Valley and the Upper Midwest, above normal temperatures will be in effect. Moisture advecting northward from the Gulf of Mexico will mean that there could be afternoon showers and storms, which will affect the Southern Plains through to the Ohio Valley and mid-Atlantic.
By Friday, temperatures are forecast to be 10-20F below normal across Montana and into the High Plains.
In the west, upper-level troughing will continue over the Pacific Northwest with a shortwave trough ejecting northeast over the northern Rockies and another weaker one rotating along the base of the trough over the Great Basin, according to NWS.
Elevated conditions will develop across a broad area of the southern Intermountain West with critical conditions likely developing in northwest Arizona into far southeast Nevada and southwest Utah, meaning fire weather warnings are in effect. There has also been concern expressed by NWS regarding recent lightning across the region as well as the hot, dry and windy conditions.
By Thursday, Independence Day, sustained winds of 15-20 miles per hour and relative humidity values of 8-20 percent are likely to develop during the afternoon and into the evening across the region. Locally critical conditions may be possible, especially across portions of northwest Arizona, southeast Nevada, and southwest Utah. Fuels, especially fine fuels are likely to be receptive to ignition and spread with holdovers remaining a concern after recent lightning, according to NWS.
In Washington, D.C. there will be scattered showers followed by thunderstorms throughout Thursday, with temperature highs of 92F. So if you're watching the National Independence Day Parade or the "Salute to America," it might be best to take cover.
In Boston, it will be mostly sunny with temperature highs of 86F. In Chicago, there will be a slight chance of thunderstorms during Independence Day, with showers and thunderstorms likely before 7:00 p.m. local time.