5 Burning Questions Fans Have About 'This Is Us' Season 6
For five seasons, NBC's This Is Us has taken fans on an emotionally complex journey of love, loss, forgiveness, and hope. As the sixth and final season prepares to launch, some have taken to the Reddit threads to re-visit the Pearson family saga, namely the biggest questions left to answer.
Will Kate and Miguel die?
This Is Us utilizes flash-forwards and regular time-jumps to tell its stories. The biggest to-date is during, what looks to be, Rebecca's (Mandy Moore) final days. Many familiar faces gather at Kevin's (Justin Hartley) house but those noticeably absent are Kate (Chrissy Metz) and Miguel (Jon Huertas).
When asked whether their absences meant death, series creator Dan Fogelman previously told Deadline, "It's possible," adding,"I mean, when you don't show somebody, usually in this show, it's either for a reveal or for a reason. I think that we have more surprises and turns in store. I don't know that any of those will come to that level of catastrophe."
Fans have long-since believed Kate wouldn't make it to the end.
"Another red flag for Kate came in the very beginning of season one when she told Toby that it would "always be about the weight." This could be an Easter Egg towards where that will inevitably bring her," u/jacobnyr wrote in-part on Reddit.
"Miguel is not in the flash forward either which makes me predict he is dead. So it would be too much heartbreak to double dip and kill off both Miguel and Kate in my opinion. Between that and Jack, Rebecca's life would be tragic as hell. They will get plenty of heart strings pulled by Miguel's death scene," u/RusevReigns added.
Will Rebecca and Miguel divorce, opening the door to love with Nicky?
The same flash-forward scene showed Nicky (Griffin Dunne) at Rebecca's side, which prompted a slew of fan theories that, after Miguel dies, Nicky and Rebecca marry. Fogelman couldn't confirm or deny.
"Listen, I think anything's on the table with this show. I mean, there's a fan theory for everything at this point," Fogelman said in the same Deadline interview. "Jack's brother winding up with his wife, after his best friend wound up with his wife, feels a little far-fetched to me as the writer. [But] that's not to say it couldn't happen or wouldn't happen."
"Most people are saying Nicky is wearing the wedding ring because Nicky reminds Rebecca of Jack but Rebecca forgot Jack died. That kind of makes sense to me but it also has some loop holes. I think Miguel isn't in the flash forward scenes is just a fake out. I think he just happens to be out of the room at that moment," u/hotdogandhamburger wrote.
Cocacola888 disagreed saying, "I'm not a fan of the theory that Rebecca thinks Nicky is Jack. End stage dementia - Rebecca doesn't know who ANYBODY is. She has no awareness."
Which love interest will become Kevin's 'Rebecca'?
Kevin's love life has been a central thread from the very beginning. And, though his on-again-off-again relationship with longtime love Sophie (Alexandra Breckenridge) seemed to end for good, his wedding with Madison (Caitlin Thompson) didn't pan out — and that changes things.
And, despite the big reveal that Madison was the mystery woman carrying Kevin's children, it still begs the question, with whom will Kevin find his forever?
u/thisisustheories has a theory: "In the season 5 finale, immediately after Kevin practices his speech for Kate's wedding — which, take note is from The Princess Bride — he opens the door which has the numbers '405' on it. It was a quick second, but it seemed significant to me. So, I looked up what Season 4, episode 5 of This is Us was about."
They continued: "These are the following notes from the recap: 'Newlywed Sophie and Kevin then arrive, giddy'. [To Rebecca's house for dinner]. 'In the Post-Jack world, Kevin explains he proposed to Sophie after getting a sign: He was walking down the street in N.Y. and came across a theater playing their favorite movie The Princess Bride; at the same time, church bells across the street started ringing and a street vendor selling bracelets walked by. 'In that moment', says Kevin, 'I realized I couldn't wait another second to start our lives together'. Soon Kate's record store co-worker Mark shows up, uninvited but sweetly. Kate lets him in and Mark introduces himself as Kate's boyfriend."
How do Kate and Phillip become entangled?
The season 5 cliffhanger showed a different flash-forward featuring a new bride — Kate. There are many theories as to what broke Kate and Toby (Chris Sullivan) apart, including his continued focus on his physique and career leaving room for Kate to grow close with her new boss, Phillip (Chris Geere).
"I love all the conspiracies," Geere told Entertainment Weekly. "I've heard so many, and to be honest, I still believe that any of them could happen. I just know we're in good hands. I've read [that Phillip is] Madison's [Kaitlin Thompson] brother. I've read that I am the best man in the remarriage. What I'm really looking forward to discovering is the impact that I have on her, for whatever reason."
One fan noticed the show's continuous parallells.
"Do you think they will use flashbacks of Rebecca and Miguel's relationship developing and their eventual wedding as a parallel with Kate and Philip due to the fact that these are the two second marriages of the two main female characters?" u/Few_Bookkeeper_9920 asked.
Was every moment re-told so that Rebecca could remember before she died?
Throughout the last few seasons, This Is Us teased Rebecca's cognitive impairment which can be attributed to worsening Alzheimer's. The big time jump at Kevin's house — which shows a dying Rebecca in bed and her family gathered 'round — is the culmination of every episode thus far.
Moore spoke of the finality in an interview TV Line.
"It's sad, but it's more of a challenge not to let my own emotions about where the scenes are going influence what's happening to Rebecca," she said. "I don't want those to bleed through. But wow, what a crazy journey of going through five-and-a-half hours of hair and makeup to play those scenes with Justin [Hartley] and Sterling [K. Brown]."
Fans were quick to catch the fact that she didn't mention Metz, but she continued saying,"Rebecca is on this journey in an inevitable direction, and there's a lot of loose ends to tie up."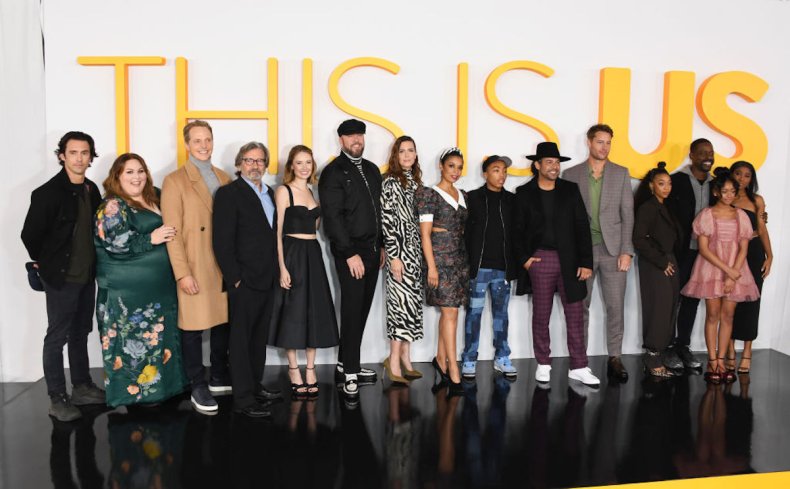 This Is Us returns Tuesday, Jan. 4 at 9 p.m. EST on NBC.