5 Dead in Texas After at Least 100 Car Pileup as Roads Ice Over During Winter Storm
A multi-car pileup occurred on Interstate 35W in Fort Worth, Texas, on Thursday morning, leaving five people dead.
The Fort Worth Police Department told Newsweek that the pileup appeared to include between 75 and 100 vehicles. Police also noted that the number of injuries are currently unknown.
"We are advising family members that the reunification center regarding this accident is located at the Riverside Community Center at 3700 E Belknap St," the department told Newsweek.
The incident was prompted by severe road conditions after sleet and freezing rain fell overnight in the city.
Matt Zavadsky, spokesman for MedStar, the governmental EMS authority in Fort Worth, told the Fort Worth Star-Telegram that as of 9 a.m. local time, MedStar had transported around 30 people to local hospitals.
According to the newspaper, Zavadsky said that there were several people with critical injuries and multiple others with serious injuries.
"MVC w/multiple vehicles and multiple patients entrapped; 35W NB @ 28th Street. Possible 18 Wheeler rolled over, and a MedStar unit involved in the crash," MedStar wrote in a tweet on Thursday.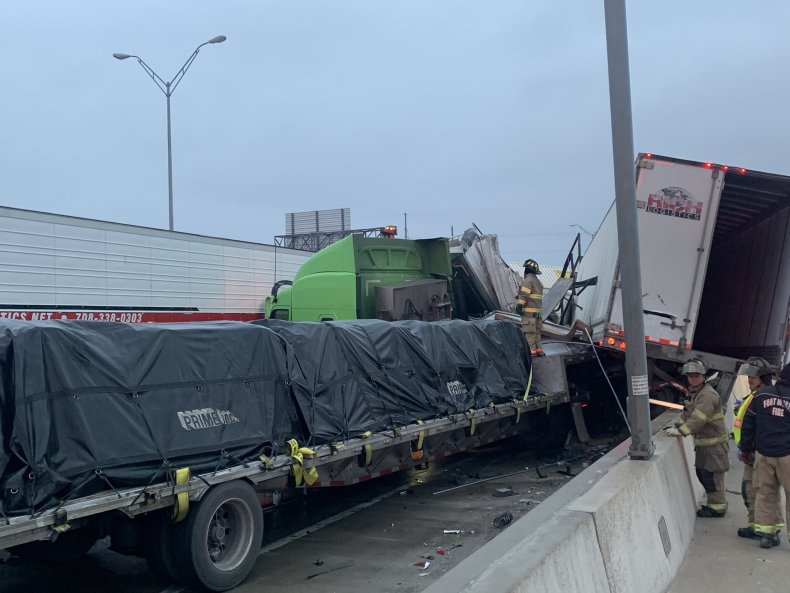 The accident stretched across nearly two miles of the interstate and caused all lanes to be shut down.
"All North bound lanes of NB I35 Toll Express and regular lanes are closed at this time due to a major accident due to weather. Expect lengthy delays," the Forth Worth Police Department wrote on Twitter.
Newsweek reached out to MedStar for comment, but did not receive a response in time for publication.
In a video posted to Twitter, Fort Worth Police Officer Daniel Segura spoke about the accident and asked everyone to pray for the individuals that died in the crash.
"We have still a very active scene. Members of the fire department, MedStar and our traffic investigation unit detectives are working step-by-step on the scene in order to number one; make sure everyone who are still on scene get to a safe place," Segura said in the video. "We are working with other community members and other community departments to reunite some of the passengers, drivers with their families."
Many photos and videos of the incident were posted across social media.
"MedStar just provided this picture from closer to the scene. A spokesperson says the number of patients is growing by the minute, right now 20-30, some in critical condition. At least 50 vehicles involved. Some are wedged under other vehicles," Twitter user Eric Alvarez of WFAA news in Dallas wrote in a tweet.
Dallas Texas TV's Twitter account posted a video showing an 18-wheeler crashing into multiple cars on the interstate due to icy conditions.
"Another video of an 18 wheeler hitting multiple cars this morning on I-35 in Fort Worth due to icey [sic] conditions," the tweet said.