5 Things to Know About Jerry Herman, Broadway Composer and Lyricist
Jerry Herman, Tony Award-winning Broadway composer and the creative force behind stage hits Mame, Hello Dolly! and La Cage aux Folles died Thursday at the age of 88.
Herman's publicist told NPR that the highly-acclaimed musical theater professional was taken to a Miami hospital Thursday night after complaining of chest pain, where he died of pulmonary complications.
"Jerry gave us such joy through his music. He was the poet laureate of our time and gave so many extraordinary songs. He touched our hearts and souls with his music and we will miss him deeply," his goddaughter, Jane Dorian, told CNN. "I've always found that the more I listen to his lyrics at different stages of my life, they take on different meanings. He's always spot-on about life, no matter what stage of life. The simplicity of his lyrics can be incredibly powerful."
Read on for five facts about the legendary Broadway composer.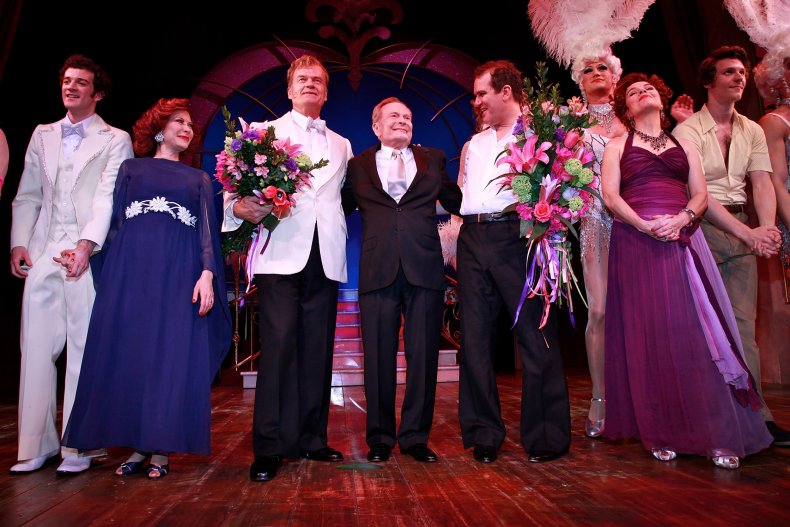 He was born in New York.
Herman was born in New York in 1931 and was raised just outside of the Big Apple, in Jersey City. According to Fox News, he once noted that his mother had a view of Broadway's Winter Garden Theatre marquee from her hospital bed at the time of his birth.
Herman left the Northeast to attend school at the University of Miami, but returned to New York shortly after graduating. In 1960 he lent his musical talents to several Broadway shows before earning his first Tony Award nomination as composer of the score for Milk and Honey.
He was a self-taught musician.
In a 1994 interview with NPR, Herman shared that his parents often hosted costume parties and took him to the theater. After seeing a performance of Annie Get Your Gun in the late 1940s, he was so taken with musical theatre he taught himself to play the piano.
"I walked out of that theater singing all those wonderful Berlin songs and, from that moment on, that's all I wanted to do with my life," he told the station.
Broadway fame.
Herman had his first major success with Hello, Dolly! following its opening night in 1964. The show ran for 2,844 performances, setting a record for Broadway's longest-running musical at the time. That breakthrough was followed two years later by Mame, starring Angela Lansbury. After a string of lesser-known shows on the Broadway stage after Mame, Herman returned with a vengeance in 1983 with La Cage aux Folles, now considered a coup in the battle for LGBTQ rights and marriage equality.
"I'm certainly aware of how different popular music is today from when I started in this business, and I realize that my songwriting is not generally in fashion," he said in a 1985 interview with The New York Times. "But 'La Cage' made me feel secure about going on and just being what I am, and writing simple, hummable tunes."
He won four Tony Awards.
Over the course of his decades-long music career, Herman was the recipient of four Tony Awards, including two for Hello Dolly! in 1964 one for La Cage aux Folles in 1984 and a lifetime achievement award in 2009.
"This award forever shatters a myth about the musical theater. There's been a rumor around for a couple of years that the simple, hummable show tune was no longer welcome on Broadway," he said during his 1984 acceptance speech for La Cage aux Folles. Well, it's alive and well at the Palace."
Herman was HIV-positive.
In his 1996 memoir Showtune, Herman shared thathis partner, Marty Finkelstein, died of complications from AIDS not long after the opening of La Cage aux Folles. Soon after, Herman himself was diagnosed HIV-positive at a time when there was little hope for a cure. While anti-retroviral treatment helped Herman combat the virus, Showtune co-author Marilyn Stasio told NPR that the diagnosis prompted Herman to begin writing his life story.
"One thing that really got him mad was he thought people really felt he was putting it on, the optimism and the joy and the happiness and the way he loved life," Stasio noted. "And he wanted to make it clear that it was true. He did. He loved every minute of life."