5 Facts About Keanu Reeves' New Lady Love, Artist Alexandra Grant
Keanu Reeves and business partner, Alexandra Grant, made their red carpet debut as a couple at the LACMA Art and Film Gala in Los Angeles on Saturday.
"Friends are convinced that Keanu and Alexandra's friendship has turned romantic," an insider revealed to Life&Style Magazine. The insider also said that Reeves will not stop "raving" about her.
Five facts we know about Alexandra Grant.
She is a Los Angeles-based artist.
Inspired by text and language in various media, Grant's work has involved painting, drawing, sculpture, film, photography and books, collaborating with a wide range of artists and writers. Her work has been shown in places like the Harris Lieberman Gallery in New York City and the Museum of Contemporary Art in Los Angeles.
"My intention, in everything I do, is to find an honest solution to the creative problem at hand," she told Art in America magazine in 2011.
She and Reeves have published two books together.
Ode to Happiness was a book of simple ink-on-paper illustrations by Grant accompanied by poetic text by Reeves that came out in 2011. The project was her first art book and his first book as a writer.
Shadows was a 2016 book from Reeves, illustrated by Grant, that "explores the real and symbolic nature of the shadow as image and figure of speech."
Their collaboration went further in 2017 when they co-founded X Artists' Books, a publishing house that focuses on publishing "thoughtful, high-quality, artist-centered books that fit within and between genres."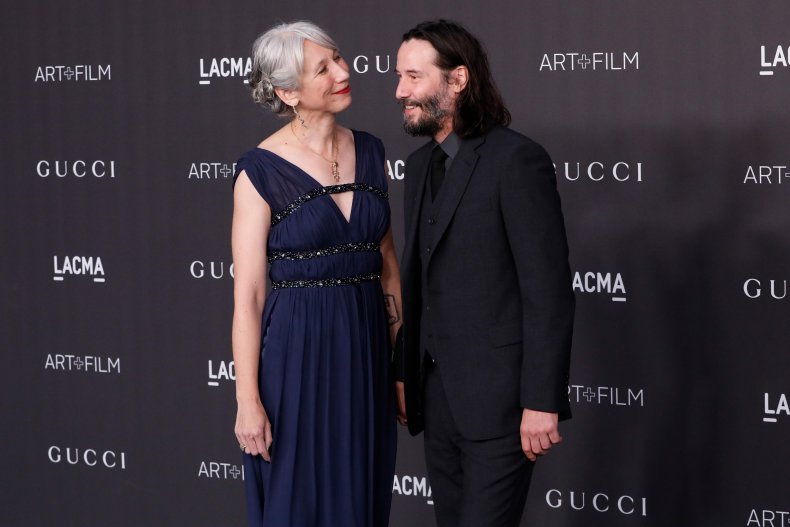 She has a philosophy around love.
During an in-depth conversation with writer Roxane Gay, at Lowell Ryan Projects in Los Angeles, Grant shared her philosophy around love. The first step in her philosophy was self-love, which moved into "we all get to love whoever we want" and finished with the deep responsibility we have to love people who are different from us.
She created a documentary film called Taking Lena Home.
In 2015, during a residency at the Bemis Center for Contemporary Art, Grant made an hour-long documentary about the journey of a headstone she had purchased in an antiques shop. Later on, she learned that it was stolen in 1945, so she drove across the country to return it to the rural homesteading community in Nebraska where it was originally from.
She is a philanthropist.
Grant is the creator of the grantLOVE project, which raises funds for arts-based non-profits like Heart of Los Angeles (HOLA), Project Angel Food, Art of Elysium, 18th Street Arts Center and LAXART.