5 Fast Facts About Steven Reed, Montgomery's First Black Mayor
Democrat Steven Reed made history Tuesday as the first black mayor of Montgomery, Alabama, a city with deep ties to the civil rights movement.
"On this day, we are assembled here because we chose opportunity over opposition," Reed said to a crowd of supporters at his inauguration Tuesday, as reported by WSFA 12 News.
He continued: "Today, we are assembled here because we chose destiny over division. Today, we are assembled here because we chose the future over fear. Therefore, because our hearts and our actions, I stand here in a position that many of those who were sold on the banks of the Alabama River, just a few feet from here, could only have imagined. This is a culmination of those distant dreams."
Read on for five facts about Montgomery's 57th mayor.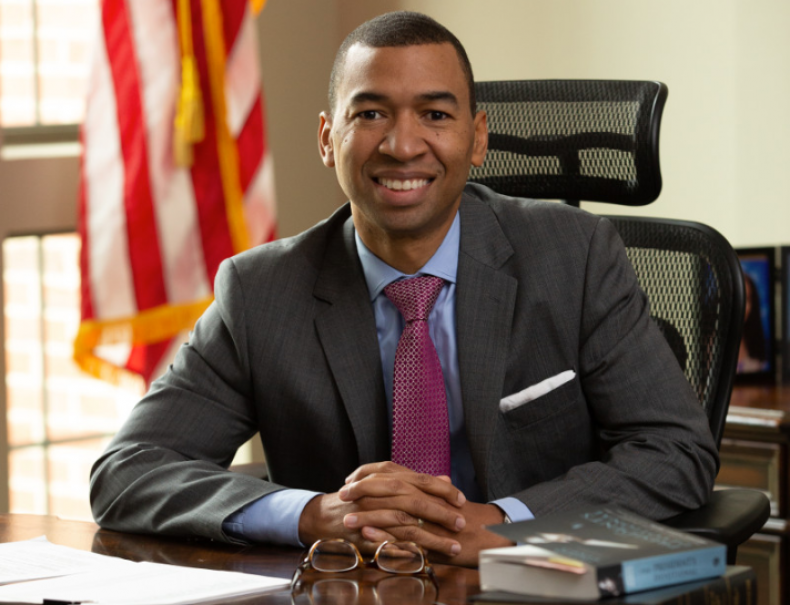 He won the mayoral race with 67 percent of the vote.
According to local media, Reed won 67 percent of Montgomery's votes to take over the mayor's office from fellow Democrat Todd Strange, who did not seek re-election.
The outlet also noted that Reed announced his intent to run in the mayoral election on WSFA 12 News back in February. His platform was based in efforts to strengthen the city's police force, garnering more support for schools, and adding jobs.
He once served as a probate judge.
In November 2012, Reed was elected as a Montgomery County Probate Judge.
Reed also previously worked as a financial analyst in the Marketing Performance department at American Airlines corporate headquarters in Fort Worth, Texas, before deciding to throw is hat in the political ring. According to his biography on the Montgomery County website, Reed started a government relations firm to advocate issues before the Alabama legislature and went on to serve as Senior Aide to Lieutenant Governor Jim Folsom, Jr.
He is a graduate of Morehouse College, an HBCU.
Reed is now the second mayor of a major Alabama city to have graduated from Morehouse College, a historically black college in Atlanta, Georgia, along with Birmingham Mayor Randall Woodfin.
"He's cut from a cloth that when he puts his mind to something he relentlessly pursues it with passion and conviction," former Morehouse College football teammate Marcus Glover told the Montgomery Advertiser of Reed in October.
According to Reed, race still plays a large factor in the way he sees things. "To see things come to where they are right now, when you think of what took place in this country—from the first enslaved Africans being brought here [to Virginia] in 1619, to this city being founded in 1819, to the city electing its first black mayor in 2019—the significance of it is also found in the possibilities that we are now afforded," he said in an interview with Time the day before the swearing-in ceremony. "And the hope it has given people that we will progress to a New South."
His father was politically active, as well.
Reed's father, Joe Reed, was once the esteemed leader of the Alabama Democratic Conference—the state's foremost black political organization, as reported by Alabama Media Group.
The longtime leader made local headlines back in March for a strongly-worded letter calling for early elections for Alabama's Democratic leaders. "The opposition is trying to reduce, undermine, weaken and divide black influence in the Alabama Democratic Party," the new mayor's father wrote. "We must not let this old divide and conquer trick work."
He helped create Alabama Healthy Minds.
During his days as a judge, Reed helped to establish The Healthy Minds Network, an organization that worked to improve mental health care services in Alabama's River Region.
The network "has helped hundreds of people get the treatment and services they need instead of spending time in jail," according to Reed's campaign website. The network presented a glimmer of reform in a state where prisons have been found to be at once notoriously ill-equipped to deal with vulnerable inmates, and also the largest providers of mental health care.