Hasan Minhaj and Kenan Thompson to Perform at 2020 WHCD: Here Are 5 Hilarious Moments from Past Correspondents' Dinners
On Tuesday, The White House Correspondents Association announced that the 2020 White House Correspondents' Dinner would involve Kenan Thompson as host and Hasan Minhaj as a featured entertainer.
The announcement of the Saturday Night Live cast-member and Patriot Act host marks a return to comedians performing at the annual event, after historical biographer Ron Chernow hosted in 2019.
WHCA President and ABC's Chief White House Correspondent Jonathan Karl expressed excitement to have Thompson and Minhaj for the 2020 dinner. "Kenan Thompson is one of the most beloved comedians in America and one of the funniest," Karl told Newsweek. "We just think that he'll do a great job. He'll be funny. He is not somebody who is seen in any sense as a partisan. I really can't think of anybody who would be a better face of the dinner."
"Hasan, I thought, did a great job in 2017, and since then, he has launched this show on Netflix called Patriot Act, which is really smart comedy," Karl said. "It's comedy that not only makes you laugh but also makes you think. We just think that this is a really critical point in our country's history in terms of the role of a free press and our democracy, and Hasan can do a presentation that will make us laugh but also make us think about that."
While Karl called Chernow's speech great and "arguably funnier than some of the comedians that have performed over the years," he also said that the return to having comedians was important to the dinner. "I've felt that humor is an incredibly important part of the dinner and has been historically. I think especially now, in our polarized time, to be able to come together in a night and have a serious message about the press but also to be able to have fun and to laugh and laugh at ourselves, to laugh at the people we cover it's incredibly important. It's what the dinner is all about."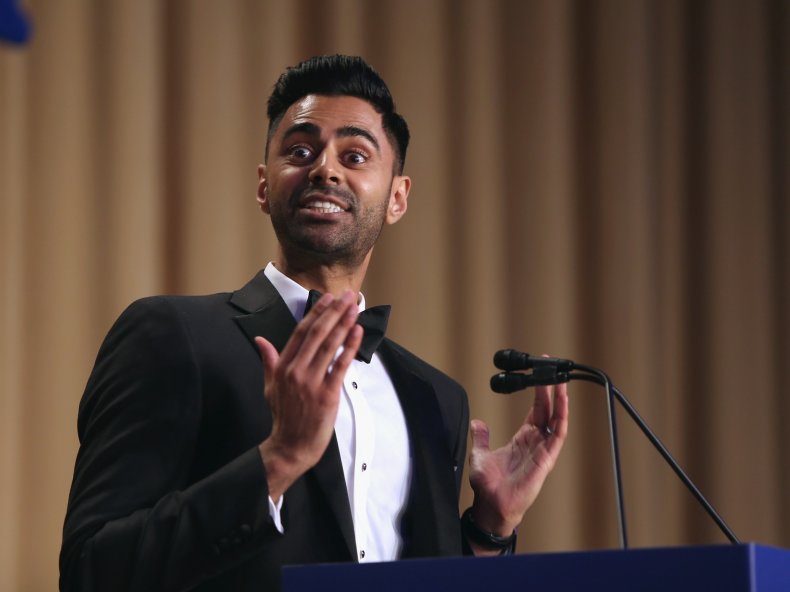 Before the April 25 dinner, look back on some hilarious moments from past correspondents' dinners.
Michelle Wolf: 2018
Wolf's 2018 set at the WHCD took aim at many of the Trump Administration's policies with the raunchy nature of a late-night set. Despite the dinner increasing the size of her audience, Wolf told Newsweek in 2019 that she prefers not to write political jokes. "If you want me to write political jokes, I can do it," she said. "It's not my favorite thing to write about, and that's why I don't do it in my stand-up."
Wolf not only spoke about politicians and scandals, but joked about the WHCD as a whole. "I'm going to skip a lot of the normal pleasantries," she said at the start of her 20-minute set. "We're at a Hilton; It's not nice. This is on C-Span; no one watches that. Trump is president; it's not ideal. White House Correspondents' Association, thanks for having me; the monkfish was fine."
Cecily Strong: 2015
SNL's Cecily Strong was the featured performer for President Barack Obama's penultimate Correspondents' Dinner took on many important issues, including police brutality. "Let's give it up for the Secret Service. I don't want to be too hard on those guys, because they're the only law enforcement agency in the country that will get in trouble if a black man gets shot," she said to "boos" from the audience.
"Are you saying 'boo' or are you saying 'true'?" she asked in response to the reaction.
Conan O'Brien: 2013
Referencing Obama's tendency to perform his own jokes at the annual dinner, the Conan host told the president that he would take the time to stand in his shoes. "President Obama, you had some great jokes. It was a pleasure watching you stand up here and do what I do," he said. "So now, it's only fair that I get to do what you do: that's right ladies and gentlemen, for the next 15 minutes, I'll be mired in a tense dysfunctional standoff with Congress! This is going to be fun!"
Stephen Colbert: 2006
Colbert's performance at the 2006 dinner was presented as a special edition of the comedian's Comedy Central show The Colbert Report. Posing as the exaggerated form of himself from the satirical pundit parody, Colbert jokingly took aim at investigative journalists. "What are you thinking? Reporting on NSA wire-tapping or secret prisons in Eastern Europe," he said. "Those things are secret for a very important reason. They're super depressing. If that's your goal, well, then mission accomplished."
Hasan Minhaj: 2017
Before he returns to perform this year, Minhaj's 2017 performance opened by taking shots at Trump and memorializing the late Don Rickles.
"I would say it is an honor to be here, but that would be an alternative fact. It is not," he said. "No one wanted to do this. So, of course, it lands in the hands of an immigrant. It's how it always goes down. No one wanted this gig! No one! Don Rickles died just so you wouldn't ask him to do this gig."