5 Guns Confiscated From Tennessee School District in One Month, Three Students Arrested
One school district in Tennessee has already seen five guns confiscated by law enforcement this school year.
The Metropolitan Nashville Police Department seized the guns from Metro Nashville Public Schools campuses between August 25 and September 16, according to local news station WKRN. The police also confiscated one firearm in the district in May.
Officials found three nine-millimeter handguns and several semi-automatic pistols.
One parent told the outlet that some of her children don't want to go to school as a result of the recent trend because they're afraid.
Three students from the school district were also arrested for bringing guns to campus in the past week, according to Nashville-based news station WZTV.
The latest arrest occurred after a high school senior allegedly brought a loaded handgun to Whites Creek High School. The 18-year-old also brought 17 rounds of ammunition, according to police. The teen told the school he needed the weapon for protection in his neighborhood.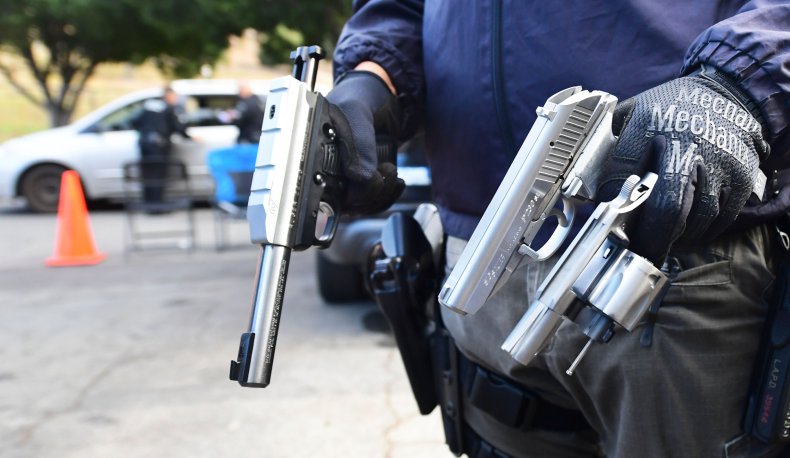 The previous day, a 16-year-old student was arrested after authorities said he brought a loaded .380 semi-automatic pistol onto the grounds at Pearl Cohn High School. The teen had apparently left the gun along the football field fence before entering the building, and school resource officers conducted a search after receiving a tip. The 11th grader was charged with unlawful gun possession on school property.
And last week, a 17-year-old was charged with bringing a gun to school after a nine-millimeter handgun was reportedly found in his backpack during a random search.
Newsweek reached out to Metro Nashville Public Schools for comment but didn't receive a response before publication.
Earlier this year, a new law went into effect allowing those 21 and older to be able to carry a handgun, openly or concealed, without a permit in Tennessee. But in some areas, such as public parks and greenways, gun owners still need a permit to carry their weapons.
Democratic lawmakers and gun control activists slammed the bill, arguing it would only add to the increase in gun violence the county has experienced this past year.
"We've seen the rise in violence going on, it's only going to get worse, because right now we're going to have untrained people carrying guns that they do not know how to use," Tennessee House Representative Vincent Dixie said when the law went into effect this July.
Shelby County Sheriff Floyd Bonner warned the law could have unintended consequences. As a result, he said, his officers were undergoing additional training.
"This new law is opening Pandora's box," Bonner told another Nashville station, WREG. "It is going to be more challenging."