5 Healthy Guys And a Ball, the NCAA Says, Is All That Tournament Teams Need
The NCAA stated one obvious thing regarding the men's basketball tournament that starts next week but was left wondering about another topic probably not considered. The governing body for the March Madness basketball tournament said all a team will need is a minimum of five healthy players to suit up for a tournament game.
And coaches?
Trying to foresee situations where teams can lose players to the coronavirus, the possibility of an entire coaching staff getting sidelined is something the committee will revisit.
"Honestly, it's probably something we should talk about as a committee," NCAA senior VP of basketball Dan Gavitt said.
It's been almost one year since college basketball abruptly canceled because of the COVID-19 pandemic. The 2020 basketball tournaments got canceled with no postponement. Now, the NCAA is pressing forward with a tournament scheduled to start next week held entirely in the greater Indianapolis area.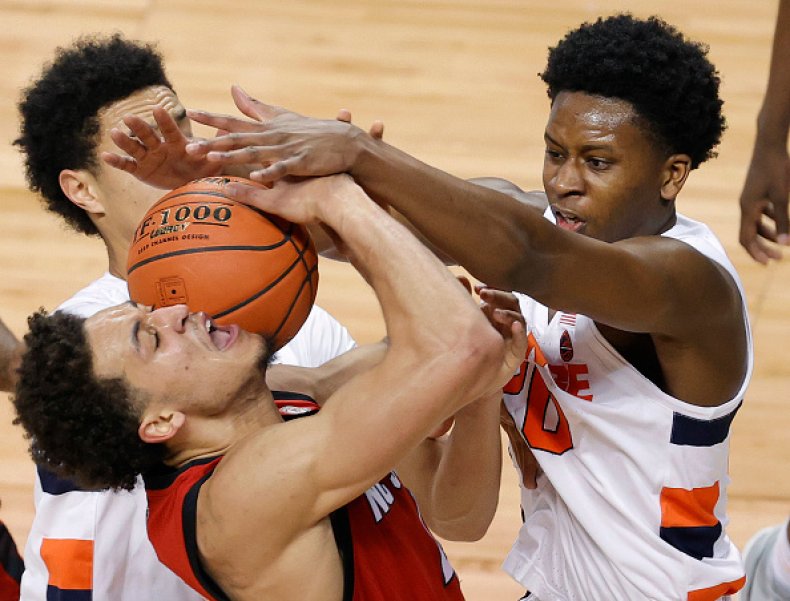 There are lots of protocols in place, like one team per floor of a hotel, players will have their own rooms and there will be constant testing and virus tracing. A team is allowed to play if they can dress at least five healthy players, and if that team can't play, then their opponent would move on to the next round of the 68-team tournament. There will be no replacement team.
A team typically has 12 players for a game roster, but the NCAA said five healthy, eligible players will be enough for a game roster for this unprecedented tournament format.
"We decided if they had five players eligible and healthy," if the team was good to go, Gavitt said. "We wrestled with contingencies, and thought it was fairest for a team that earned its way, that even if it was compromised, they should have the opportunity to play rather than be replaced."
If an entire coaching staff tests positive and can't be at the game, well, the committee will come back with an answer—hopefully before the tournament tips off next Thursday (March 18) with the First Four.
Conference tournaments are currently being played, and each champion gets an automatic bid to the tournament. Selection Sunday is this weekend.
The first round of the tournament starts on Friday, March 19, and the second round begins two days later.
The Sweet 16 and Elite 8 will be the following weekend, with the Final Four and national championship the weekend after that.
Gonzaga (26-0) wrapped up the West Coast Conference title on Tuesday night with a comeback win over BYU. The Bulldogs will most likely be the tournament's overall No. 1 seed. The other three teams that are almost locks for No. 1 regional seeds are Baylor, Michigan and Illinois.