President Joe Biden's economic agenda—largely built around two key pieces of legislation—is currently at a standstill in Congress, hanging by a thread nearly nine months into his time in office.
Democrats control the U.S. House, Senate and White House but have so far been unable to pass legislation that was key to Biden's successful 2020 presidential campaign, and the clock is ticking.
After a brief recess, the U.S. House and Senate will fully return next week and try to pass a $1 trillion infrastructure package and up to $3.5 trillion package to massively expand the social safety net to include universal pre-kindergarten, paid family leave, expanded health care benefits and other progressive measures that Biden campaigned on.
Senate Majority Leader Chuck Schumer and House Speaker Nancy Pelosi have both set October 31 as their deadline for getting the Democrats' crucial legislation through, as they face threats to their razor-thin majority margins heading into the 2022 election cycle.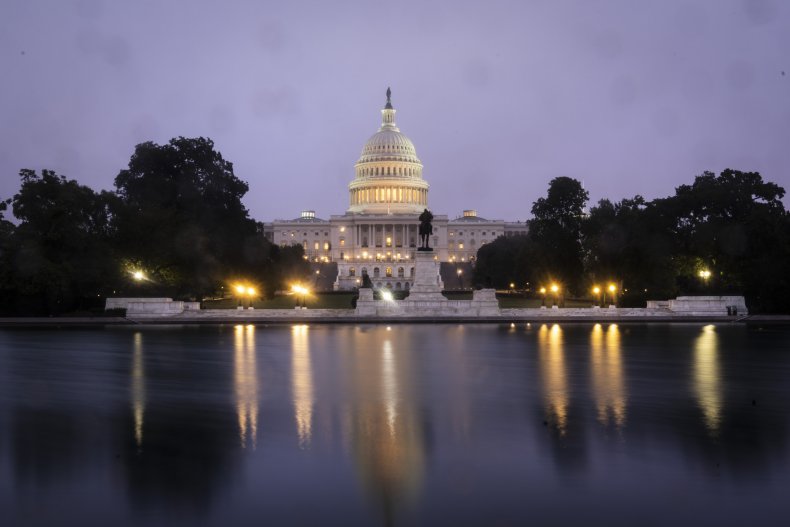 Here are five key factors as Biden hopes to loosen the logjam and hold to his campaign promises:
Progressives flex
Progressive Democrats have so far blocked efforts in the House to pass the infrastructure bill that received bipartisan support in the Senate. The proposal, which would dole out millions to states for improvements to highways, bridges, broadband expansions and more priorities backed by both parties, has been linked to a separate expansion of the social safety net that is backed only by Democrats.
Senator Bernie Sanders, a Vermont Independent who caucuses with Democrats and chairs the influential Budget Committee, has applauded House progressives who have blocked any vote on the infrastructure bill until the Senate outlines its plans for the larger social spending plan.
Earlier this month, he told Democrats they should vote against the infrastructure vote if it came up, arguing in a statement that it would "end all leverage that we have to pass a major [social safety net expansion] bill."
Representative Pramila Jayapal, a Washington Democrat who chairs the Congressional Progressive Caucus, said in a statement that progressives are holding to Biden's campaign promises.
"This agenda is not some fringe wish list: it is the President's agenda, the Democratic agenda, and what we all promised voters when they delivered us the House, Senate and White House," she said.
House Republican leaders have instructed all members to vote against the bill so Democrats have little room for defections in their 220 majority to the GOP's 212 minority, giving progressives room to hold off bills as they push their priorities.
Pelosi recently told reporters at the Capitol that she won't bring up legislation that won't pass.
Moderates stand firm
Democrats hold an advantage in the Senate only if all 50 senators vote together, backed with a tie-breaker from Vice President Kamala Harris, so the pathway to passing the larger spending proposal to advance social programs is narrow.
Senators Joe Manchin of West Virginia and Kyrsten Sinema of Arizona have emerged as the key moderates blocking advancement on the package.
Manchin has argued that he would rather see a number closer to $1.5 trillion, rather than the $3.5 trillion that Biden and Democratic leaders have proposed for the package.
"Let me make it very clear: There's a lot of speculation about what number on reconciliation—my number has been 1.5," Manchin told reporters at the Capitol last week. "This is going to take time to get this done. Getting it done quickly is not going to benefit anybody."
Meanwhile, Sinema, who has faced backlash from Democrats over her decision to block the bill, also has voiced criticism over the price tag of the sweeping plan. She's had multiple meetings with the Biden administration in recent weeks.
"Senator Sinema said publicly more than two months ago, before Senate passage of the bipartisan infrastructure bill, that she would not support a bill costing $3.5 trillion," Sinema spokesman John LaBombard said in a statement. "While we do not negotiate through the press, because Senator Sinema respects the integrity of those direct negotiations, she continues to engage directly in good-faith discussions with both President Biden and Senator Schumer to find common ground."
Biden's political prowess
Biden, who was in the U.S. Senate for nearly four decades before becoming vice president to Barack Obama for two terms starting in 2009, has been touted as a "dealmaker" and "Senate whisperer."
In recent weeks he's taken countless calls among all factions of his party to try to hash out agreements on his agenda pieces.
During a pre-recorded video message to the Democratic National Committee's fall convention over the weekend, he stressed that Democrats can only pass his agenda through unity.
"My message is simple, we need to stay together," he told the Democrats. "We won 2020 as a unified party."
CNN reported that in a private phone video call with progressive Democrats last week, Representative Ro Khanna, a California Democrat, suggested that Biden should get Sanders and Manchin to meet in person to try and hash out their differences after publicly feuding. But Biden quipped it would be like "homicide" to get the two on the same page.
Sanders had come out swinging in a hastily-called press conference at the Capitol directly responding to Manchin's claims that progressives were seeking entitlements.
"First, let's be clear—poll after poll, including polls in West Virginia, shows us that what we are trying to do in this legislation is enormously popular," Sanders told reporters. "Senator Manchin has been critical of the $3.5 trillion proposal that many of us support, but the time is long overdue for him to tell us with specificity what he wants and does not want and explain that to the American people."
Biden is a long-time friend of Manchin, and he has embraced his one-time foe for the Democratic presidential nomination, Sanders, as key to getting his agenda through.
Deadlines...deadlines, again
Deadlines have been broken before, but Schumer and Pelosi are now aiming for a self-imposed October 31 deadline.
The Halloween date comes with several scares for Democrats. Pelosi has already pushed back her deadline on the bipartisan infrastructure vote multiple times after being pressured by progressive Democrats.
She has repeatedly insisted that the Senate provide at least a "framework" or top-line number for where they are willing to go and guarantee that certain programs will remain funded, but so far there has been no formal Senate bill unveiled. The House passed its own $3.5 trillion blueprint in August.
If lawmakers don't meet those leadership-imposed deadlines, then the process gets pushed back to the Thanksgiving and December holiday breaks.
Other distractions
Aside from the Biden administration's priority legislation totaling nearly $5 trillion, Congress still has to sort out long-term plans for preventing a government shutdown and debt default.
Lawmakers worked out an agreement to continue funding the government into December, and the House is expected to lift the debt ceiling through early December as well, after a week of negotiations in the Senate.
Both issues, which face hard deadlines that could send ripples through the economy if not met, come to a head in the period between the holidays.
The Senate has sought to get Republicans on board for an extended increase in the debt cap, but Senate GOP leader Mitch McConnell has balked at the proposal, particularly after Schumer gave a blistering speech on the Senate floor after the debt ceiling was temporarily lifted last week.
If the Democrats' priority legislation doesn't make it through before then, both could serve as a distraction as the year winds down.