5 Moments From Harry Styles' Tour Fans Have Gone Wild Over
After having to postpone due to COVID-19, Harry Styles kicked off his North American tour in Las Vegas on September 4. Since the first show, the internet has gone wild over new moments from the singer's set varying from interactions with the crowd, to his outfits, to his dance moves.
Styles first became a household name as a member of the British boyband, One Direction. After the band dispersed in summer 2015, each band member has gone on to create solo music. Styles released his self-titled debut album in 2017.
His current tour, named Love on Tour, features songs from that first album as well the more recent release Fine Line. Beyond the music, though, fans have taken to TikTok to document virtually every moment that takes place on stage. While numerous moments have gone viral over the last month, these are five moments that fans can't stop talking about.
Watermelon Sugar Meaning
The song, which was featured on Styles' second album has long been the source of speculations surrounding the song's meaning. The music video led many fans to believe that "watermelon sugar" was a sexual innuendo. On October 1, while performing in Nashville, Styles began referring to the meaning while introducing the song. "It's about....well, it doesn't really matter what it's about,"he said at first and then continued by saying, "It's about the sweetness of life." After he starts a bit of the song he adds "It's also about the female orgasm, but that's totally different."
'Convince My Boyfriend to Propose'
In Chicago, Styles' responded to a sign that read: "Convince my boyfriend to propose." Videos of the exchange show him first asking the pair how long they've been together, "seven years? I can't help you," Styles joked. He then asked for their names and then started talking to the couple from the stage: "What's the holdup, Lucas? It's a thing, you love each other, you're best friends," Styles smiled and shrugged before adding "just do it." During a later song, Styles screams "Just propose Lucas!" in the middle of the lyrics.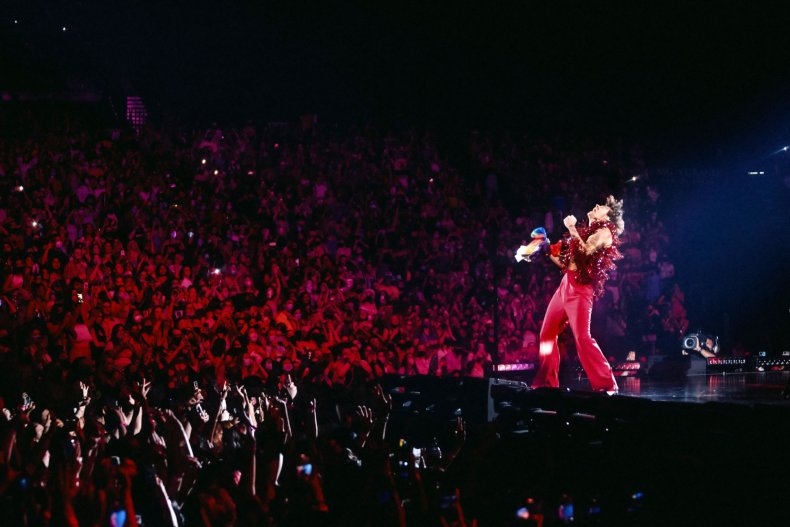 Gender Reveal
Styles takes lots of time during his set to interact with the audience, especially those in one of the two "pit" sections on either side of the stage. Fans often bring signs trying to get Styles' attention and one set of friends did just that. According to a photo circulated after the show on Twitter, one fan held a sign saying "I'm having a baby, please make it your business" (referencing one of Style's song's lyrics) and her friend held a sign reading "and open these gender results." Videos circulating TikTok show Styles reading from the envelope and letting out a big giggle. After teasing the audience Styles reveals: "little baby girl."
'Should I Text Him?'
During another tour date, Styles' offered up a different type of relationship advice. He noticed a fan holding a sign that read "Should I text him?" and Styles' begins going back and forth about the thought process involved in responding to a question like that. In a video of the interaction, he then goes on to say if there are any "games" involved, "trash, trash, trash, not for you."
Olivia Wilde
One of the biggest talking points over the last month of tour dates is how many shows his girlfriend, Olivia Wilde has attended beginning with opening night in Las Vegas. Tons of fan videos from different cities have documented Wilde standing in a sectioned-off part of the area dancing to her boyfriend's set. Rumors began swirling around the couple's involvement while the two worked on Don't Worry Darling, a film directed by Wilde that Styles stars in. The relationship was all but confirmed when the two were seen photographed kissing on a yacht in Italy together. The recent recurring sightings of her at many shows, also further support the relationship speculations, though neither of the two have officially confirmed.