5 Moments That Helped Alabama WR DeVonta Smith Win The 2020 Heisman Trophy
Alabama wide receiver DeVonta Smith was awarded the Heisman Trophy for the 2020 season during a virtual ceremony Tuesday night. Smith became just the first wide receiver to win the prestigious award since Michigan's Desmond Howard won it in 1991.
The Heisman Memorial Trophy, awarded to the most outstanding player in college football, had been won by a quarterback in 17 of the last 20 years. Smith was among four finalists in 2020—the other three were quarterbacks Mac Jones (Alabama), Trevor Lawrence (Clemson) and Kyle Trask (Florida).
Smith won with 1,856 total points, including 447 first-place votes. Lawrence was second (1,187), followed by Jones (1,130) and Trask (737). Alabama running back Najee Harris was fifth in voting with 216 points.
Smith said it was a team award, and he thanked friends, coaches and family that helped him get there.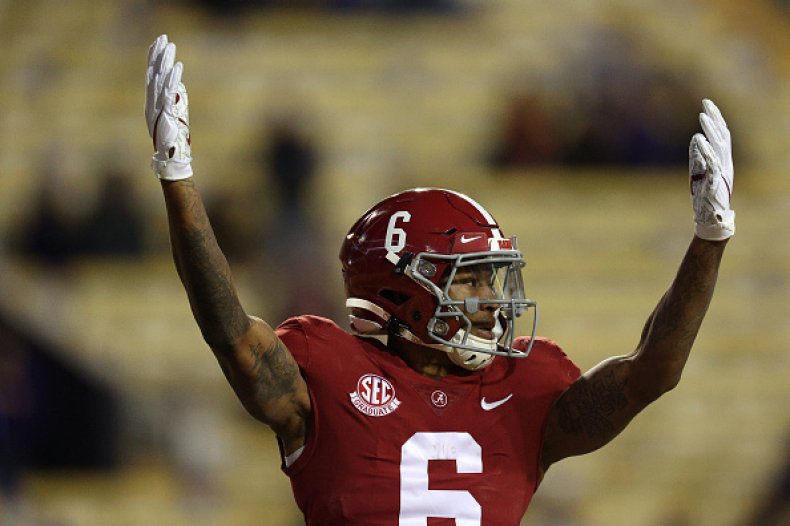 Smith dazzled on the Crimson Tide offense this season with 1,647 receiving yards and 105 receptions, both which led the country by a large stretch. His 20 touchdown catches also led the nation, and he had a punt return for another score.
Stats didn't help Smith win this trophy alone, though. It's how he did it. Here are five Heisman moments that led Smith to becoming the third receiver to win the Heisman (Notre Dame's Tim Brown also won it in 1987).
Note: The College Football Playoff Semifinal win over Notre Dame isn't included since all Heisman ballots had already been submitted. By that point, Smith had already been named one of the trophy's four finalists.
---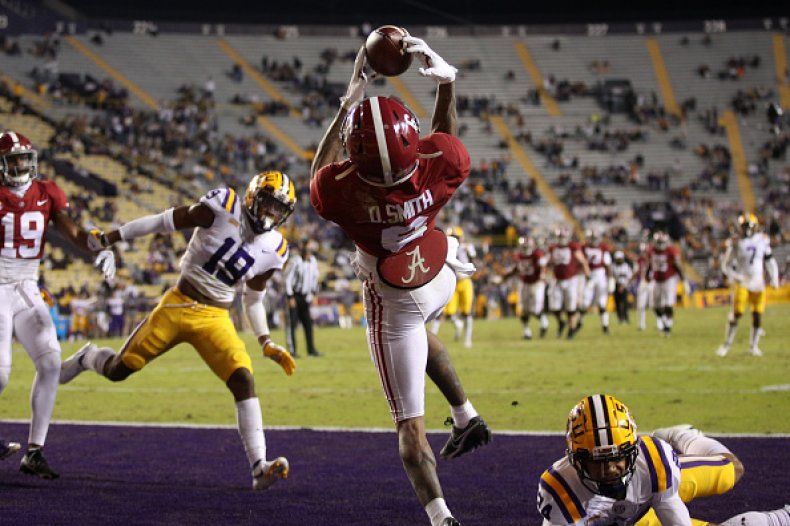 December 5, 2020
One-handed touchdown snag at LSU
Smith had eight catches for 231 yards and three touchdowns in a blowout win over the Tigers, but it was his leaping, one-hand catch in the end zone that most people will likely remember. For some, it was Smith's top Heisman-defining moment.
December 19, 2020
Flexing in the SEC Championship game
Smith had 15 catches for 184 yards and a pair of touchdowns in a 52-46 win over Florida in the SEC championship game. He had a 31-yard scoring grab in the first quarter, and then a 15-yard touchdown catch to cap Alabama's scoring in the fourth quarter to clinch the title.
December 12, 2020
The punt return at Arkansas
The Tide and the Razorbacks both looked sluggish in the first quarter as they yawned their way into a 3-3 tie. Alabama forced an Arkansas punt late in the first quarter. Smith fielded it at the 16-yard line, broke through the defense and bolted 84 yards for a touchdown. It gave his team the momentum needed to go ahead and crush the Hogs, 52-3.
November 28, 2020
Monster day against Auburn in the Iron Bowl
The Crimson Tide rolled the Auburn Tigers to get revenge from a 2019 loss, and Smith is the one who got it rolling. In the first quarter, Smith took a pass from Mac Jones and rumbled 66 yards to give Alabama a 7-0 lead. His second touchdown of the day (56 yards) gave the Tide a three-touchdown lead it wouldn't relinquish. Smith finished with 171 yards on just seven catches.
October 10, 2020
Smith has 13 catches at Ole Miss in shootout
Smith caught a touchdown and ran for another in a 63-48 road win over the Rebels. He had 13 receptions for 164 yards and a 14-yard touchdown, and he scored on a 14-yard run in the fourth quarter that iced the game for Alabama.
Here are the other top 10 Heisman vote winners this year:
Ian Book (QB, Notre Dame)
Justin Fields (QB, Ohio State)
Breece Hall (RB, Iowa State)
Najee Harris (RB, Alabama)
Kyle Pitts (TE, Florida)
Zach Wilson (QB, BYU)