5 Reasons the GOP Thinks Christie is a RINO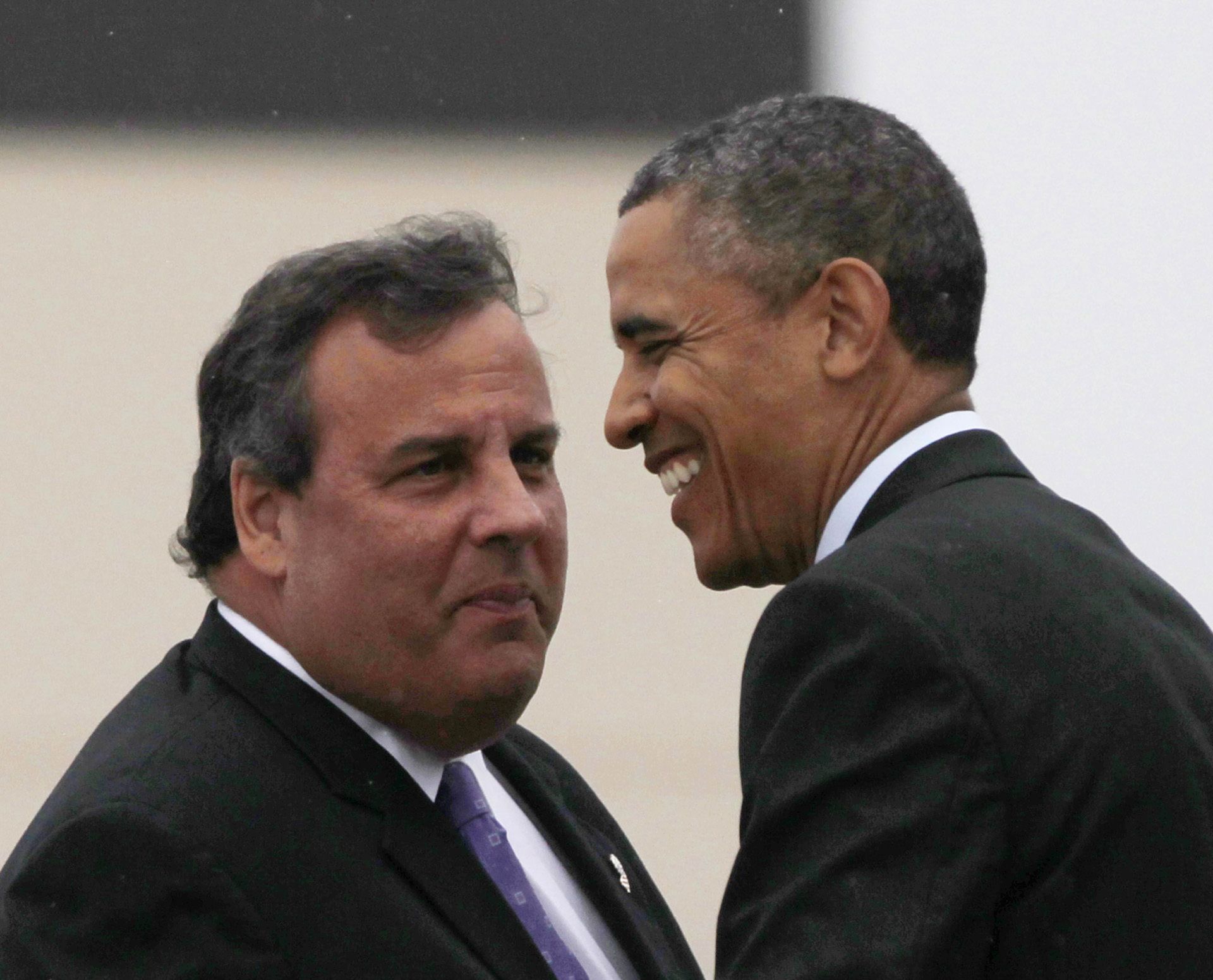 New Jersey Gov. Chris Christie's landslide re-election Tuesday night was meant to send a message to Republicans around the country: This is how a Republican can win, even in a blue state.
But Christie's recipe for electoral success in New Jersey has made the conservative base of the Republican Party distrustful of him. The popular term "RINO" (Republican In Name Only), comes to mind. Here are five reasons the base is wary of Christie.
1. The Obama 'Hug': When Superstorm Sandy struck New Jersey just a week before the presidential election last year, Christie didn't hesitate to welcome President Obama to his state, petition for billions in federal aid, and even give the president a big bear hug. In reality, the famous "hug" was more of a handshake-plus-shoulder-pat move, but Mitt Romney lost the election a few days later, and many Republicans still see Christie's behavior as a betrayal. The move did wonders for Christie's approval in the Garden State, but it infuriated the base.
2. Gay Marriage: Christie opposes gay marriage, but not enough to carry out a lengthy court battle in his state over the issue. After a district court ruled recently that gay couples could wed, Christie appealed the decision to the state Supreme Court, only to withdraw the appeal a few days later. Sure, he may have previously vetoed a marriage equality bill, but conservative activists saw Christie's move as yet another sign that he isn't one of them.
3. Medicaid Expansion: Christie is happy to rail against the Affordable Care Act like every other Republican, but when it came to decision time, he went along with the Medicaid expansion. He declined to set up a state-run exchange for the marketplace, meaning the Garden State is now contending with the error-riddled federal site. But that might not be enough for base Republicans, who see Christie as caving on Obamacare, the law whose repeal is their No. 1 priority.
4. Gun Control: After the Newtown, Conn., massacre last December, the National Rifle Association took a no-compromise approach to the new push for gun restrictions. Instead of backing popular reforms like universal background checks or harsher penalties for straw purchasers, the NRA suggested mental health was the culprit and drew up a plan to put armed guards in every school. In New Jersey, a state that already had some of the toughest gun laws in the nation, Christie went the other way, drawing up his own package of gun control laws. Ultimately, Christie backed away from some of the measures he proposed, vetoing three bills this summer. But it may not be enough to convince gun enthusiasts he's one of them.
5. Immigration: In his outreach to Hispanic voters, Christie recently endorsed a New Jersey DREAM Act to provide in-state tuition to young immigrants brought to the United States illegally as children. Remember, this is the same policy that Texas Gov. Rick Perry tried to defend signing during the Republican presidential primary in 2011, and instead earned the ire of many conservative Republicans.
And a bonus reason: Christie is a proving a compromiser-in-Chief. Whereas Republicans in Washington, D.C. have decided to oppose everything President Obama wants, creating gridlock, Christie's message to voters in New Jersey was the opposite. "Compromise is not a dirty word," he said to voters in Caldwell, New Jersey recently. In ads, his campaign touted the governor as "an example of what it means to be bipartisan." This message may win over Democrats in New Jersey, but it's not going to earn him the trust of tea partiers in Iowa.