5 Reasons NATO Will Survive Donald Trump's Presidency
The NATO summit at the defense alliance's headquarters in Brussels, Belgium, did not get off to the best of starts when President Donald Trump declared to Secretary General Jens Stoltenberg that "Russia controls Germany" because Berlin buys gas from Moscow.
And it went from bad to worse when Trump demanded that NATO allies not only meet the agreed defense spending target of 2 percent of the gross domestic product (GDP)—which many currently do not, cannot or struggle to do—but exceed it by double. Trump reportedly threatened to withdraw from NATO.
But as the testy summit came toward a close, Trump agreed to support the Brussels Declaration on Transatlantic Security and Solidarity, giving all other NATO allies cause to let out a small sigh of relief.
"Our Alliance embodies the enduring and unbreakable transatlantic bond between Europe and North America to stand together against threats and challenges from any direction," said the declaration's point No. 1 of 13 points. "This includes the bedrock commitment to collective defense set out in Article 5 of the Washington Treaty."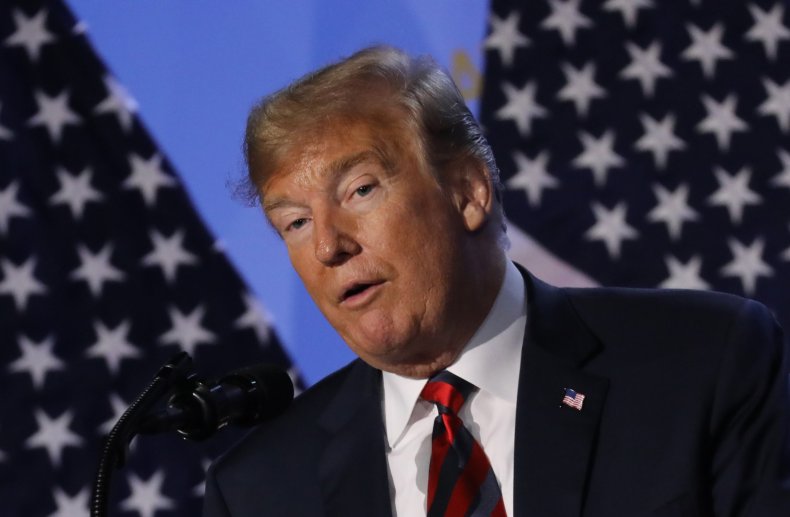 At a subsequent press conference, Trump told reporters NATO had made progress on increasing defense spending by members and praised the spirit of the room. "I believe in NATO," he said.
Trump thinks America is paying too much to NATO and that others are not fulfilling their obligations. This is not a new position for an American president to take, however; President Barack Obama also wanted NATO allies to commit more spending.
But the combativeness with which Trump has approached the issue is unprecedented. Coupled with the punishing trade war he started with the European Union, and his apparent admiration of Russian President Vladimir Putin, there are questions about how strong Trump's commitment to NATO really is. Would he pull the U.S. out?
Here are five reasons why NATO will survive Trump's presidency.
1. Most Americans still support NATO
Trump doesn't carry the will of the people when he brings a wrecking ball to a NATO summit. He didn't even secure the popular vote in his own election. On that basis, former Democratic candidate Hillary Clinton won. According to Pew, 62 percent of Americans have a favorable view on NATO. The defense alliance continues to carry the support of the American people even if Trump doesn't like it.
2. So does Trump's own administration
Trump's own Defense Secretary Jim Mattis—a former NATO commander—has made clear America is sticking with the defense alliance, and has tried to ease fears that the U.S. is no longer supportive of it.
"[For] nearly 70 years, the NATO alliance has served to uphold the values and the principles on which our democracies were founded," Mattis said at the NATO headquarters in June, according to a Defense Department release.
"The American people remain committed to this alliance, and we look forward to working together to sustain our core function—the collective defense of our people—while fostering peace and security," Mattis added.
The first trip Mike Pompeo made when he became Trump's secretary of state was to the NATO headquarters. "This alliance has been an essential pillar of American security interests for decades," Pompeo said, reported The New York Times, adding, "NATO is more indispensable than ever."
3. NATO allies agree with Trump on spending (kind of)
Though there may be disagreement on the finer details—such as what exact percentage of the GDP allies should be spending on defense—there is a general consensus at NATO that more needs to be spent to meet the military challenges facing Western powers. And that nations other than America should shoulder more of the spending burden.
"All allies have heard President Trump's message loud and clear," Stoltenberg said in his closing remarks to the summit.
"We understand that this American president is very serious about defense spending, Stoltenberg added. "And this is having a clear impact. After years of decline, when Allies were cutting billions, now they are adding billions. Before, the trend was down. Now, the trend is up."
He continued, "In fact, since President Trump took office, European allies and Canada have added an additional $41 billion to their defense spending. And all allies have committed to raise this number substantially. So we are stepping up as never before, allowing U.S. spending to go down."
4. America's military activity in Europe is growing
The fact is, America is committing more resources to Europe, not less, to stave off Russian aggression post-Ukraine. For example, its budget for the European Deterrence Initiative will increase from $4.8 billion in 2018 to $6.5 billion in 2019 if the most recent defense budget request is approved.
That money will go toward "adding new capabilities to improve deterrence and increase capabilities while continuing to reassure allies of the U.S. commitment to their security and territorial integrity as members of the NATO Alliance," according to the Defense Department's 2019 budget request.
"Specifically, the request enhances deterrence by continuing to implement the increased ground force posture while increasing joint capabilities and activities; [and] continues the build-up of Army equipment stockpiled in theater to increase responsiveness and improve force effectiveness," the document underscored.
The request noted that the budget also "maintains and increases the rotational presence of joint forces in-theater to participate in exercises and training; increases the capacity and resiliency of U.S. Air Force strike operations by expanding airbase infrastructure; increases joint enablers to improve effectiveness of combat forces; and increases U.S. bilateral, and multilateral training and exercises to enhance preparedness of all forces and improve interoperability with NATO Allies."
That sounds like a pretty solid commitment to NATO and Europe, with America putting its money where its mouth is.
5. There's a time limit on Trump
Trump won't be around forever. His administration ends in 2021, and there's no guarantee he'd win a second term.
If the Republicans lose control of the Congress in the November midterms, there's a real chance of impeachment, Trump said in April. Plus, special counsel Robert Mueller's investigation into suspicions of collusion between the Trump 2016 campaign and the Russian government rattles on, notching up arrests and indictments.
And Trump is a man who needs a warehouse to store his skeletons. There's a nonzero chance of a scandal big enough to bring down his presidency existing somewhere even if it's not, in the end, the Russia investigation.
All this means that, in the worst-case scenario, Trump will be president until 2025. That's a long time. But if NATO allies can stay patient, they should be able to mitigate and placate Trump until he's no longer a problem, before restoring some kind of normality with the next president.
As long as they can keep Trump from going nuclear on NATO, the alliance should be able to outlast him.