5 Smart Stash Boxes for Valuables You Need Locked Up
Where do you store sensitive items? The premise seems reasonable: a safe, locked box but high tech, with connected smarts. The solution is harder to find than you may suspect.
What is it that you want to keep secure? While it's easy for our minds to wander to the illegal or nefarious, there are plenty of legitimate things that need to be kept beyond the reach of little hands. Even having a place to securely store cash can be a lifesaver.
There are plenty of options for small, personal safes. They range from cheap cash boxes used at snack bars to hefty ones that need to be bolted into the foundation. There are not, however, plenty of options when it comes to app-based, tech safes.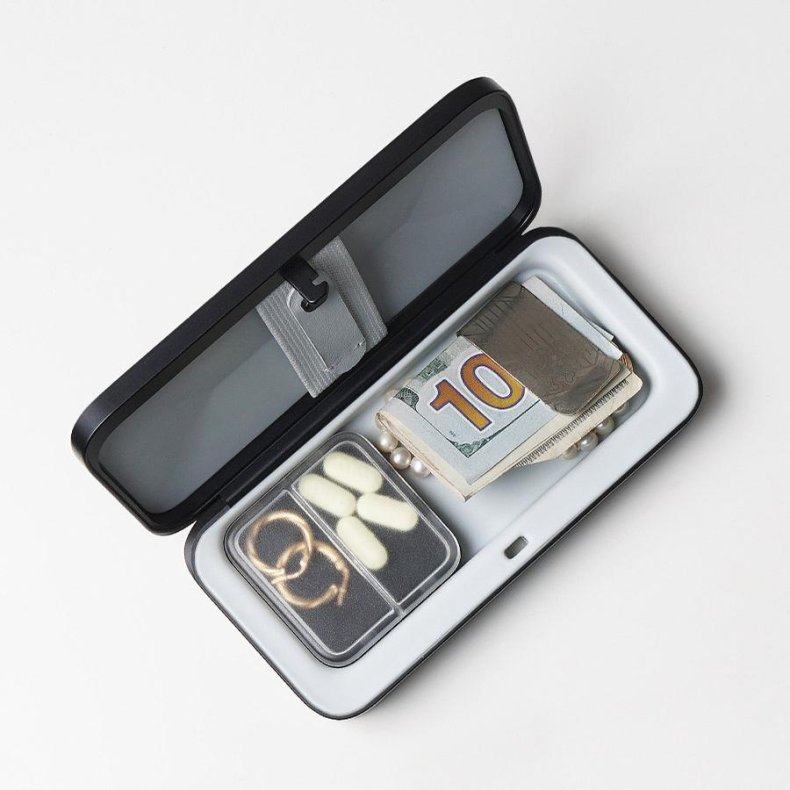 Trova Go is a forward-looking product, built for those who need a secure space at home but one that can also be taken on the road. Instead of updating an old safe or lockbox with new technology, Trova Go is an entirely new creation. The result is a sleek and elegant cavity for cash, pills, cards or other pocketable objects. It's about the weight of the biggest iPhone 12 Pro Max.
The Trova Go needs a mobile device like a phone or iPad to be unlocked and configured. Its app is not overly complicated or fancy but can unlock the safe with your face or fingerprint, depending on which iPhone you're using. If you've left the Go open, you'll be sent a notification on your phone. The Go is probably a bit small for only home use, but it can be tucked into a nightstand or dresser very easily. More likely, the Go is best used for travel to keep valuables secured in a hotel or backpack.
I've tried the Trova Go, and it's worked great. Its minimal footprint is ideal for small compartments. Battery life has also been better than expected. Each time I open the app to unlock the box, it responds quickly and is ready to go.
For larger items, Trova makes its Home safe. Home can be bolted to any surface and includes an internal humidity sensor to better protect items inside. This product will be shipping in mid-2021 for $549.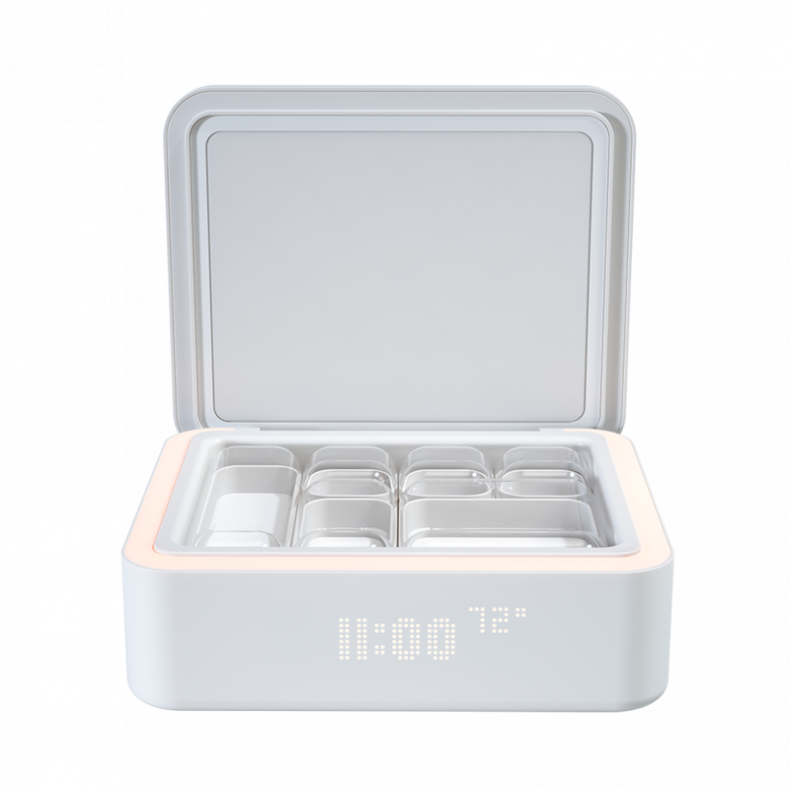 Just from its brightly lit display showing the time and temperature, you can tell Keep was not meant to be hidden away. The tech-heavy protected box is fine to be sitting in the open, but it will still keep temptation at bay with its tight security. One of the ways you can be sure Keep hasn't been disturbed is with its accelerometer built-in. This sensor can alert you via notification if it has been moved.
Not only does Keep support Bluetooth for app connectivity, but it also supports Wi-Fi, allowing for an even more robust method of updates in the future. Keep comes in two colors, white and black, and will be available for shipping in August 2021.
Buy at Keep.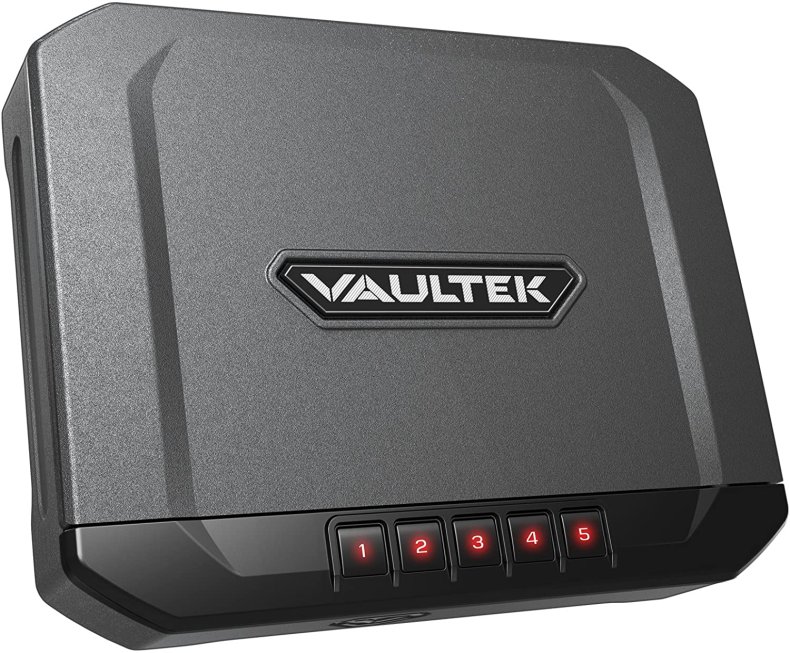 One of the primary uses for the Vaultek VR10 is keeping a handgun locked up and secured. Gun-related injuries in the home are a serious concern and having some method for keeping a gun from accidentally going off is critical.
The VR10 supports Bluetooth connectivity to the Vaultek mobile app. The app will manage the safe and its data when in close range. Only Vaultek safes with Wi-Fi will provide live updates. Instead, the VR10 will keep a history log of any tampering attempts and alert you the next time you check. The app can also adjust lights and sounds in the safe.
The Vaultek VR10 doesn't have to be used for weapons. It has a spacious internal capacity that can accommodate plenty of other private and valuable items. The VR10 is a great home or bedroom safe but also is capable of traveling, too. At just over 5 pounds, it's not light, but it is still packable.
Buy at Amazon.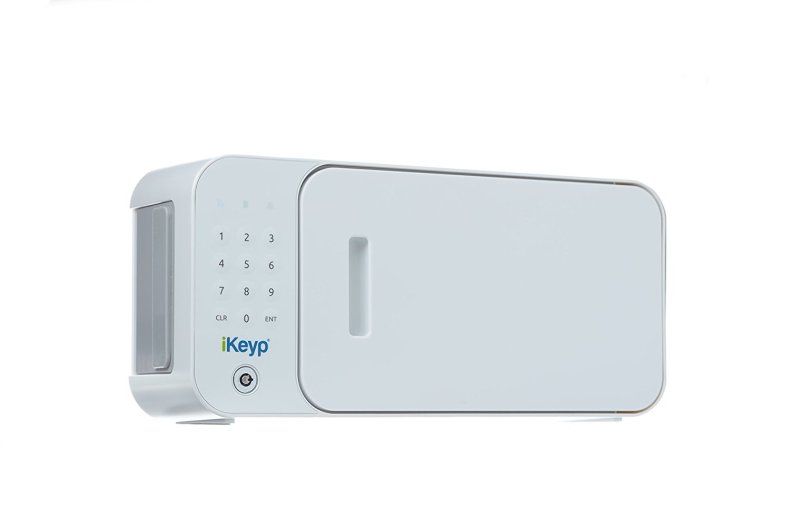 On the lower end of the Wi-Fi safes is the iKeyp Pro. The iKeyp is a budget safe that employs smarts through its mobile app. Having an app allows for notifications to alert you when the door is opened. It also facilitates sharing access to other people you may want to be able to get in.
If you would prefer not to rely on the app, a keypad and numeric code or physical key can both be used. The iKeyp Pro also has both a size and a unique mechanism for locking itself into narrow spaces, like a medicine cabinet. It can be placed on a shelf with its wings extended side to side to prevent it from being grabbed easily. It has an accelerometer to register whether the safe has been moved or jostled. It's not a perfect solution to keep it from disappearing from your home, like bolting it in, but it's at least something.
Buy at Amazon.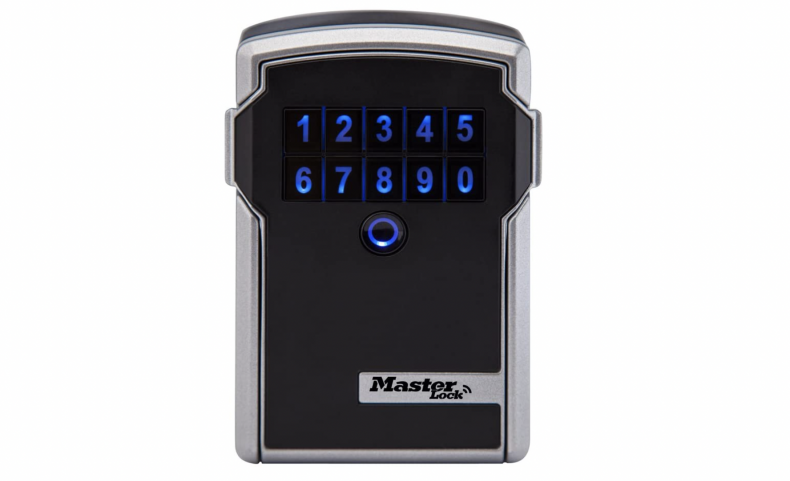 This Master Lock 5441D is a lockbox that traditionally might be used by realtors to contain keys somewhere on a home's exterior. This could be a perfect solution for small items, depending on what you want to store and keep locked up. It's about the size of the Trova Go, meaning it can hold cards, cash, pills or other things beyond just keys. Since it's one of the least expensive options, it may serve your needs without extra costs.
This lock can be connected to a phone to support easy unlocking abilities, but it also has a numeric pad for punching in a code. The mobile app allows for sharing access to other people without needing to be physically near them. Since this lockbox is meant for exterior use, it can be used in a garage and bolted into the wall wherever you decide to secure it.
Buy at Amazon.
Newsweek may earn a commission from links on this page, but we only recommend products we back. We participate in various affiliate marketing programs, which means we may get paid commissions on editorially chosen products purchased through our links to retailer sites.