5 Songs That Show Off the Late Neil Peart's Expert Drumming For Rush
Neil Peart, drummer for the Canadian rock band Rush, passed away Friday at the age of 67 after a three-year-long battle with brain cancer.
"The words 'best' or 'greatest' get thrown around a lot in the world of classic rock," Andy Burns, interactive content editor for SiriusXM Canada, told Newsweek, "but few would argue with the statement that Neil Peart was the greatest drummer in the history of classic rock."
Rush called it quits in 2018 after 50 years together and Peart's distinctive drumming, filled with percussive elements and a polyrhythmic style helped make Rush one of the biggest bands in the world.
1. YYZ
Perhaps Rush's best known instrumental, "YYZ," was released in 1981 on the album Moving Pictures. The album was a breakthrough release in the U.S., garnering airplay on FM radio and making the single "Tom Sawyer" a classic rock staple.
"YYZ" is the code designation for the Toronto Pearson International Airport. The small bell played by Peart at the beginning of the tune is Morse code for the letters "YYZ." Nominated for a 1981 Grammy award for Best Rock Instrumental, "YYZ" lost out to "Behind My Camel" by the Police.
2. Malignant Narcissism
From the 2007 album Snakes & Arrows, the instrumental "Malignant Narcissism" allowed Peart to show what he could do without tons of equipment around him. Peart recorded the song on a four-piece kit as opposed to the more than 30 pieces he generally employed. Peart's drumming snakes around and supports bassist Geddy Lee's insistent rhythm while still taking on a brilliant life of its own.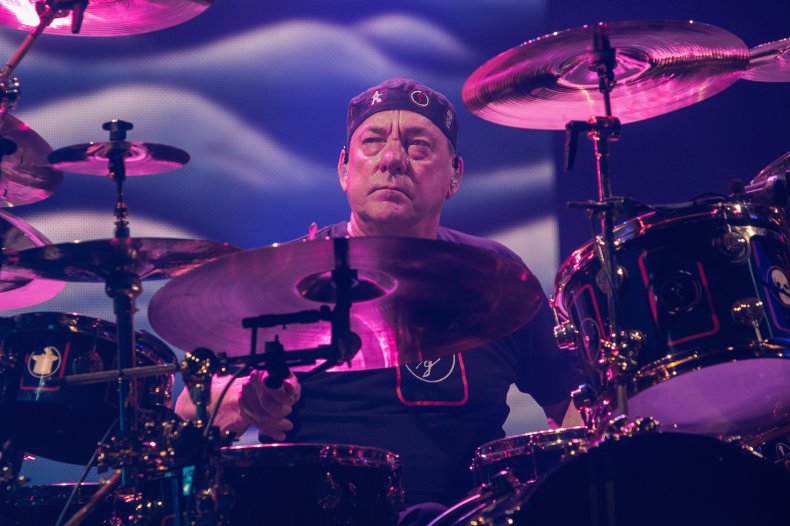 3. Mystic Rhythms
"Mystic Rhythms" allowed Peart to draw on his world music inspirations, with a beat designed to take the listener somewhere beyond their present surroundings. Incorporating toms, wood blocks and chimes with an electronic drum kit, this song from the 1985 album Power Windows became a fan-favorite in part because of Peart's hypnotic melding of traditional and modern instrumentation.
4. 2112 Overture
The opening track to Rush's 1976 concept album 2112, the "2112 Overture," is a thunderously joyful piece. It stands as a testament to precision, with Peart's staccato drums hitting in time with Lee's bass and guitarist Alex Lifeson's power chords. It holds an exuberance that somehow becomes greater than the song itself, as Peart motivates the song through signature changes, slowing the tempo down before racing off with it again.
5. Peart's amazing live drum solos
Peart's abilities were put under the spotlight during their live shows. His musicianship allowed the drums to become more than part of the rhythm section. They could be the star of the show without a great deal of theatrics. No drumsticks on fire, no hydraulics lifting the set above the heads of the audience. This solo captured live in Frankfurt, Germany is one of his finest.