Five Surprises Through NFL's Week 5: The Browns Winning, Gronk's Struggles and More
It feels like just yesterday the NFL regular season was getting under way, but on Tuesday, we're more than a quarter of the way through it.
The NFL can be unpredictable. Players's quality can drop off a cliff, once-promising teams sink and underdogs suddenly look like juggernauts. So, all that in mind, here are five quick things we've seen thus far that have been surprising.
1. Gronk hasn't been particularly Gronk-ish
New England Patriots tight end Rob Gronkowski, when healthy, has been the best at his position quite some time. A force of nature, he'd go over, around and through anyone in his way. Last year he had more than 1,000 yards receiving and caught eight touchdowns.
Through five weeks, he and QB Tom Brady have connected just 23 times and just once for a touchdown. Gronk's averaging 61.6 yards receiving per game, which, if it held, would be his lowest such figure since his rookie year. Those are fine numbers but they're not Gronk numbers.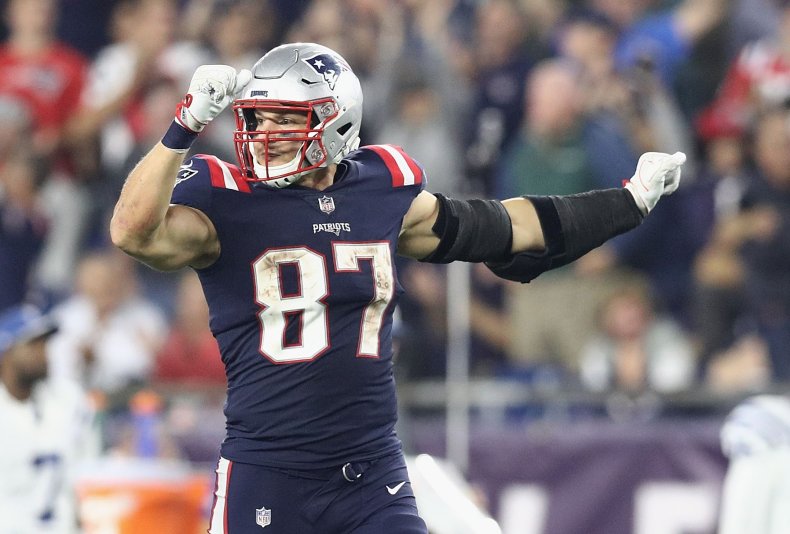 2. The Browns have won two games! And tied another!
Life is about little victories. It's about cherishing the good moments while you can. After winning a single game across the last two seasons, the Cleveland Browns picking up two wins and a tie ain't bad.
Even better, No. 1 overall pick Baker Mayfield looks really good under-center. His teammates can't stop talking about how much they love him. Things are... looking up for the Browns? I put a question mark there because it feels so odd to say.
Baby steps. Little victories.
3. Patrick Mahomes's voice
Dude sounds like he's gargling vinegar.
Oh also, while some people thought Mahomes would be good in his debut season as a stater, it was surprising that he effectively set the NFL on fire and has led the Kansas City Chiefs to a 5-0 record. He's proven accurate, smart and has a howitzer for a right arm.
"[Mahomes] gets the ball to all of his receivers quick, quick release, sees things quickly, can extend plays," said New England Patriots coach Bill Belichick ahead of their Week 6 matchup, via the Boston Herald. "[He's] got a great arm, got a fabulous arm, can throw the ball out of the stadium. He makes good decisions, accurate, gets the ball out on time."
4. The Philadelphia Eagles are meh
It's not fair to say the defending champs have been outright bad. But, now 2-3, they've been middle of the road. Every game has been a low-scoring trudge for a team that, last season, was nothing if not exciting.
There's even been some grumbling from the locker room, which doesn't exactly sound like the team last year that shocked everyone, relishing one another's company as the playoff under dogs. Coach Doug Pederson was asked if his players had a Super Bowl hangover.
"You'd probably have to ask them, quite honestly, because I'm over it," he said, via ESPN.
5. Jon Gruden's tenure running the Oakland Raiders thus far has been a disaster and that apparent 10-year, $100-million contract isn't looking great.
Just kidding. That's not surprising at all, is it?