5 Takeaways From Biden, Harris Remarks on One-Year Anniversary of Capitol Riot
President Joe Biden and Vice President Kamala Harris on Thursday condemned the violence that took place at the U.S. Capitol one year ago, calling it a "test" for the nation.
The two leaders stood inside the federal building's Statuary Hall to deliver their remarks on the first anniversary of the deadly attack. Both described the events of that day in searing detail as they warned of the fragility of democracy.
"What the extremists who roamed these halls targeted was not only the lives of elected leaders," Harris said. "What they sought to degrade and destroy was not only a building, hallowed as it is. What they were assaulting were the institutions, the values, the ideas that generations of Americans picketed and shed blood to establish and defend."
Their speeches come as the Department of Justice continues to prosecute participants who engaged in illegal conduct that day. Approximately 700 defendants face charges, and federal prosecutors are asking the public for assistance in identifying more suspects.
Lawmakers in the House of Representatives are also moving ahead with their own investigation into the Capitol riot, including how it unfolded and how a similar attack could be prevented in the future.
Biden began his roughly 25-minute speech by quoting the Bible, saying that the "truth shall set you free."
Here are some key takeaways from Biden's and Harris' speeches on January 6.
Democracy Under Attack
Biden said that those who stormed the Capitol, and those who called on them to do so, "held a dagger at the throat of America and American democracy," as they were driven by their desire to usurp the 2020 election.
Harris opened her speech by saying the date January 6 will "instantly remind all who lived through them where they were and what they were doing when our democracy came under assault." She cited the Pearl Harbor attack on December 7, 1941, and the September 11, 2001, attacks as other examples.
"January 6th reflects the dual nature of democracy, its fragility and its strength," Harris said.
Trump's 3 'Big Lies'
Biden spent a large portion of his speech dismantling what he described as the three "big lies" being promoted by the former president and his supporters: Election Day was the true insurrection, the results of the 2020 race are not accurate, and those who stormed the Capitol are "patriots."
Biden said Trump's need to lie about the election is because of his "bruised ego" about being defeated.
"Can you think of a more twisted way to look at this country, to look at America?" the president asked. "I cannot.
"Here's the truth: Election of 2020 was the greatest demonstration of democracy ever in the history of the country. More of you voted in that election than have ever voted in all of American history. Over 150 million Americans went to the polls and voted that day in a pandemic, some at great risk to their lives. They should be applauded, not attacked," Biden said.
Voting Rights
Both the president and vice president used their speeches to make the case for passing voting rights legislation—a top priority for the White House and congressional Democrats in 2022.
"The American spirit is being tested," Harris said. "The answer to whether we will meet that test resides where it always has resided in our country, with you people, and the work ahead will not be easy. Here in this very building a decision will be made about whether we uphold the rights to vote and ensure free and fair elections. Let's be clear: We must pass voting rights bills that are now before the Senate."
Biden said, "Right now, state after state, new laws are being written not to protect the vote but to deny it. Not only to suppress the vote but to subvert it."
Biden later said that sometimes "our darkest days can lead to light" and that "the brutality of Bloody Sunday on the Edmund Pettus Bridge came historic voting rights legislation."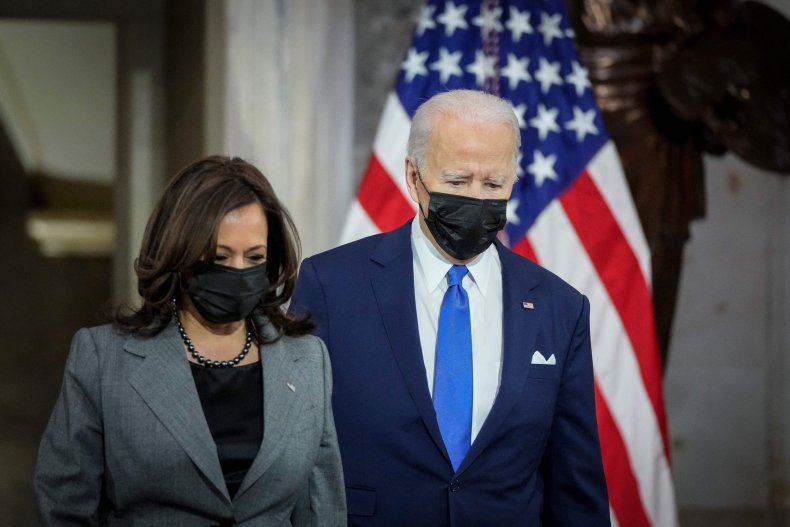 Republicans No Longer 'Party of Lincoln'
Biden briefly criticized members of the Republican Party who have supported Trump's false statements because they "fear his wrath."
"Some courageous men and women on the Republican Party are standing against it, trying to uphold the principle of that party," he said. "Too many others are transforming that party into something else. They seem no longer to want to be the party of Lincoln, Eisenhower, Reagan, the Bushes."
Biden pledged that in spite of disagreements he has with Republicans, he will aim to work with them "because we have a shared belief in democracy, then anything is possible."
Biden on What's Next
The president said that this is the moment where America must decide "what kind of nation" it's going to be.
"Are we going to be a nation that accepts political violence as a norm?" Biden asked. "Are we going to be a nation where we allow partisan election officials to overturn the legally expressed will of the people? Are we going to be a nation that lives not by the light of the truth but in the shadow of lies? We cannot allow ourselves to be that kind of nation."
He later added, "Now, let's step up, write the next chapter in American history, for January 6 marks not the end of democracy but the beginning of a renaissance of liberty and fair play. I did not seek this fight brought to this Capitol one year ago today. But I will not shrink from it either."