5 Takeaways From Joe Biden's Plan to Fight the Omicron Variant
President Joe Biden addressed the nation Tuesday as the Omicron variant drives up coronavirus cases around the country.
Omicron was first reported in South Africa in late November, with the first U.S. case detected in California on December 2. Since then, the latest COVID strain has spread to nearly all 50 states and is overwhelming hospital systems.
As of Friday, the Omicron variant accounted for more than 73 percent of new cases in the U.S., according to the Centers for Disease Control and Prevention (CDC). Researchers are still looking at whether this highly transmissible strain causes more severe illness, and if it evades currently available vaccines.
"I know you're tired, I really mean this, and I know you're frustrated," Biden said in his remarks at the White House. "We all want this to be over, but we're still in it. This is a critical moment."
On Monday, health officials reported what may be the first U.S. death related to Omicron. Texas' Harris County Public Health department said that an unvaccinated man in his 50s with underlying health conditions tested positive for the variant before his death.
Amid Omicron's spread, the administration has continued to press the public to receive their vaccinations and booster shots. There are 40 million eligible Americans who have yet to be inoculated against the virus.
"If you're not fully vaccinated, you have good reason to be concerned," Biden said. "You're at a high risk of getting sick and if you get sick, you're likely to spread it to others including friends and family."
Biden was exposed to COVID-19 last week but has tested negative after being in close contact with a staffer who tested positive, White House Press Secretary Jen Psaki announced on Monday.
Here are the main takeaways from the president's speech on Omicron.
Holiday Gatherings
Biden said people should feel comfortable gathering with their families for the holidays if they are vaccinated and adhere to other health guidelines, such as wearing face coverings in public settings.
"If you are vaccinated and follow the precautions that we all know well, you should feel comfortable celebrating Christmas and the holidays as you planned it," he said. "You know you've done the right thing, you can enjoy the holiday season."
Sending Troops to Overburdened Hospitals
The president announced he has directed Secretary of Defense Lloyd Austin to mobilize 1,000 service members—including doctors, nurses and other medical personnel—to assist health care centers in January and February.
Biden said staffing "is the biggest need for hospitals" amid Omicron's surge.
In addition to military service members, the administration is sending six "emergency response teams" of federal medical personnel to Michigan, Indiana, Wisconsin, Arizona, New Hampshire and Vermont to help amid Omicron's spread.
500 Million Free At-Home COVID Tests, New Testing Sites
The government will purchase a half-billion at-home rapid tests and distribute them to Americans for free. Deliveries are slated to begin in the new year, with a new website being rolled out for those who want a test sent to their homes.
"It's not enough," the president said. "We have to do more. We have to do better and we will."
The United Kingdom, Germany and other countries have been providing free at-home testing kits to their residents for weeks. The Biden administration had previously appeared dismissed the idea. A pack of two tests runs for about $25, but many stores have reported being out of the tests as Omicron surges.
The federal government will also open new testing sites across the country, starting this week in New York City. Biden will continue to use the Defense Production Act to ramp up the speed of production for tests, administration officials told reporters.
Biden said the administration has worked with Google to make it easier to search for free local COVID-19 tests.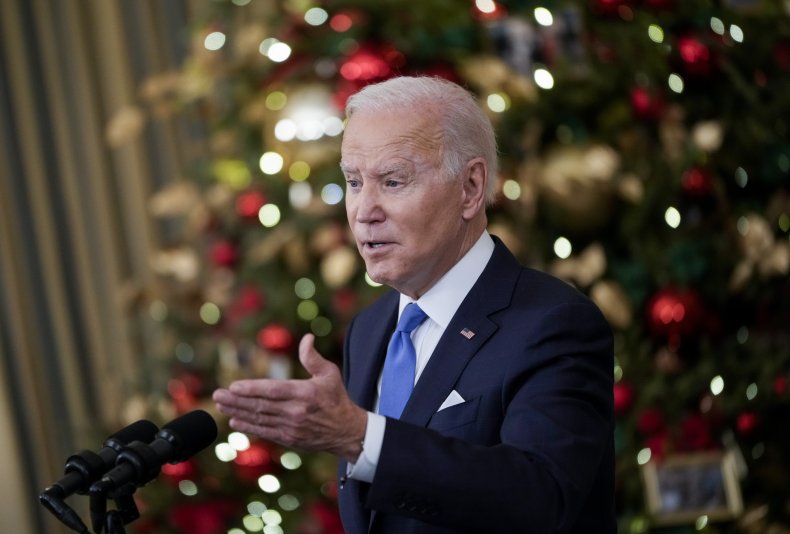 Expanding Hospital Capacity
The White House is working with the Federal Emergency Management Agency (FEMA) to expand the number of beds at hospitals as they become overwhelmed with COVID-19 cases. On Monday, 23 states had 80 percent or more intensive care unit (ICU) beds in use.
Biden said the federal government will pay for any expansions necessary to make more room available this winter.
"Our doctors, nurses, hospital staff have gone above and beyond during this pandemic and stress is real," the president remarked. "We have to let them know we have their backs."
Richard Pollack, president of the American Hospital Association, said in a statement the actions "will help hospitals and their caregivers continue to provide the care their patients and communities depend on."
FEMA is already sending ambulances and medical teams to help transport patients to facilities with open beds, and has built two new facilities in Shreveport, Louisiana as well as expanded intensive care units in Fresno, California.
The agency is also creating new pop-up vaccination clinics.
No Lockdowns
Biden made clear that "this is not March 2020" when discussing the threat of Omicron, stating the government has more tools today—including vaccination and testing—compared to the beginning of the pandemic.
"We're making sure the COVID-19 no longer closes businesses or schools," Biden said.
The president acknowledged that vaccine requirements may not be popular, but that they have been implemented "not to control your life but to save your life."