5 Takeaways From Vladimir Putin's NBC News Interview
In a rare interview with NBC News, Russian President Vladimir Putin laughed off accusations that he's a "killer," acknowledged there could be some advantages to President Joe Biden's status as a career politician and denied it was working with Iran to target the United States.
Putin and Biden are scheduled to meet on Wednesday, marking their first face-to-face conversation since the American president took office. It comes amid escalating tensions that have driven relations between the two countries to a noticeably low point and the meeting is expected to touch on numerous subjects, including the imprisonment of Alexey Navalny, Putin's chief political rival.
During a 90-minute interview with Putin, NBC News senior international correspondent Keir Simmons asked the longest-serving Russian leader since Joseph Stalin about the state of dissent in his country, the conflict with the U.S. and his thoughts on Navalny. Released in part on Friday and in part on Monday, here are five takeaways from Putin's interview.
On Navalny leaving prison alive: "I don't care..."
When asked if Putin would commit to Navalny leaving prison alive, the Russian president made no such promise and said he doesn't "care" what people think about his refusal.
"I proceed from the premise that the person that you have mentioned, the same kind of measures will apply not in any way worse than anybody else who happens to be in prison," Putin said.
Navalny returned to Russia in January, five months after being poisoned, an incident he tied to Putin. He has been imprisoned since January and last week, a Russian court deemed his organizations to be "extremist," making those tied to the organizations unable to run for public office ahead of the upcoming Parliamentary election.
Biden has "every intention" of bringing up Navalny and jailed dissidents during his meeting with Putin, and Navalny's treatment in prison raised concerns worldwide.
When told that the crackdown on Navalny and his colleagues made it appear to the world that dissent was not acceptable in Russia, Putin said he views it "completely differently."
On being a "killer": "It's not something I worry about in the least."
Driving a wedge in the relationship with Putin is Biden's agreement with the characterization of the Russian leader as a "killer." Putin saw it as comical and laughed it off as something that just comes with the territory of being president, during the interview with Simmons.
"I've heard dozens of accusations," Putin said. "It's not something I worry about in the least."
Putin added that he's gotten "used" to attacks from "all kinds of angles" and under "all kinds of pretexts and reasons." "None of it surprises me," Putin added, calling the harsh rhetoric an "expression of overall U.S. culture."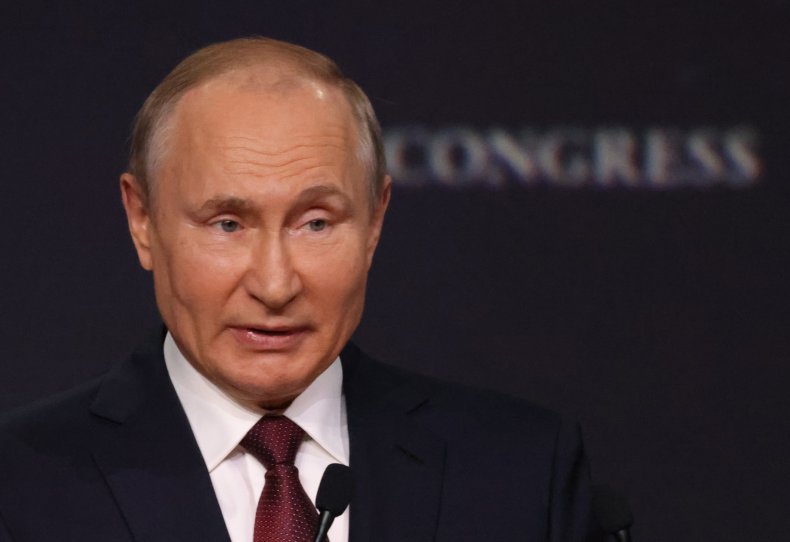 On Biden: "...there will not be any impulse-based movements on behalf of the sitting U.S. president..."
Putin acknowledged that Biden is "radically different" from former President Donald Trump in that he's a "career man." He pointed to Biden's near 40-year tenure in the Senate and time as vice president before taking over the Oval Office.
"A different kind of person and it is my great hope, that yes, that there are some advantages, some disadvantages, but there will not be any impulse-based movements on behalf of the sitting U.S. president," Putin said.
On Trump: "...an extraordinary individual..."
In contrast with Biden, Putin said Trump was not a key political player before becoming president and Putin continued his praise of the former U.S. president.
"I believe that former U.S. President, Mr. Trump is an extraordinary individual, talented individual, otherwise he would not have become U.S. president," Putin said. "He's a colorful individual."
On Russia helping Iran target U.S. troops: "It's just fake news..."
Putin denied a Washington Post report that said Russia was preparing to send Iran an advanced satellite that would enhance its spying capabilities, giving it the potential to track military targets in the Middle East.
"It's just fake news. At the very least I don't know anything about this kind of thing," Putin said. "It's just nonsense garbage."