5 Things to Know About Jalen Suggs, Gonzaga Basketball Star
Gonzaga guard Jalen Suggs became a more popular name following his game-winning shot on Saturday that sent the Bulldogs to the NCAA men's basketball championship, but that shot isn't the only thing people should know about him.
During the NCAA men's March Madness national semifinals game, Suggs' three-point shot sealed Gonzaga's victory over UCLA. The shot sparked praise from observers across the nation for a player who has achieved greatness before.
Basketball wasn't his only sport.
Before joining the Gonzaga team, Suggs became the first athlete in Minnesota to be named Mr. Football and Mr. Basketball in the same season, while he was a high school athlete at the Minnehaha Academy in Minneapolis.
As a basketball star, Suggs became Minnehaha's all-time leading scorer, with 2,945 points, throughout his career and led his team to three state titles. Suggs was also the starting quarterback for SMB, a team that combined players from Minnehaha and two other local schools in Minnesota.
As quarterback, Suggs led the team to one state title in 2018, and during his senior season he threw for 2,213 yards and rushed for 978 yards, which included 25 passing touchdowns and 12 rushing touchdowns, according to ESPN.
Gonzaga wasn't his only choice.
According to ESPN, Suggs decided to join Gonzaga's basketball team, led by head coach Mark Few, after rejecting several offers to play college football. Suggs rejected football scholarships from Iowa, Nebraska and Ohio State, among others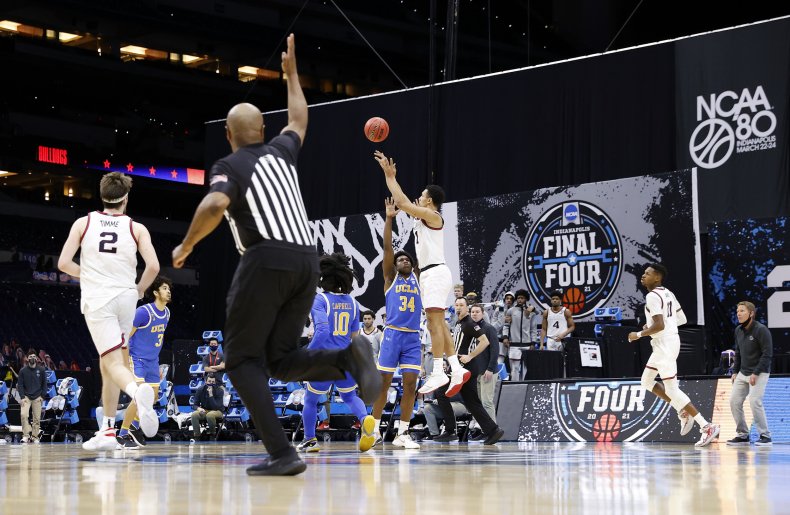 He's related to two-time Super Bowl–winning NFL star.
Suggs is related to former Baltimore Ravens defensive star Terrell Suggs. The two-time Super Bowl champion is second cousin to Jalen's father, according to CBS Sports.
He is projected to be a lottery pick in the 2021 NBA draft.
While Saturday's game-winning shot made Suggs a household name for sports enthusiasts, his dominating freshman season has led to him being projected as a top five pick in the upcoming NBA draft.
Suggs is projected to be picked fifth overall, according to a mock draft published by ESPN, while a mock draft from Bleacher Report has him ranked as the fourth best pick in the 2021 draft.
During his freshman season, Suggs is averaging 14.1 points per game, 5.5 rebounds and 4.6 assists.
He could lead Gonzaga to its first NCAA men's basketball national championship title.
After his shot on Saturday, Suggs sent the Gonzaga Bulldogs to the national championship game against the Baylor Bears.
Gonzaga has remained undefeated throughout its regular season and March Madness tournament, and with a win over Baylor on Monday night, the Bulldogs could secure their first championship title. With that win, Gonzaga could also become the eighth men's college basketball team to finish its season undefeated and the first since Indiana in 1976 to win the national championship and finish its season 32-0.