5 Things to Know About Lindsey Vonn and Fiancé P.K. Subban
Sports power couple Lindsey Vonn and P.K. Subban have announced their engagement for the second time.
Despite saying 'yes' to Subban when he proposed to her in August, the 35-year-old Olympic gold medalist took to Twitter on Christmas Day to share the news. This time around, she had asked the New Jersey Devils defenseman to marry her, offering him an engagement ring of his own.
"Merry Christmas and happy holidays everyone!! On our 2 year anniversary, in a "non traditional" move, I asked PK to marry me and he said, Yes," Vonn tweeted. "Yes (bashful emoji)! Women aren't the only ones who should get engagement rings! #MerryChristmas #Equality."
She continued her thoughts in a slightly longer message from her verified Instagram account: "We talk about equality but actions speak louder than words. Men should get engagement rings too and this is what PK deserves. Can't wait to marry you babe." She used the hashtags #merrychristmas, #happyanniversary, #equality and #raisethebar to caption a series of photos showing the couple with their three dogs, and Subban's new engagement ring.
Read on for five fast facts about the sports world's newly-engaged couple.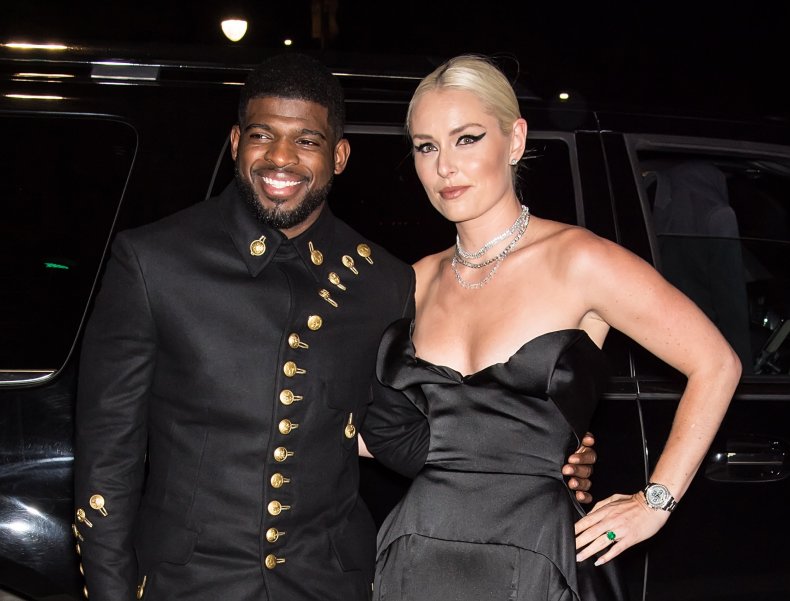 They are in no rush to get married.
Speaking with Vogue in August, Vonn and Subban have made it clear that they would prefer to take their engagement slow.
"I just want to enjoy the moment and the engagement. We're not in a big hurry to get married. It kind of depends on his playing schedule, and when we have time to sit down and go through it. I don't want to stress him out because he has a big season coming," Vonn said.
"Lindsey's the best thing that's ever happened to me," Subban said in the interview. "There are people in life that deserve to be with good people. They have that person who takes care of them and makes them smile, and she deserves to be with someone who loves her more than anything else in the world, and I do."
They are focused on his hockey career.
One of the reasons for a delayed wedding is Subban's hockey career. "We'll probably wait until he's done with his season so that he can stay focused," Vonn told People last week. "I'm thinking in the summer sometime, but when in the summer, we're not sure."
This is not the first special Christmas they've spent together.
"We spoke on the phone every day," P.K. told Vogue, harkening back to the early days of their relationship. "Then, on Christmas Day, I went home to see my family, and after brunch, I hopped on a plane to Denver, and then drove three hours to get to Vail in a snowstorm to see her."
Vonn added: "Right off the bat, I knew he was different. But I'd been married before, so I was pretty hesitant to let myself think that I could find someone that I would want to be married to again. After a few months of dating, I knew he was the one I wanted to be with, though. He makes me happy, and he's so positive and energetic."
This is not Vonn's first relationship with a high-profile athlete.
Vonn was previously was married to former ski racer Thomas Vonn, opting to keep his last name after they separated (their divorce was finalized on January 9, 2013). According to reports, Vonn met world champion golfer Tiger Woods at a charity event in 2012. The two began dating in March 2013 before splitting up two years later.
Both are award-winning athletes.
In February of this year, Vonn ended her career as a professional skier with four overall World Cup titles, 82 World Cup race wins (the most any female skier has ever achieved), and three Olympic medals. According to USA Today, she is currently pursuing other ventures such as writing a memoir and starting a line of beauty products.
In 2013, Subban was awarded with the James Norris Memorial Trophy as the NHL's defenseman of the year for the Montreal Canadiens. Later that year (and again in 2015), Subban was named to the NHL All-Star team before going on to score a gold medal for Canada at the Sochi Olympics in 2014.