5 Things to Know about Melissa Etheridge's Late Son Beckett Cypher
Melissa Etheridge is mourning the loss of her 21-year-old son, Beckett Cypher.
The singer announced the tragic news on Twitter Wednesday night.
"We're sad to inform you that Melissa's son Beckett passed away and there will not be a Concerts From Home show today. - #TeamME."
Etheridge, 58, who is best known for her songs "Like The Way I Do" "Come To My Window" and "Ain't It Heavy," later wrote: "Today I joined the hundreds of thousands of families who have lost loved ones to opioid addiction.
"My son Beckett, who was just 21, struggled to overcome his addiction and finally succumbed to it today. He will be missed by those who loved him, his family and friends."
"My heart is broken," Etheridge continued. "I am grateful for those who have reached out with condolences and I feel their love and sincere grief."
"We struggle with what else we could have done to save him, and in the end we know he is out of the pain now," said the singer.
"I will sing again, soon. It has always healed me."
Beckett was one of two children Etheridge shared with her ex-partner Julie Cypher. They also have a daughter, Bailey Jean, who is 23.
Etheridge is also mother to 13-year-old twins Johnnie Rose and Miller Steven with former partner Tammy Lynn Michaels.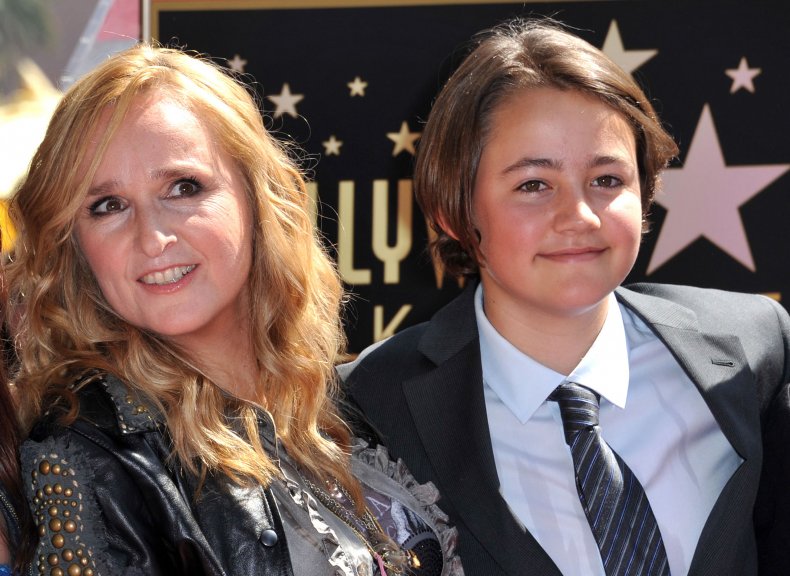 Five things to know about Beckett Cypher
1. Beckett was born on November 18, 1998. His biological father is musician David Crosby and he was conceived via artificial insemination.
2. Beckett appeared on the cover of Rolling Stone magazine as a baby alongside his parents, Crosby and his wife, Jan Dance.
3. Beckett joked about how family friend Brad Pitt could have been his biological father, as Etheridge considered him as a potential sperm donor. The singer told Andy Cohen last year: "My children are like, 'I could have had Brad Pitt as a father!' I'm like, 'No.'"
4. In 2017, Etheridge revealed she enjoyed smoking marijuana with Bailey and Beckett.
The singer began using it medicinally after being diagnosed with breast cancer in 2004.
"It brings you closer. I'd much rather have a smoke with my grown kids than a drink," she told Yahoo.
5. Beckett's other parent is filmmaker Julie Cypher, who made the 1995 film, Teresa's Tattoo.
Tributes have been pouring in to honor Beckett's life, with actress Rosanna Arquette tweeting: "Oh my God oh my God no. Prayers and love to Melissa Rest In Peace dear Beckett."
Rosie O'Donnell tweeted her condolences too: "All my love to melissa etheridge on the loss of her beautiful boy beckett ... no words #onlylove."
If you or someone you know is struggling with addiction, you can contact the SAMHSA substance abuse helpline on 1-800-662-HELP.
Correction 05/14, 5:04 a.m.: A previous version of this article listed "Black Velvet" among Melissa Etheridge's hit songs. The song was recorded by Alannah Myles.