5 TikTok Teachers Share Behind the Scenes of Virtual Teaching
In a matter of just a few years, TikTok has forged itself a spot at the front of the pack in regards to social media platforms.
At the start of the pandemic, people who might have never heard of the app were not only downloading it in mass numbers but also creating content for the world to see. In September, Forbes reported that the app's weekly average users were up 75 percent from the start of 2020.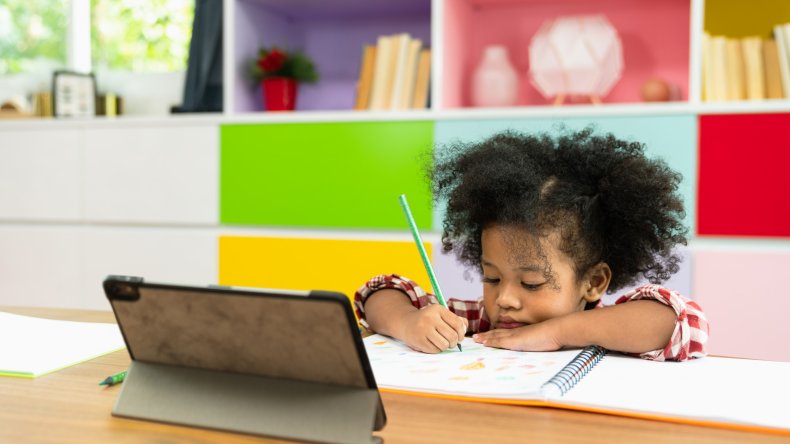 People from all over the world and all walks of life have begun turning their lives into clips lasting under one minute for viewers to see. Teachers—many of whom have had their work turned upside down amid the pandemic—have used the app to show what goes on behind the scenes of virtual teaching.
From a kindergarten teacher who wanted to give more representation to Black, male educators to a fifth-grade teaching assistant who wants to show the resilience of his students, these five teachers will warm your heart and give you something to laugh at.
Clamentia Hall Jr. has been an educator for years, but three years ago decided to start documenting his experience on YouTube. After a break, he returned in early 2021 with a commitment to be more vocal about the "great things happening" in his classroom. He hopes to help bring more representation to Black, male educators and the students they serve.
"I really enjoy a good laugh, and a kindergarten classroom is an ideal place to seek inspiration," Hall told Newsweek of his videos. He calls his videos satire, meaning that while most are inspired by real interactions with his students, his "TikTok self" is more exaggerated.
"I like to remind viewers that my skits are satirical and hyperbolic because I don't want them to misinterpret humor outside of the classroom for incompetence inside the classroom," Hall said. "Teachers are human. We should be allowed to have fun off the clock as well."
This school year, Hall has experienced all types of teaching from fully virtual to hybrid to concurrent teaching, or teaching some students virtually and some in-person at the same time.
"The changes are never-ending, and it does take a toll on teachers and students," Hall said. "Yet another reason I've enjoyed using social media to spread some joy."
Mackenzie Adams was featured on TODAY and Good Morning America when she went viral at the beginning of the school year for her energetic and charismatic teaching style.
The original video that skyrocketed Adams to internet fame has been viewed over 14 million times and features her teaching math to a kindergarten class. Chrissy Teigen and Elizabeth Banks even caught wind of the videos and gave Adams a shoutout on Twitter.
Since September, Adams has continued documenting her life as a teacher and showcasing her teaching style to her over 416,000 followers on the app. Adams often incorporates movement and exaggerated facial expressions to grab the attention of her young students.
In her most recent video, Adams is teaching her students about "strong emotions." In the video, she imitates what someone might look like if they feel angry with a scrunched face and closed fists. She then shows her students ways to calm down, by putting their hands on their "tummies," taking a deep breath and vocalizing "Stop, I am feeling angry." She finishes by suggesting counting in their heads as another strategy to stay calm.
Emily Shields is in her second year of teaching and is doing so completely online. She teaches first-graders and takes them through activities from storytime to math lessons to social studies and science.
Shields downloaded TikTok at the suggestion of her friends during quarantine and first found herself just scrolling through funny videos during her free time.
"I started following a few other teachers on the app that shared ideas they were using in their classroom," Shields tells Newsweek. "I am very confident with technology, and I decided I wanted to start sharing some ideas of my own to hopefully help other teachers during the difficult times of virtual teaching."
She hopes her videos are both relatable and funny to other teachers and that sharing ideas from her virtual classroom might be helpful. Shields is also in the process of interviewing for a new teaching role, so she hopes she can help new teachers navigate the "difficult situation" of interviewing for a teaching position.
Joshua Wallenstein is a newcomer to the teaching profession, having only started in November. As he tells it, a job opened up and, at first, he thought it would be something fun to get him out of the house. Now, he says, it feels like his calling.
Wallenstein captures heartwarming moments on his account from students asking innocently hilarious questions to comments they make when "Mr. W" walks away. But, how does he capture these organic moments on camera? At the beginning of each virtual session, Wallenstein sets up his camera to capture any moments that might unravel.
"When I get home at the end of the day, I sift through the recordings to see what funny things happened and what crazy things they said. A lot of times I'll come across something that I didn't even remember happened," Wallenstein told Newsweek.
"Some days, the energy level is very low, and there's not much to post about, but I feel like even capturing those real moments where people are tired and morale is low is also important. Because it's real and it's something these kids are living through."
Wallenstein is a teaching assistant to fifth-graders and two of his classes are a hybrid of in-person and virtual, while one is completely online.
He hopes his videos show how resilient his students have been through the obstacles of the last year. He calls each moment they show up "a feat in and of itself." And being able to laugh? Even better.
"Tiktok has been amazing for me, that I've been able to steal ideas from amazing educators who have been in the game much longer than I have and have implemented fun activities, pranks, ice breakers with their classes, and I've been able to experiment with my classes," Wallenstein said.
"It's been amazing to be able to collaborate on a worldwide platform like this."
Brenna Franklin, or Miss Franklin as her first-graders call her, has used TikTok to show her life as a virtual teacher both on and off the clock.
In her videos, viewers can often see Franklin sitting in a classroom speaking to her students virtually. Viewers can catch one-liners from the kids, as well as exciting 'a-ha' moments in which students show they finally understand a lesson. This happens in one instance when a student brings up the difference between 'did not' and 'didn't,' something Miss Franklin had taught the kids in an earlier lesson.
While most of her videos are from her lessons, she also shows viewers what she does on her days off. From her uploads, it is apparent that Franklin puts in a lot of effort to keep her young students engaged virtually, which can be challenging.
For holidays, Franklin decks out her work area in festive decorations and throws in festive costumes. For St. Patrick's Day, videos show Franklin in a green wig, with one of her students questioning if the hair color was a permanent change.